Refrigerators can be noisy (clicking, buzzing, humming, high pitched squeaks) and some sounds are just a normal process of refrigeration. Sometimes a refrigerator will develop a problem and a high pitched noise can be heard. To fix this issue you must determine the source of the sound. By doing so you can locate the problem and hopefully avoid calling an appliance repair company.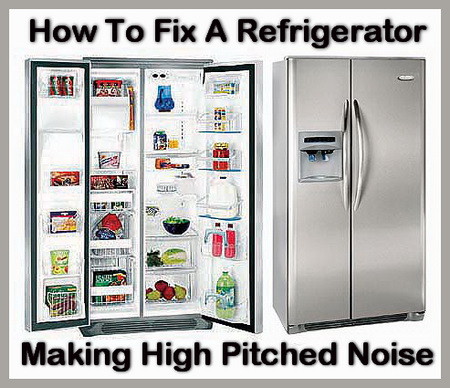 TO FIX THE NOISE COMING FROM YOUR REFRIGERATOR:
You first have to do a little easy investigating. What type of noise it is that makes the refrigerator sound as if something is wrong? Is it a squeaking noise, a clicking noise, a buzzing noise, a humming noise, a loud high pitch vibration noise, or an occasional rattling noise? How loud is it and how long does the sound happen? If it is not a continuous sound, how often does it occur? Is this affecting the proper operation of your refrigerator or is it just an occasional annoyance? These factors can help you identify the source of the problem to help you to determine what you need to do to fix it.
Open the fridge freezer and determine if the noise is coming from one or the other. If the noise is inside the refrigerator… it is the circulating fan. This fan's purpose is to move the cool air from the freezer to your refrigerator. This fan can start to make different types of noises over time. Usually the circulating fan will need to be replaced. In some situations you can take the fan out clean it off and bend or straighten the blades to make the noise stop. Usually the noise is from the motor of the fan which is not fixable. Order a new circulating fan online will be inexpensive for you to repair the problem with your fridge.
If the noise is coming from the rear or back of the refrigerator, 2 things can cause the noise:
1. Compressor (see below for troubleshooting)
2. Condenser fan (see below for troubleshooting)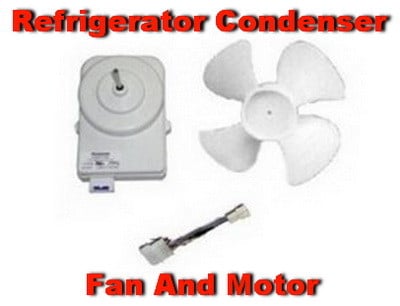 Common Refrigerator Condenser Fan And Motor
Compressor: The compressor contains a motor that sits in a sealed case. If it becomes faulty it can make high pitch noises. If your compressor is causing the noise, the compressor needs to be replaced and this can be expensive. It may make more sense to just buy a new refrigerator if your compressor is shot.
Condenser Fan: If you find that the condenser fan is making the noise you can clean it off from dirt and lint. A dirty condenser fan can cause the noise you are constantly hearing. It is located near the compressor and can't be missed if you are behind your refrigerator looking for it. You can also give the fan a few drops of oil as it may just need oil to lubricate it to stop the noise.
Another area that could be making a noise on your fridge is the very bottom. A drain pan is the only thing underneath the fridge but it may need to be repositioned as it could be vibrating and causing a noise.

Refrigerator Making an Odd Noise – Kenmore, Sears, Whirlpool, LG, Samsung, GE

Noisy Whirlpool Fridge Fan Motor Refrigerator Fix
If you have experience in fixing or repairing a refrigerator making a high-pitched noise, please leave a comment below to assist others.