Question: Every 3 out of 5 washes our washing machine will fill with water and just keep filling and filling. During this time, the water will drain out normally at the same exact time. Our washer is in an endless fill/drain cycle. It is stuck filling and draining until we unplug the machine. We sometimes just set the load to the end of the wash cycle and wait a few hours before trying again. Sometimes this happens and other times it does not. What could be causing this to happen?
If your washing machine (top load or front load) is filling with water WHILE it is draining, here is a simple quick fix. This issue happens frequently and about 90% of the time it is NOT THE WASHER MALFUNCTIONING. This "washer fills and drains at same time" issue can be fixed in a matter of minutes. See below for how easy this repair solution is. This easy fix solution will work on all washers including GE, Whirlpool, Kenmore, Samsung, LG, Frigidaire, Maytag, and more.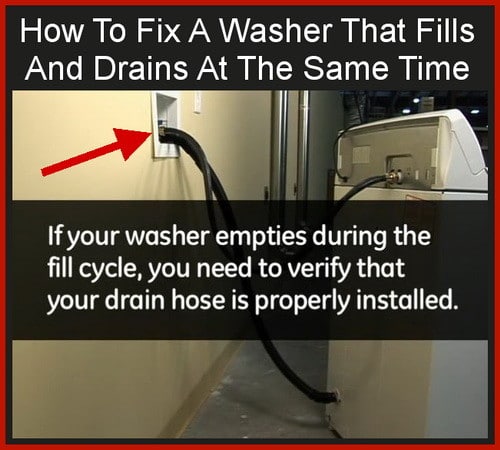 Answer: Your washer DRAIN HOSE is causing a siphoning condition. Your washing machine drain hose is pushed way too far into the stand pipe in the wall. There needs to be an air gap and by having the drain pipe pushed too far there is no air gap. This creates a vacuum or siphoning affect and the water is pulled out of the washer as it fills with water. What you need to do is pull the drain hose out of the stand pipe and put it back in making sure it is not in the wall too far or too deep. There needs to be a bend at the apex of the drain hose. It needs to be above the height of the wash tub. Once you have the drain pipe or hose in the exact position you need it to be in to not cause siphoning, tie the drain hose to the water fill hoses with a plastic zip tie so it can't fall back down deep or pull out.

Top Load Washer Fills and Drains At Same Time
If you know of another way for a washing machine to fill and drain at the same time, please leave a comment below to assist our other readers.