Calling Mexico from the US can be free if done correctly. There are a multitude of methods, apps, and computer PC programs that will let you call completely free. Most of the "FREE" apps can simply be download on Android or iPhone. Many of these apps will make you earn call or text credits by watching a video, signing up with a service online, or getting others to sign up and use the same mobile app. Some of these apps work just by you and the person you are calling having the same app. Some of these apps can only work when you are connected to WiFi. We will show you the best methods for all types of devices whether land line, PC, or mobile.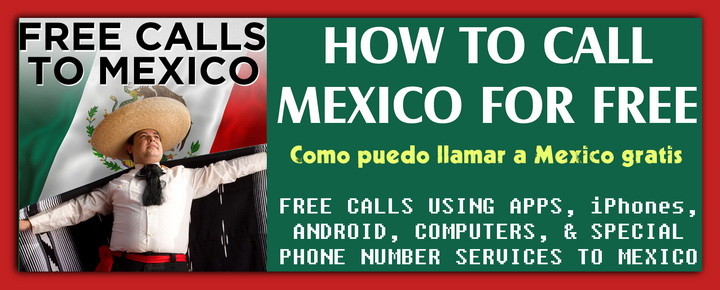 COMO PUEDO LLAMAR A MEXICO GRATIS
How to make free calls to Mexico with iPhone:
Download the Apple IOS app called Viber free calls and text. This iPhone and iPad app will need to be installed on both iPhone's. The phone is USA and the phone in Mexico. Once both of you have the Viber app installed, you can text, call, send pictures, and much more for free. If they have an Android and you have iPhone, it will still work if you have the same app installed. This app can be used over 3G or WiFi. It will not take any "minutes" from your data plan with your wireless phone carrier. The only time you have to pay a small fee is if you need to call a landline in Mexico from the US.
WhatsApp Messenger is great for messaging family in Mexico with iPhones. The WhatsApp Messenger is a smartphone messenger available for iPhone and other smartphones. WhatsApp uses your 3G or WiFi (when available) to message with friends and family. Switch from SMS to WhatsApp to send and receive messages, pictures, audio notes, and video messages. Completely free messaging and so much more.
How to make free calls to Mexico with Android:
Download the Android app called KakaoTalk Free Calls & Text. This app is completely free as it uses your internet connection (3G/EDGE or Wi-Fi) for calls and messaging. You and the person in Mexico you are calling both need to have this app installed. If they have an iPhone and you have Android, it still will work if you have the same app installed. It has many different features for communicating with someone in Mexico. It will not take any "minutes" from your data plan with your wireless phone carrier. Send messages, photos, videos, voice notes and your location for free. Make chatting fun with an array of emoticons and sticker collections.
How to call Mexico for free from PC Computer:
Download Skype software from the Skype website. Chat and call your family in Mexico every day with free instant messages. The person you are calling in Mexico on your computer will also need to have Skype installed. Once you both have the Skype program installed on your PC or MAC, you will be able to do just about anything you desire. Share photos and see them online, right in the chat. See your family come together using the free group video call. Switch between calling and messages or do both at the same time. Make low-cost calls and text messages to mobiles and landlines.
How to add a new SIM card to your phone to call Mexico at discounted rates:
You may be able to purchase a different SIM card for your existing cellphone to call Mexico for a discounted rate. If your phone has dual SIM card slots then you can just buy another SIM card for calling Mexico. Here is some info for a Mexico SIM Card and the rates.
Best Rechargeable Phone Card to call Mexico:
There are many different phone cards on the market. A great place to find the cheapest phone cards is on Amazon. If you go on Amazon search for "International Phone Cards" and you will find some that will fit your needs. You could also go with a simple prepaid phone. Here is a prepaid phone for $2.99 and has triple minutes from Tracfone.
Other methods and ways to call Mexico free:
You can also try a new service called FreePhone2Phone. This service works with mobile phones and land line phones. But how can calling Mexico be free? Listen to a 10 or 15 second ad then get 10 minutes of free calling to anywhere in Mexico. Call Mexico for Free on ANY PHONE! This service lets you make unlimited calls for free. You get 10 minutes per call and once that 10 minutes is over you can call right back and start another call for another 10 minutes. You can do this over and over therefore making this TRULY FREE AND UNLIMITED.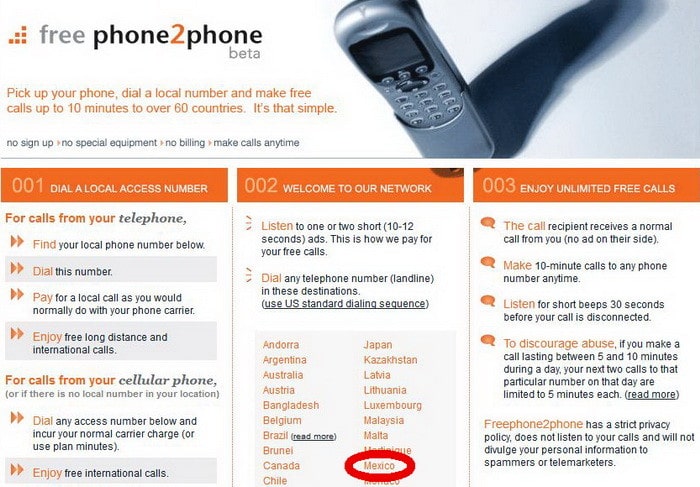 FreePhone2Phone lets you really make free calls to Mexico by listening to a 10 second ad
The methods for calling Mexico for free above should save you tons of money and make communicating with your family in Mexico more enjoyable. If you are having trouble calling Mexico no matter what type of phone you are using, see below…
How to make a phone call to Mexico:
To make a call to Mexico from the USA follow these simple dialing instructions:
1 – Dial 011 – the U.S. exit code.
2 – Dial 52 – the Mexico country code.
3 – The area code – 2 or 3 digits.
4 – The phone number – 7 or 8 digits.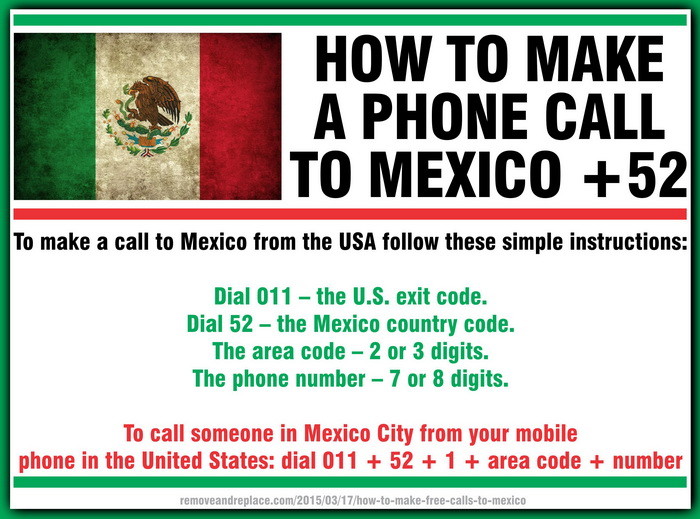 Here are some general calling tips for calling Mexico from the U.S.:
It will cost more to call mobile phones than land lines.
Calling mobile phones in Mexico means you will end up paying for the call – the person who initiates the call pays the money for it unless you call collect from a land phone.
International phone calls to wireless phones in Mexico are dialed like normal international calls. For example: To call someone in Mexico City from your mobile phone in the United States: dial 011 + 52 + 1 + area code + number.

Free International Mexico Calling Application – TextMe App

If you know of an easier and free way to Call Mexico From The United States, Please let us know by leaving a comment below to assist our other readers calling Mexico.