I need to dog proof a fence. I recently got a new 55 lb rescue pit/boxer mix dog that keeps digging under my 6′ foot wooden fence in my backyard. We have used concrete blocks, pieces of wood, 2×4's, rocks, and bricks to put near the bottom of the fence. This dog is super strong and can move just about anything. The dog can remove concrete cinder blocks, bricks, 2x4s, and rocks that we have placed along the bottom of the fence to try and prevent the constant digging. My yard is medium sized so a solution that is not very expensive would be nice. The soil here is dirt and clay material and super easy to dig through especially when it rains and the ground is wet. What is the best way or proven solutions to DOG PROOF my fence?

HOW TO DOG PROOF YOUR FENCE
Here are 5 solutions that have been proven to work to make your dog stop digging under your fence…
1. Bury a 3 to 4 foot tall chicken wire fence about 1.5 to 2 feet deep. Bend it into an L shape so it touches the ground and the fence. Then dig 1 or 2 feet down near the bottom of the wood fence. Use a staple gun on the top 1 to 2 feet of the chicken wire and secure it to the wooden fence. Next, bury the other end of the chicken wire and cover it up with dirt. Add huge rocks to where the most digging happens. This may not be the best way but it does provide a "shield" so the dog cannot dig through it.
2. Buy some railroad ties and line the entire bottom edge of the wood fence. If you want them to stay in place, stake them with rebar every 20 inches. This is back breaking work but it can solve the problem and your doggy will never leave your yard again.
3. Use a strong hot pepper powder. Use the hottest capsicum pepper powder you can find. Then spread it on the digging areas near the fence. Do this every two weeks and it is almost guaranteed your large or small puppy will never dig there again.
4. Rebar with bricks or concrete blocks can work well too. Hammer 3 to 4 foot pieces of rebar into the dirt a few inches from the bottom of the fence. Once the rebar is in place, put the large bricks or concrete blocks where the rebar goes right into the holes of the bricks. Once the bricks are in place use plastic caps on the ends of the rebar for safety. Cover the bricks with dirt if needed. If you do not want to use rebar (since it may be difficult to cut many pieces) you can use 4 foot long (and thick) wooden stakes. The wood stakes can be used but may not be a true permanent solution rather than using rebar.
5. Get an invisible fence. A good one to use is the Innotek Basic In-Ground Pet Fencing System. You simply staple the wire to your normal fence. To test it make sure to turn the range all the way down. Then put the invisible fence collar on your dog. When your doggy gets close enough to the wire, your dog will start to figure out not to go near the fence again. These digging deterrent systems do not hurt your dog, they simply make them slightly uncomfortable enough to deter them. Start with the setting on as low as possible. If needed then turn it up until it is enough of a deterrent to stop them.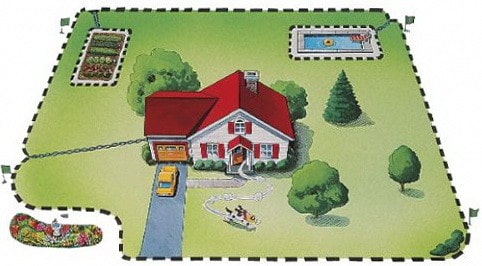 An invisible fence for dogs creates a boundary perimeter around your yard.
NOTE: If you have a metal or chain link fence, put PVC tubing around every one of my metal fence posts. Elevate the chain link fence from the ground and hook an electric fence charger up to the entire chain link fence at the bottom only.
Here is a dog forum where you can read other peoples questions and answers for even more solutions for dog-proofing your fence and backyard.

How to Dog-Proof your fence – Stop dog from digging under fence
If you know of other methods to stop dogs from digging under fences, please leave a comment below to assist our other readers who's dogs are trying to escape!