One of the biggest faults of high heels is an easily broken rubber heel tip. These rubber heel tips are compressed into the end of the heel by using a metal dowel. At times either the rubber tip falls off or the whole metal dowel falls out. When this happens, you need to replace the heel tip before wearing them.
If a rubber heel tip does fall off when you are out, sometimes you have no choice but to keep walking around therefore damaging the structure of the high heel tip. When this happens, the simple repair of replacing the rubber heel tip is then transformed into cutting, sanding, and leveling the bottom of the heel out before you can replace the rubber heel tip. We will show you step-by-step how to fix a pair of broken high heels below including detailed illustrations…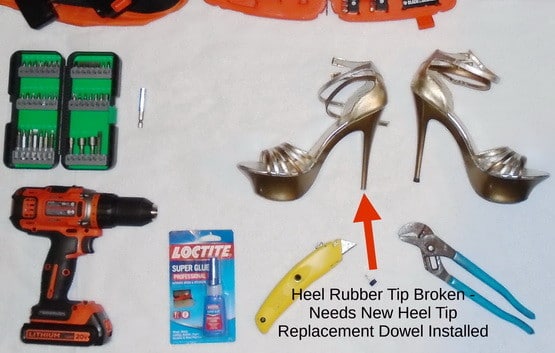 High heel rubber tip has fallen out of the heel – The shown tools are used to repair.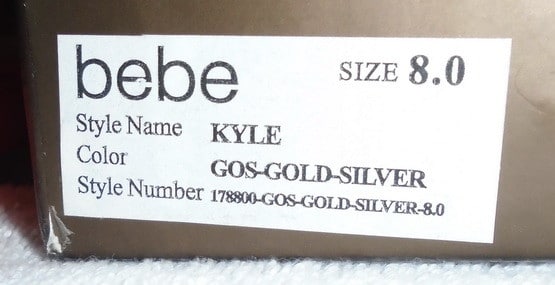 For reference, these are BEBE KYLE style high heel shoes – Gold/Silver color.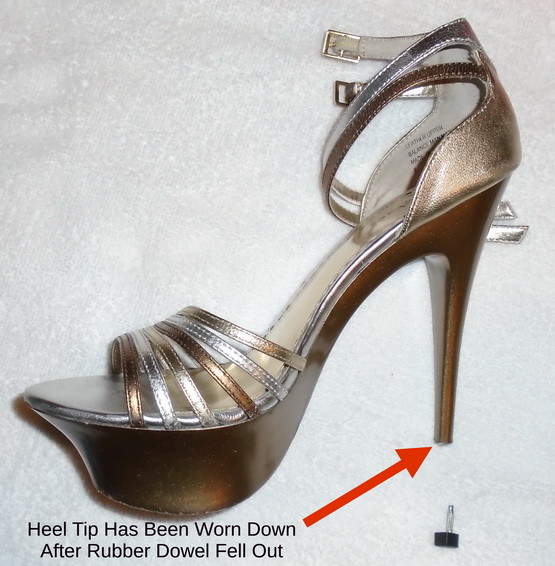 Lay down a large towel before you begin repairing your heels so you do not damage them further.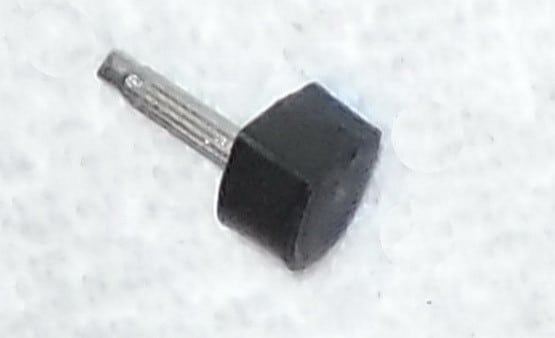 You will need to purchase "High Heel Rubber Tip Replacement Dowels" before fixing your heels.
(Here are some Replacement Rubber Heel Tips kits and here are QUICK TIPS)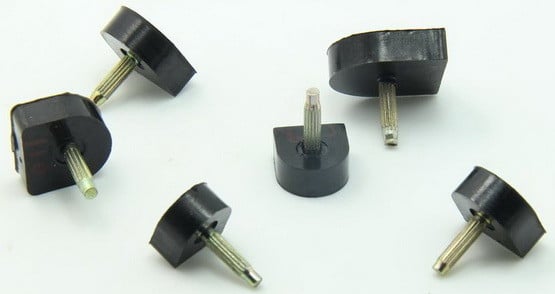 There are many different sizes and lengths of heel rubber tip replacements available.
(See chart below for exact size when ordering)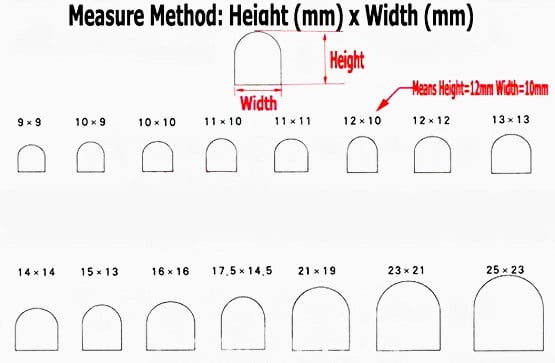 HIGH HEEL RUBBER TIP REPLACEMENT MEASUREMENT SIZE CHART:
To help you to determine the high heel rubber tip replacement size you need in mm (height and width).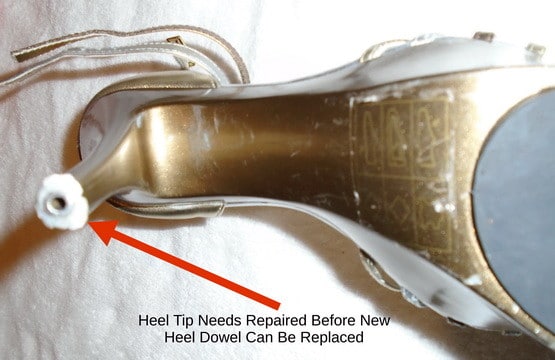 This particular heel has been walked on after the rubber tip has fallen out.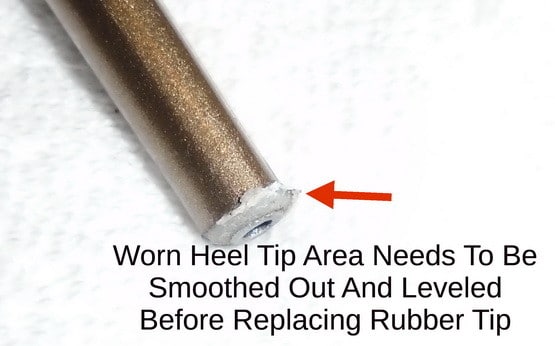 You will need to repair the damaged heel tip before replacing the rubber tip.
(If this is not fixed, the rubber tip will NOT be level and will eventually fall out again)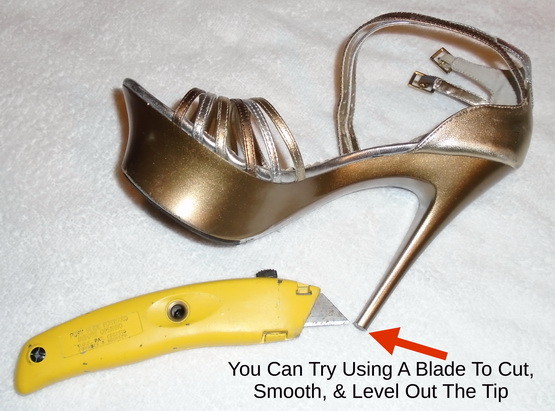 You can first try to fix the damaged heel tip by removing some of the material with a blade.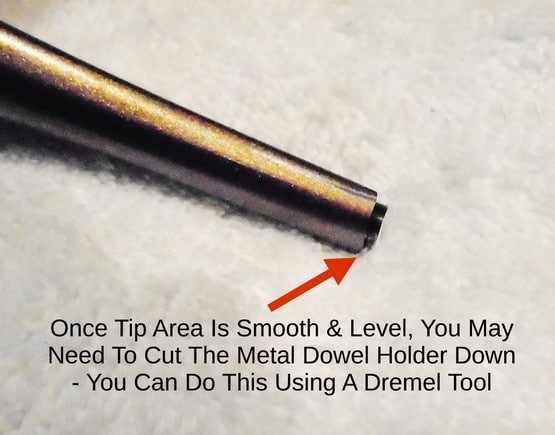 Once you have managed to remove or smooth out the damaged heel
tip area, the dowel holder in the heel may be sticking out just a bit.
(You can file it down or use a Dremel tool to make it level with the shoe)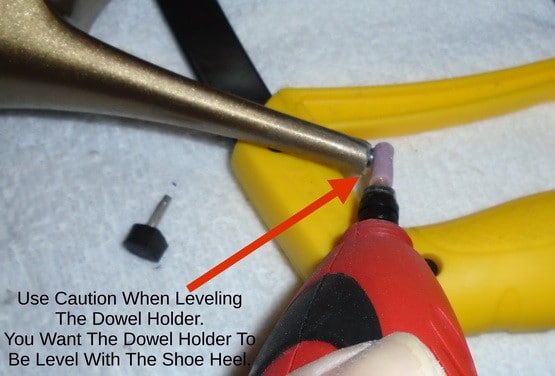 We used a Dremel tool to grind down the dowel holder to be level with the bottom of the heel.
(This WILL make the shoe a bit shorter, but can be fixed by using a thicker rubber tip)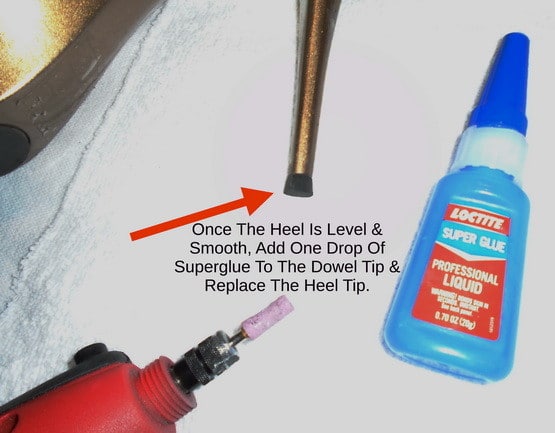 Once the heel tip is level, smooth, & clean, you can slide or hammer the new
heel tip replacement into place. (Be sure it is facing the correct direction)
(We recommend adding one drop of superglue to the metal dowel before inserting it into shoe)

DIY – High Heel Shoe Repair
If you know of a better way to repair a pair of high heels, please leave a comment below to help our other readers who need DIY tips.