The knob on my GE washer won't turn. It just spins and I cannot turn the washer on. I removed the plastic knob by pulling up and the piece on the knob that holds the washer shaft is cracked. How do i replace it? I have a pile of clothes I need to wash today. I need advice on fixing my washer ASAP. I know I probably need to buy a part but in the meantime is there a way to make the washer work just to wash my clothes right now?

Broken Washer Knob – How To Fix or Replace

Replacing your washing machine knob is easy. We will tell you how to go about ordering a new knob below. To get the washer to work for now to wash your pile of clothes, get a pair of pliers and grab the shaft of the timer (the part that sticks out once the knob is off). Grab the shaft and turn the pliers in the direction you usually turn to set the timer to the appropriate washing cycle. This should make it so it is possible to wash the clothing right now.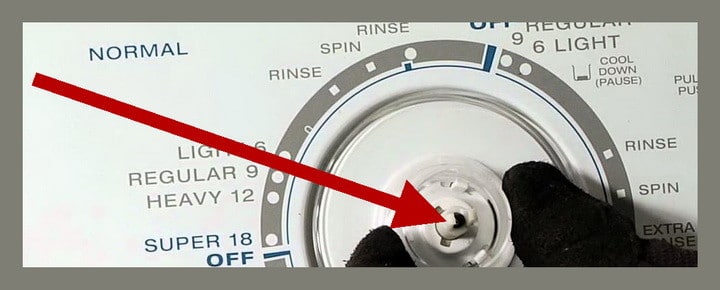 Use pliers or needle nose pliers temporarily when washing machine knob is broken
Instead of ordering a new washer knob, you may want to try and fix it yourself. To fix the broken or cracked plastic knob, use epoxy glue. Apply the epoxy to the cracked area of the knob. Hold it together tightly while it is drying with a pair of needle nose pliers. Hold the cracked plastic together for the amount of time the epoxy instructions say. Hold it together until the epoxy glue is completely dry. Next, slide the washer knob back onto the shaft. Test the knob by turning it to a wash cycle. If this has worked or not it is best to purchase a new washer knob for your washing machine as the repair you just made may not hold for long.

Gorilla epoxy glue works great on bonding plastic!
The cheapest way to buy a new washer timer knob or selector knob for your Whirlpool, GE, Kenmore, Frigidaire, Samsung, Electrolux, Hotpoint, or Maytag is through Amazon. The washer knobs available are inexpensive and most are genuine and will be the exact replacement just like the original. The prices are relatively cheap ranging from $5 to $30 dollars depending on your brand of washer. Click here to see the page where all of the washer control knob and washer selector knobs are listed and available for your washer.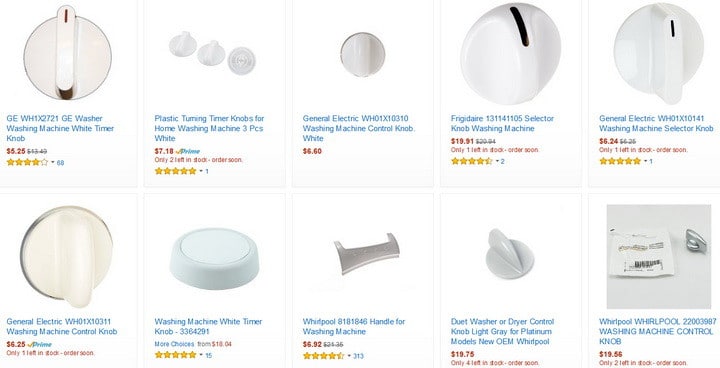 Washing machine replacement knobs here
Replacing the washer knob should take you a few seconds. The new one you purchase will slide onto the shaft of your washer timer and should be as good as new. You can then begin using your washer immediately. If your washer timer or washer selector switch is the issue, see below.
If the washer knob is NOT cracked but the shaft on the switch or selector has broken off or will not turn, you will need to buy a new washer switch or selector. Replacing the washer timer switch or selector switch is not as easy as replacing the knob but by following the instructions it can be done by almost anyone.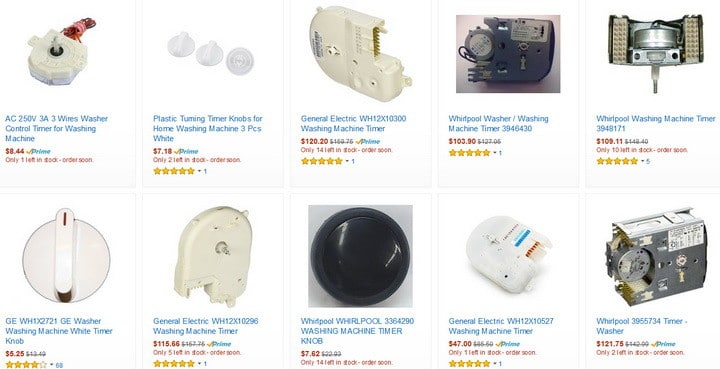 Washing machine timer replacement here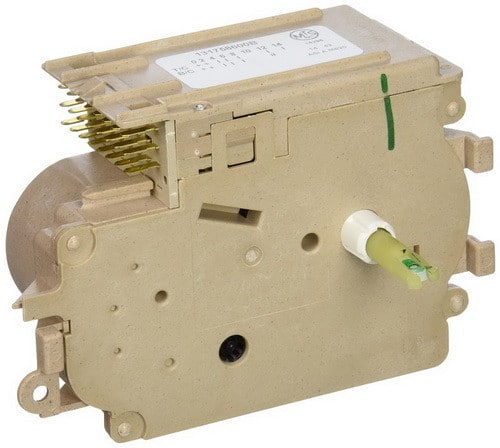 Detailed view of a washing machine timer
The easy way to buy a new washer switch or selector is through Amazon within the category of "Washing Machine Parts & Accessories". Have a look here to find the washer switch/selector that will fit your model washer. Most washer switch/selectors will cost between $40 and $100 dollars depending on your brand. This may seem expensive but consider calling a repairman that will charge $100 just to show up! Doing this job yourself will save you money and get you more comfortable with doing home repairs.

Washing machine selector switch here

GE WASHER KNOB REPAIR

How to FIX TIMER dial knob that will not catch and turn on washer / washing machine
Remember that replacing parts on appliances can have multiple steps where not all machines are the same. Please use caution and common sense when performing these repairs yourself.