(Last Updated On: April 12, 2017)
If your Samsung refrigerator is not cooling, it COULD be because it is in Demo Mode. This mode is also called Exhibition Mode, Cooling Off Mode, or Showroom Mode. This is a mode built into the Samsung refrigerator to display them in a showroom so the lights work but THE COMPRESSOR DOES NOT therefore the fridge will not cool. You may have purchased a "showroom model" Samsung refrigerator or you may have inadvertently put the fridge into this mode yourself. Either way see below for HOW TO GET THE FRIDGE OUT OF DEMO MODE.

Samsung Refrigerator In Demo Mode
NOTE: There is no information about Demo or Cooling off mode in you owner's manual since this mode is not for consumers. Some Samsung model refrigerators have a label attached on the display therefore you would have an understanding of what Demo mode is. If demo or cooling off mode is activated and the label is missing, you will not understand why the refrigerator will not cool.
What happens when in demo mode:
1 – When door is open, internal Lights are on but the refrigerator is not cooling.
2 – The refrigerator showroom store sets the refrigerator to Demo mode to save power consumption.
3 – The consumer will not know about cooling or demo mode and will notice that the fridge will not cool.
If your refrigerator is not cooling, it may be in Demo Mode. Demo mode is a feature used by retailers to display the refrigerator without running the compressor. To see if your refrigerator is in Demo Mode:
Type A models display "OF FF" if the refrigerator is in demo mode.
Type B models have the icon on the display illuminated if the refrigerator is in demo mode.
Type C models display setting temperature if the refrigerator is in demo mode.
See images below for examples of Type A, Type B and Type C models and also Type A and Type B display panels.
How To Remove Your Refrigerator from Demo Mode:
If your refrigerator is in Demo mode, press the two buttons together as shown in the images below in the red boxes for 3 seconds to resume normal operation.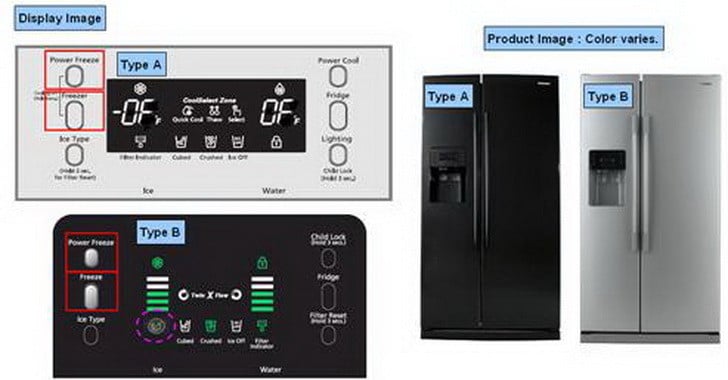 Samsung refrigerator display panels – demo mode – what to press to deactivate
For the rest of the Samsung refrigerator models, Please find the information tables below…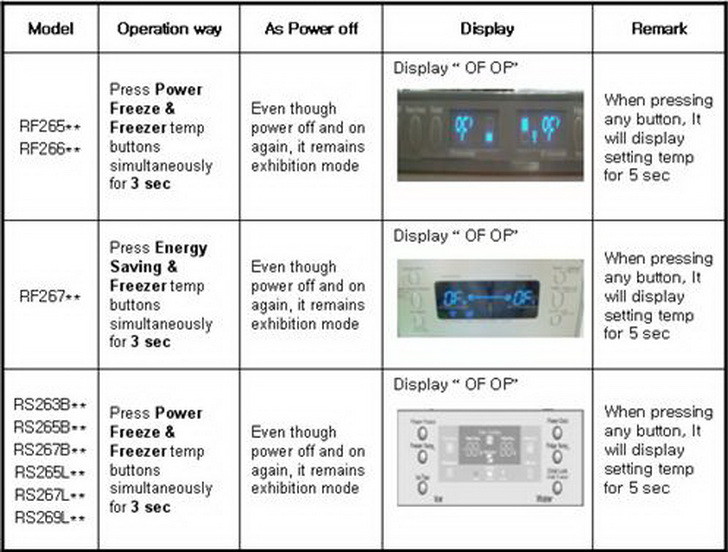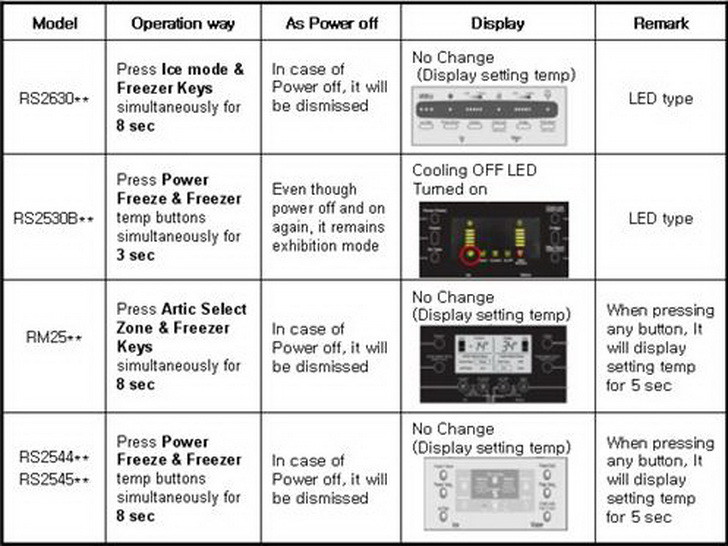 Samsung Refrigerator US Main Models – How To Get Out Of DEMO MODE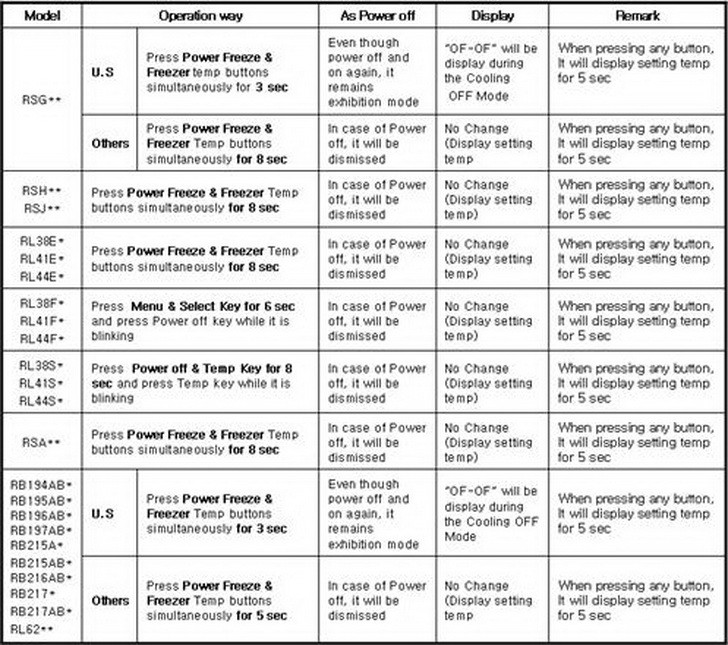 Samsung Refrigerator US & Other Countries – How To Get Out Of DEMO MODE

If the above charts do not fix your issue, unplug & plug back in power for a reset.
1. If you bought display model, make sure if it is on display mode when initial power on.
2. During Demo or Exhibition mode… If both compartment sensors detect the room temperature higher than 65ºC, it will cancel the exhibition mode automatically and return to freezing operation. There is no buzzer sound by the temperature when cancel the exhibition mode.

How to disable Cooling Off Mode For Samsung Family Hub Refrigerator
Have questions about your Samsung refrigerator and how to get it out of Demo Mode, Exhibition Mode, Show Room Mode, or Cooling Mode? Please leave a comment below and we will be happy to assist.
Allen is the author and creator of this website. He has years of experience with appliance repair, commercial food machinery maintenance, electrical, HVAC, plumbing, vehicle maintenance, and critical aviation related systems.