Samsung RS model fridge ice maker not filling with ice. QUESTION: I reset the ice maker on my Samsung RS Refrigerator as it was not working properly. I am not getting any ice cubes. The ice maker tray does not fill with water. I used a blow dryer on it to apply heat to the water line. This was to melt any ice that may have formed in the water line. This did not work as the ice cube tray still does not fill with water. Is my Samsung refrigerator problem a possible clogged or bad water valve? Does the water line pass through any sort of filter between the valve and the ice cube tray besides the main water filter in the fridge itself? Do I need to call a refrigerator repair company? Should I contact Samsung Refrigerator Support? Any help you can provide me will help.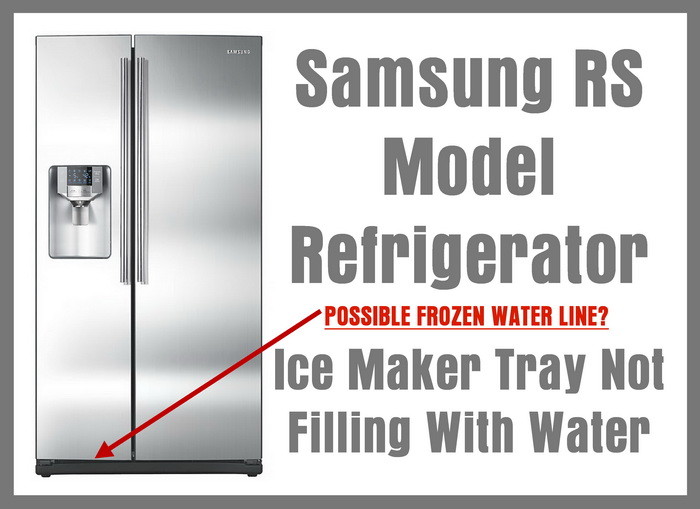 Samsung Refrigerator RS Models – Not Making Ice
Answer: Samsung issued a bulletin for this exact NO ICE issue for Samsung RS263T, RS265T, and RS267T refrigerators. Samsung says the water line within the freezer door can freeze. Samsung states to check the orange water line at the front bottom of the refrigerator and see if the water line is frozen. It tells you to disconnect the orange water line and blow air through it. If no air comes out from the end, it tells you to replace the freezer door. However, replacing the door is expensive, some Samsung refrigerator owners simply replaced the orange water line with new and re positioned it and then wrapped it with insulation tape. Samsung's complete repair explanation is below.





Below is the actual service bulletin from Samsung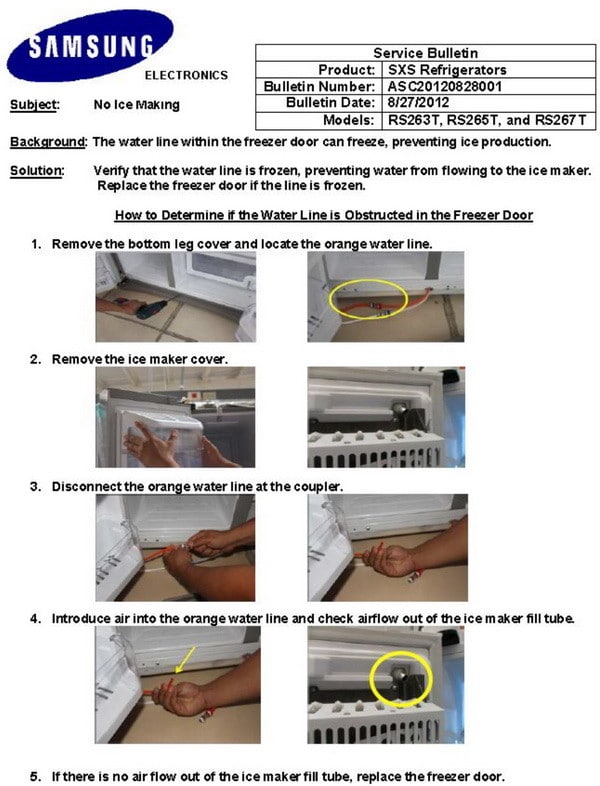 ICE MAKER PROBLEM? = Samsung Refrigerator RS Model Number – Not Making Ice
WHAT CAN BE THE CAUSE? = Water Line In The Freezer Door Can Freeze
WHAT HAPPENS IF FROZEN? = This Prevents The Ice Maker From Making Ice
HOW TO FIX YOURSELF – STEP BY STEP
1 – Remove Bottom Leg Cover
2 – Locate The Orange Water Line
3 – Verify If The Orange Water Line Is Frozen
4 – Remove Ice Maker Cover
5 – Disconnect Orange Water Line At Coupler
6 – Introduce Air Into The Orange Water Line
7 – Check Air Flow Out Of The Ice Maker Fill Tube
8 – If No Air Flow Out Of Ice Maker Fill Tube Replace Freezer Door
9 – You May Also Try Wrapping The Orange Water Line With Insulation Tape
If you have the issue of your refrigerator / freezer not making ice, and it does not pertain to the issue here,
please see the page here Refrigerator Freezer Not Producing Ice Cubes.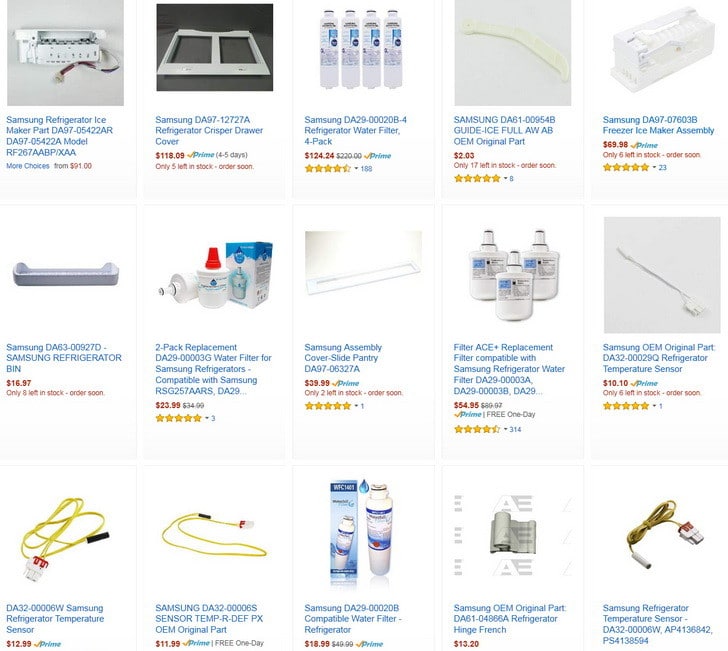 Samsung refrigerator parts
If you have this exact same problem on your Samsung RS Model Refrigerator and you HAVE NOT found an orange frozen water line as the above article suggests, please leave a comment below and we will be happy to assist you in troubleshooting the NO ICE issue. If you have found a frozen ORANGE WATER LINE, let us know if you have tried wrapping it with a thermal insulation tape and if that has fixed the issue instead of replacing the freezer door.