If you are getting the ND error code on your Samsung washer, this means it will NOT DRAIN. This error occurs when the washer cannot drain or at times it cannot spin properly. It is most commonly called: Water Does Not Drain From Washer. The information below will show you how to correct and reset the washer to clear the ND error code.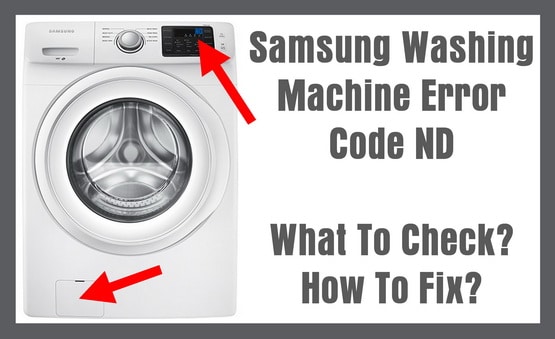 Samsung washer ND error code
When your Samsung Washing Machine will not drain or spin AND the "nd" error code is shown… Do the following to fix the washer yourself…
1 – Make sure the wash size is not too big.
2 – Be sure the clothing in the washer is balanced.
(If the tub is overfilled with clothing, the wash tub cannot spin at faster speeds, the washer may shut off if this is the case)
3 – Make sure the washer water drain hose (the drain hose from washer to wall) is straight and has no bends.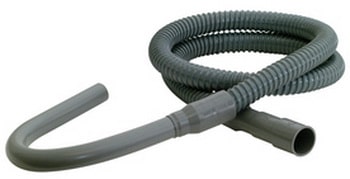 Washer drain hose – Make sure it is not bent or clogged
Make sure the washer drain hose is not pushed far into the draining pipe.
NOTE: A siphoning effect will happen if the drain hose is pushed in too far… thus causing water to come back into the washing machine.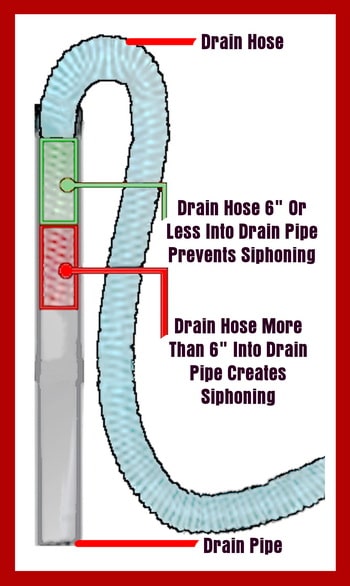 Be sure washer drain hose is not in drain pipe too deep
1 – Make sure the washing machine door is completely closed.
2 – Be sure the pump filter is clean and not clogged or blocked in any way.
(The washing machine will not drain or spin if the pump debris filter is clogged. Here is info for How To Clean The Filter On A Front Loading Washer.)
3 – Make sure the washing machine is completely level. Use a level and put it on top of the washer to be sure it is level on the ground. If you find the washer not to be level, use the legs on the washer to level it.
Is the washing machine door locked? Clean the pump filter out as this will lessen the water level and unlock the door lock.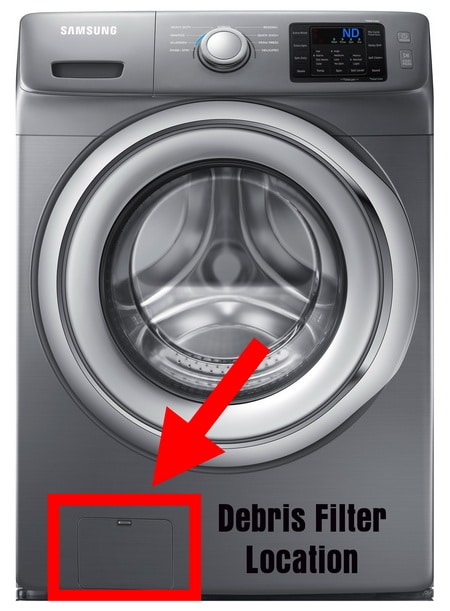 Samsung front load washer filter location
The ND error is NO DRAIN. If you have any issues dealing with your Samsung washer and the ND error code, please leave a question or comment below and we can provide assistance. Please leave the model number of your washer so we can assist further.