If your front load washing machine is experiencing wet clothes after washing, washer is vibrating, longer wash cycle times, washer stops and pauses, or door stays locked? You most likely have a clogged drain pump filter. Over time small items in your washer will fall down into the drain system and get trapped in the filter. This filter is a part of your front load washer so small items like lint, dog hair, coins, and keys do not find a way into the drain pump filter (aka coin trap).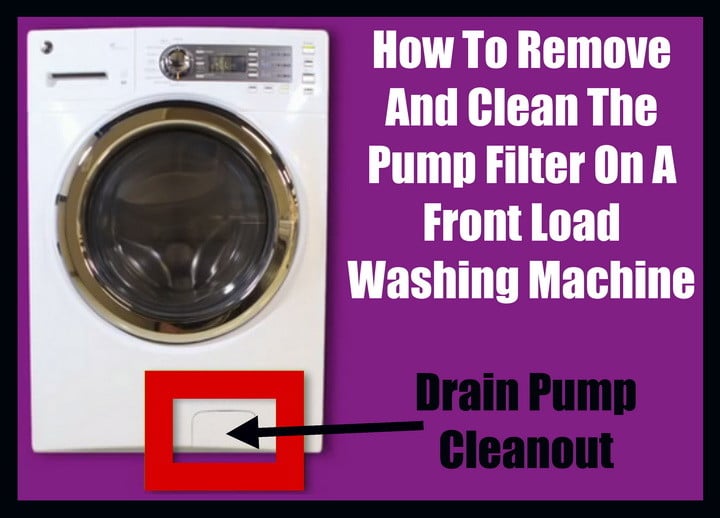 How To Clean Pump Filter On A Front Load Washer – Drain Pump Clean out
The filter on a front loading washing machine is located on the front of the machine on the bottom and the right side or left side. The filter needs to be cleaned and maintained. Cleaning it on a regular basis will avoid any future problems with your washer having operational issues.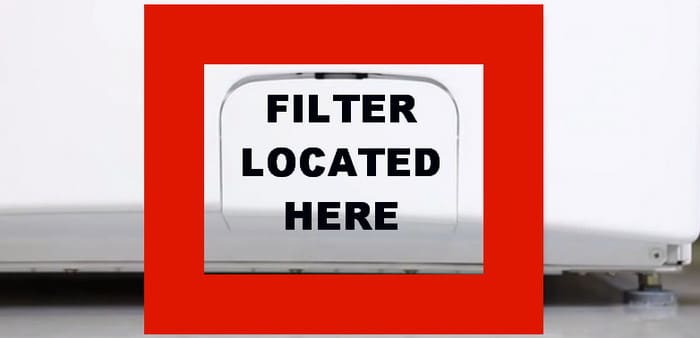 Front load washing machine pump filter access
To open and clean your front load washer drain pump filter:
1 – Locate and open the small access door using a flat screwdriver or coin.
2 – Get a small bowl and towel and put under the door.
3 – Turn the filter counter clockwise to remove it.
4 – Let all the water drain out into the bowl or towel.
5 – Clean out any link, dog hair, or other gunk in or around the filter.
6 – Run the filter under hot water in your sink to clean it off.
7 – Clean where the filter slides into with a warm rag or dishcloth.
8 – Reinstall the filter and turn clockwise to lock it in place.
9 – Close the small access door.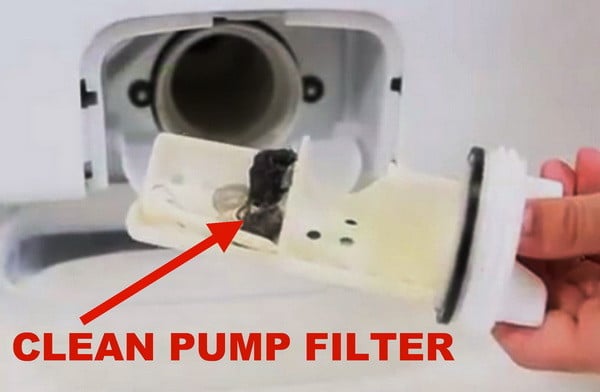 Front load washer pump filter removal

How to Unclog the Drain Pump When Front Load Washer Not Draining Or Leaving Clothing Wet
Now, test your washer by doing a normal load of clothing on a normal wash cycle. You should notice that your clothes are not wet, the washer is not vibrating, the wash time is shorter, the washer does not pause and stop, and the door will not lock.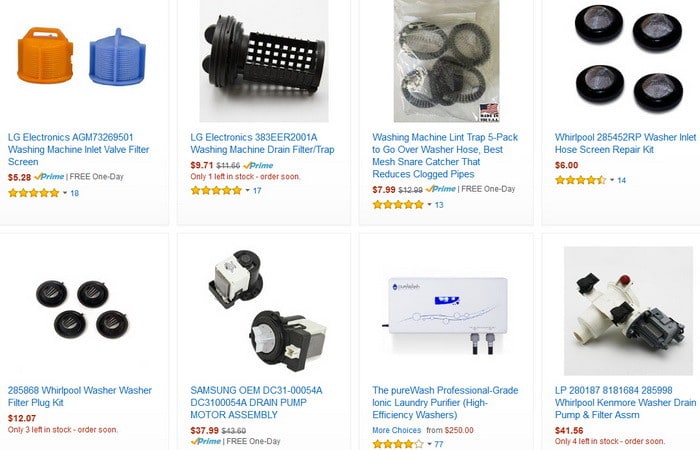 Front load washer drain pump replacement filters
If after cleaning the drain pump filter you experience the same problems with your washer, it may be washer out of balance. Make sure you are not overloading your washer or letting large items become unevenly distributed in the wash drum. Most front load washers sense when you have an unbalanced load. Your washer will try and compensate for this by washing longer or pausing and stopping. Small loads like one pairs of jeans may also be seen as an unbalance. Always have enough clothing in your washer to keep things "even" so the washer does not sense an imbalance.
Remember to always remove items from pockets of clothing before putting into the wash machine. Doing this will prevent any other foreign objects from getting into the pump filter. Keeping the filter clean is the best way to prevent the washer from experiencing wet clothing after washing, washer that vibrates, long wash cycle times, washer stops and pauses, or the door stays locked.

Front Load Washer Pump Clean Out
Note: This only applies to front loading washing machines as older style top loading washers do not have a drain pump filter.
If you know of other ways a washer will have the issues mentioned above but it is not from a clogged drain pump filter, please leave a comment below to assist others.