QUESTION: When I run my dishwasher the dishes, glasses, silverware, and plastic have a white residue coating on them. The white residue is on everything. This happens whenever I run a cycle in the dishwasher. No matter what I do I am unable to get my dishes clean without the white residue that is like a white powder when it dries. At times I get white specks and powdery residue on everything. I changed dishwasher detergent and it has not helped. I always use jet dry with every wash cycle. What could be causing the white film coating and specks? Do I need to clean something in the dishwasher or do I need to use a special detergent? How do I stop the dishwasher from leaving white residue on everything?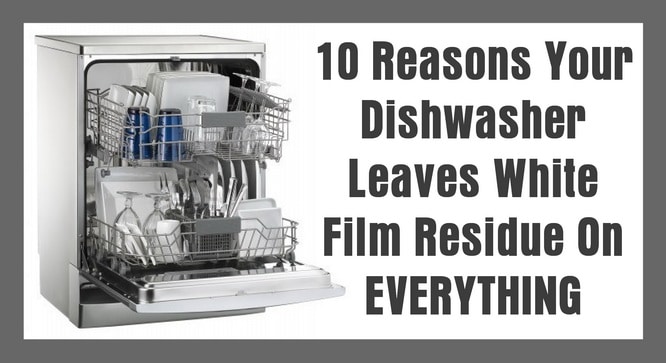 Dishwasher Has White Residue On Glasses And Dishes: Answers – Solutions – Things To Try
Dishwasher Has White Residue Answer 1:
HARD WATER – Depending on where you live, you may have hard water and this is creating the residue.
(A home water softener will solve your issue)
Dishwasher Has White Residue Answer 2:
TOO MUCH DETERGENT – If you are using an excessive amount of detergent, your dishwasher may have a difficult time washing it all away.
(Fill the detergent compartment only half of the way)
Dishwasher Has White Residue Answer 3:
WATER IS INITIALLY NOT HOT ENOUGH – Run the water on your kitchen faucet until it is HOT. This will make sure the water is HOT enough to dissolve the detergent and stop the white residue.
(If your dishwasher has a HOT WATER START, use it when the water is HOT and this should solve your issue)
Dishwasher Has White Residue Answer 4:
DISHES HAVE FOOD STUCK ON THEM WHEN PLACED IN DISHWASHER – Do not let food dry on your dishes. Remove and rinse glasses and or dishes before putting them in the dishwasher.
(If there are food particles on your dishes, the stuck food may be the cause of having white film or specks on your dishes and or glasses)
Dishwasher Has White Residue Answer 5:
HOME WATER HEATER NOT TURNED UP HOT ENOUGH – Make sure your home's main water heater is at the proper temperature for the dishwasher to run efficiently.
(Here is how to turn the temperature hotter on your home water heater)
Dishwasher Has White Residue Answer 6:
USE LEMI-SHINE – This product is made specifically to remove the white residue on your dishes and or glasses.
(Add some of this with your main dishwasher detergent and it should clear up the white residue issue)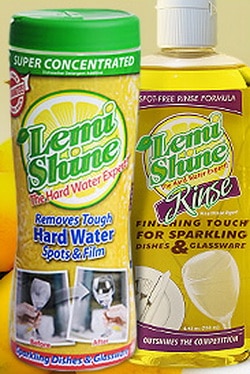 LEMI-SHINE for dishwasher
Dishwasher Has White Residue Answer 7:
USE CITRIC ACID – Pour the citric acid in the detergent cup and run a wash cycle on empty with HOT water.
(The citric acid should clean out your dishwasher and stop the white film problem)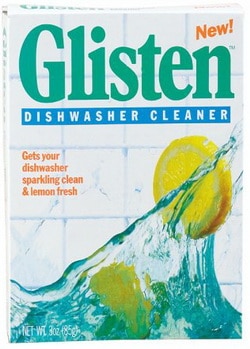 Citric Acid – Dishwasher Cleaner
Dishwasher Has White Residue Answer 8:
USE VINEGAR – Use a gallon of white vinegar in the dishwasher on a normal cycle with no dishes.
(The vinegar will break down any gunk or residue in the dishwasher and clean it out – Repeat several times if needed)
Dishwasher Has White Residue Answer 9:
CLEAN BY HAND THE INSIDE OF DISHWASHER – Scrub the areas in the dishwasher between the door and the dishwasher.
(Wipe down the inside of the dishwasher including the spray arms and clean down in the sump are to be sure there is no gunk or food particles that are creating the white residue)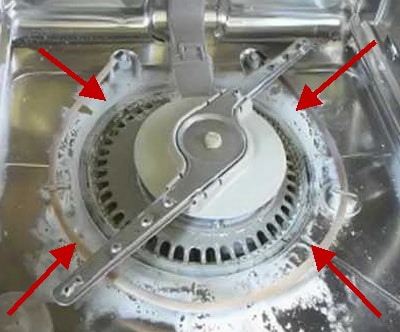 Clean out the inside of your dishwasher to prevent white residue
Dishwasher Has White Residue Answer 10:
USE A PURE LIQUID DETERGENT – Use a liquid dishwasher detergent as the hot water does not have to dissolve a tablet or gel pack first.
(Try a product like Cascade Gel and see if that may help you get rid of the white residue – Some dishwasher detergent has the rinsing agent built in – Try using Cascade/Dawn combo gel packs. These have had good results when trying to prevent the white residue)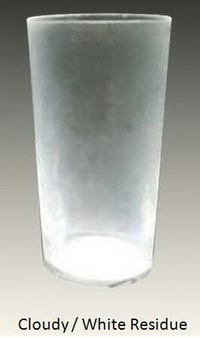 All the methods and things to try explained above should
prevent white residue on glasses from dishwasher
NOTE: Phosphates were removed from dish washing detergents in 2010. Phosphates acted as a cleaning agent and helped to remove white film residue and white specks. This lead to more people experiencing white film on their dishes. This white film is also caused from heavy mineral build-up. The white film will be more noticeable when you live in an area where you have hard water.