Last Updated on June 9, 2016 by Appliance Repair Assistant
Is your Samsung phone taking blurry photos from the rear or front camera? Here are some tips you can try and possible reasons why your pictures are blurry. Whether the pictures your phone takes have been blurry from the beginning or it just started happening, these tips will show you how to fix the blur issue. Sometimes you may find that one photo mode is less blurry than others, such as in Selfie mode. This may be because you are using the front facing camera and the issue is with the rear camera. See below for reasons your pictures are blurry on your Samsung phone.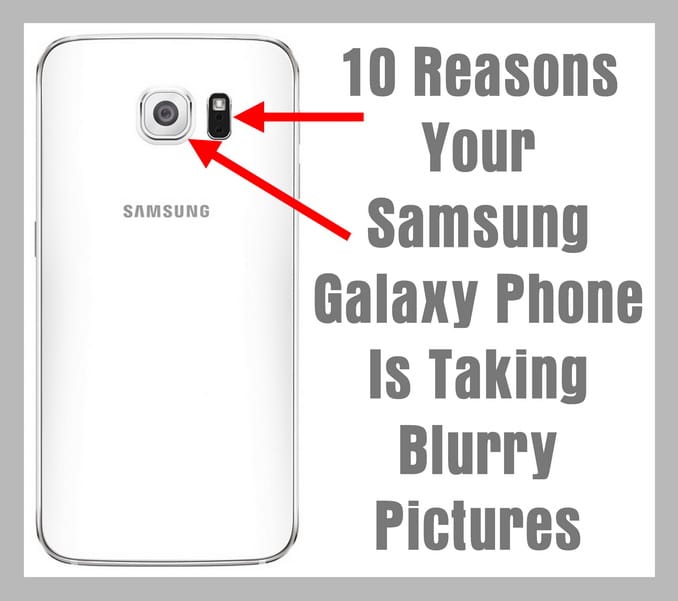 Why your Samsung Galaxy Phone is taking blurry or unfocused pictures?:
1. Make sure the protective piece of film is not STILL on the camera glass lens. Samsung phones are shipped with a small piece of plastic protective sticker that covers both the camera lens glass and the flash glass cover. Be sure these protective film stickers are removed and not blocking the lens. If you still had the film on your phone and you have now just removed it, take a few test pictures and you should find that the blurriness is gone.
2. Your camera lens may have grease or fingerprints on it. Ever time you put your phone in your pocket or purse, it is coming in contact with lint or dust. Each time you remove your phone from your pocket or purse, you may be touching the camera lens and getting fingerprints on the lens. Wipe the lens before you take pictures. After wiping the lens off, try taking a few pictures and see if they are still blurred.
3. The case you have for your phone may be interfering with your camera lens. The bevel (near the camera lens) on the phone case may interfere with the cameras lens due to the light transmittance. Try removing the case on your phone and take a picture to test. If you find the phone case was causing your issue, buy a different case with a wider or no bevel that can interfere.
4. The camera lens may fog up in high humidity areas. If you are in a humid area and find your pictures are blurry, use a soft cleaning cloth and wipe the camera lens before you take each picture. The fog up affect happens if it is raining heavily or if you are in a humid region of the world. Remember to always wipe the lens if the glass gets foggy in certain areas and conditions.
5. The optical camera sensor moves on some Samsung phones. It has been reported by some that this sensor gets stuck and can cause the camera to not focus properly. The solution for this is to open the camera app and lightly shake your phone before taking a picture. You can also try lightly tapping on the lens with the camera app open. This may sound strange but it has solved the issue for hundreds of Samsung users getting blurry pictures.
6. Try switching between camera modes. Go into the camera app, click mode, select "Beauty Face", then go back into Mode and hit "Auto". This has been shown to fix a phone if it has been taking blurry or out of focus pictures. Also be sure you are pressing the screen on the object you are trying to focus on to lock onto that object.
7. Try pointing the phones camera elsewhere to focus and then bring it back to what you are taking a picture of. This has been shown to bring the camera back into focus.
8. You can try clearing the cache of your camera app. Go into system settings > applications > sort by all > camera. Clear the cache for the camera. This frees up memory and may clear some type of issue that was causing your phone to take blurred pics.
9. You may be trying to take pictures from a moving object. A bumpy train, car, ship, motorcycle, or aircraft will make it difficult for your phone to completely focus on the object you are trying to take a photo of. You can try putting the phones camera in ANTI-SHAKE mode and this can help.
10. Depending on the version of Android you are running on your phone, this may be a reason for out of focus pics, as a bug in certain versions have been reported by some. Try updating your phone with the latest android version.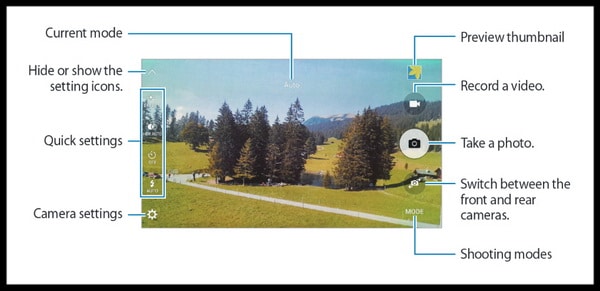 Samsung phone camera display icons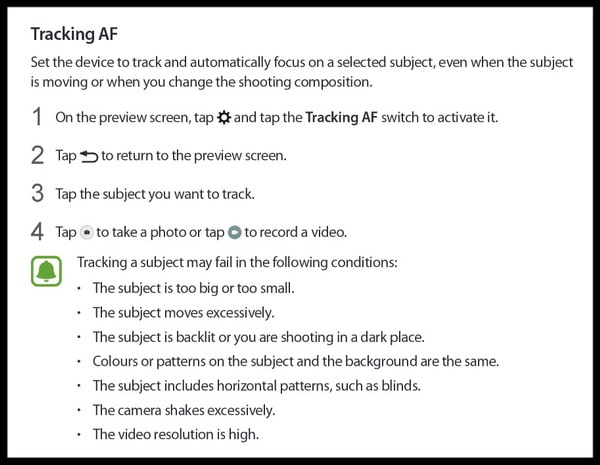 Samsung Phone Tracking Auto Focus

Samsung Galaxy Phone Camera Tracking Stabilization

Samsung Galaxy Phone Camera Photo Quality