Question: I opened the refrigerator and found the fridge section is not staying cold. The freezer section is beginning to thaw the frozen food. I DO hear the motor or compressor running. I have NO technical skills. What is the easiest way for me to fix my refrigerator?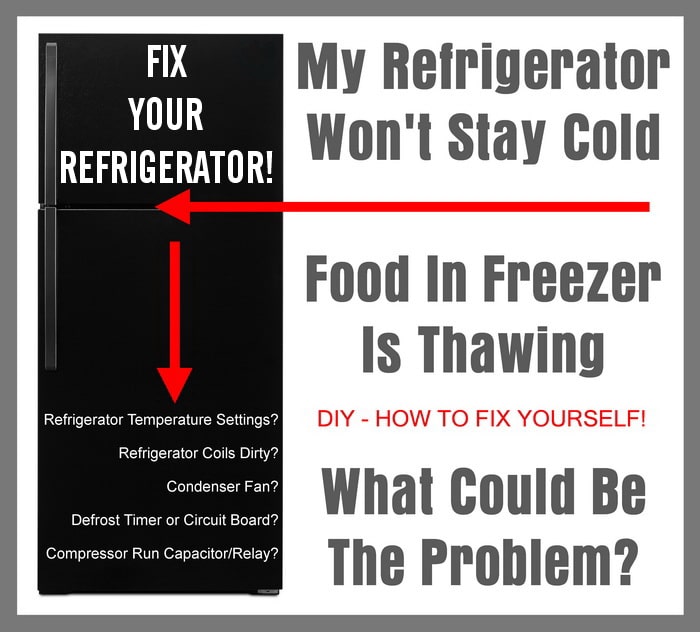 My Refrigerator Won't Stay Cold – Food In Freezer Thawing – What Could Be The Problem
Answer: Here are the easiest things to check yourself from MOST LIKELY first…
1 – Refrigerator Temperature Settings
Check temperature settings of fridge section AND freezer section.
(Be sure fridge temp settings are set correctly and not set to a "warmer" number – set to COLDEST setting to test)
2 – Refrigerator Coils
Be sure the refrigerator coils are clean and free of dust, dirt, animal hair.
(Coils are located on back of fridge – check owner's manual or check here for how to clean coils properly)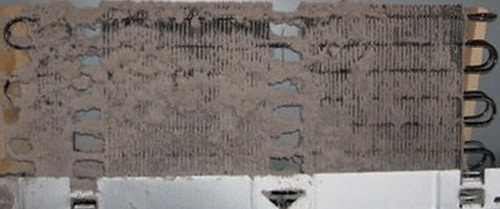 Dirty Refrigerator Coils – Will Cause Fridge To Not Cool
3 – Condenser Fan
Check that the condenser fan that pulls air across the coils is running – assuming it should be if temps are high.
(Refrigerator condenser fans commonly fail – check that it is working or verify that power is going to the condenser motor)
NOTE: If power is going to condenser fan and it does not run, replace the condenser fan motor. If no power is going to condenser fan the problem is most likely a thermostat or faulty wiring.
4 – Defrost Timer/Circuit Board
The defrost timer may be faulty and therefore not cooling or freezing.
(The defrost timer on newer refrigerators are usually located on a circuit board or on the main control board. The defrost timer on older style refrigerators is an electromechanical device all by itself as one part and not located on a circuit board.)
5 – Compressor Run Capacitor/Relay
The run capacitor or the relay for the compressor may have failed.
(The run capacitor and relay are located near the compressor – If either fail the compressor will not run and therefore no cooling)
TIP: This is uncommon but CAN happen and cause your fridge/freezer to not stay cool:
If your refrigerator has a "through the door ice dispenser"…
The small door that closes after ice drops down the chute could be stuck open.
If the small door is stuck open it can allow warm air to enter into the freezer section.
If the small door gets stuck, use a pencil or similar and try to snap it back into the closed position.
Please Note: This is intended to be a simple guide to show a person without technical knowledge how to and what to do when a fridge will not stay cold and the freezer begins to thaw. For a more technical article for Fixing a refrigerator that will not cool can be found here.
Need help? Please leave a question below describing your refigerator issue and provide the model number for us to troubleshoot further.