Your Samsung washer can display many different error codes. No matter what the error code, you can try to reset the Samsung washer to erase, clear, or remove the error code by simply removing power to the washer. This can reset the main control board or whichever washer component that is causing the error code to appear. At times an error code is not truly an error, it may be just a "glitch" that has randomly appeared. Because of this, resetting the washer by removing power is the first thing to do.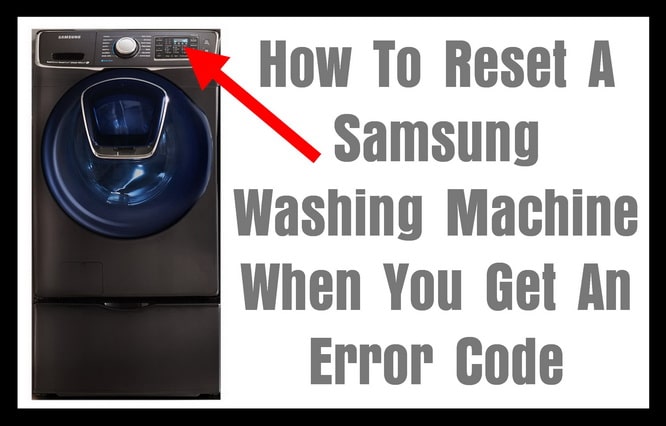 How To Reset A Samsung Washing Machine When You Get An Error Code
To reset your Samsung washing machine you need to simply disconnect the washing machine from power for 5 to 10 minutes. (Unplug the washer from the wall outlet or flip the breaker in the breaker box for the washing machine). Once the 5 to 10 minutes has passed, connect power to your Samsung washer and run a test wash load to see if the error code has cleared. If not, see below…
Newer digital Samsung washing machine error codes appear as a 2 digit code on the display screen, they can appear as letters or numbers or even both. When a code appears on your Samsung washer and you have already tried the unplug reset, you need to identify the error code to fix the washer.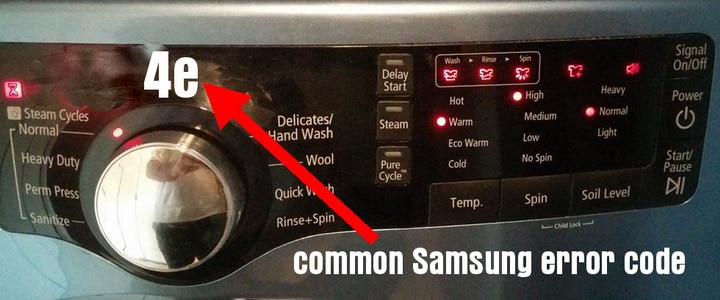 Samsung washing machine – 4e common error code
The many Samsung Washing Machine error codes can include dL, dS, d5, FL, Hr, LO, 5E, SE, 4E, ND, NF, dE, UE, DC, 3E, bE, LE, HE, tE, IE, CE, OE, etc…
Find out what all these error codes mean here… Samsung Washing Machine Error Fault Codes.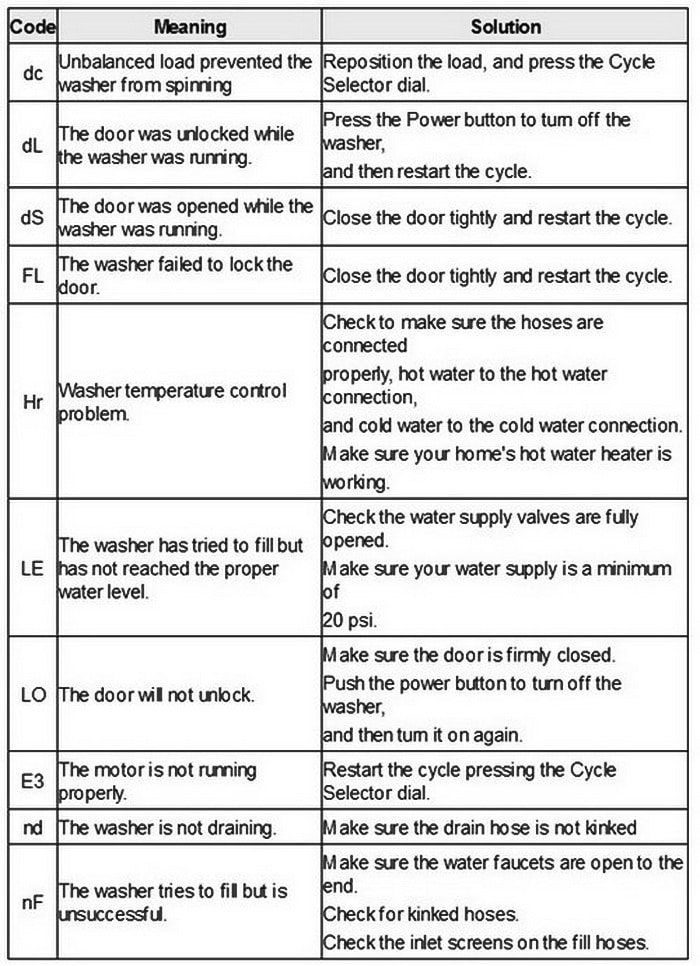 Here is a list of some Samsung Washer Error/Fault Codes
Samsung Error Code DC means you have an unbalanced load. Move the clothing around to be sure clothing is not in one area. Spread it out and test to clear DC error code.
For an example, the Samsung Washer OE error code means the washer has detected an overfill situation. This may mean the water inlet valve is faulty or the water level sensor is faulty. Troubleshooting is needed for some error codes.
Other Samsung washer error codes simply need the door to be shut, the door switch changed, the water inlet valve replaced, or the drain pump filter to be cleared and or cleaned, etc…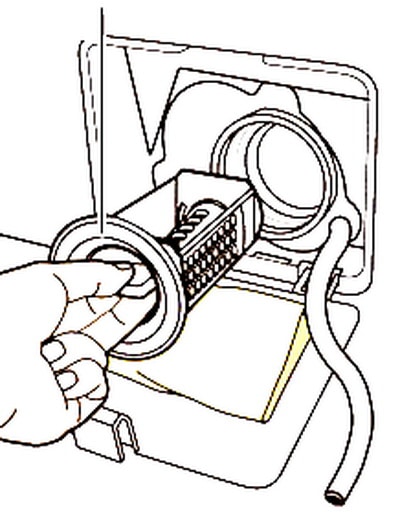 Samsung Washer Drain Debris Filter – Drain Pump Filter

How to Understand Samsung Error Codes
Another example is the LE error code which means a Water leak error, it means the washer has excessive SUDS or possibly a faulty water level switch.
Other common error codes can be cleared by pressing the Start-Pause button or by removing power to the washer. See below…

Samsung Washing Machine Control Panel – START PAUSE BUTTON
Other Samsung error codes that can be reset by removing the power can include water heater issues, water pressure issues, abnormal water temperature issues, motor restriction issues, and over current errors.
Have a question about ANY Samsung Washing Machine Error Code? Please leave a comment below!