Samsung washing machine getting an error code? Here is information that will assist you in identifying what may be making your Samsung washer display an error code. Identifying what the error or fault code is will help you to repair your washer. The Samsung specific error fault codes below are to give you an idea as to what part is at fault. You may have to do further troubleshooting to find what may be causing the fault for that specific part.

Samsung Washing Machine Error/Fault Codes – Probable Fault Identifiers
Samsung Washing Machine Fault Codes
(Newer Model Number Samsung Front Load Washers)
dL
The door was unlocked while the washer was running
dS
The door was opened while the washer was running
d5
The door was opened while the washer was running
FL
The washer failed to lock the door
Hr
Washer temperature control problem
Heater Relay Failure (on main PCB)
LO
The door will not unlock
5E or SE
Washing machine has failed to drain the water
4E
Water fill time out
ND
Water Does Not Drain From Washer
NF
Water fill time out = No Fill
dE
Washing machine door detected as being open
UE
Washing machine has detected an imbalanced load
DC
Washing machine has imbalanced load and will not spin
3E
Motor Drive Error or Hall Sensor Error
bE
Motor short error
OE
Washing machine has detected an overfill situation
LE
Water leak – Excessive SUDS – Bad water level switch
HE
Water heating error detected
tE
Water heating sensor (thermistor) error detected
IE
Water level sensor fault
CE
Abnormal water temperature detected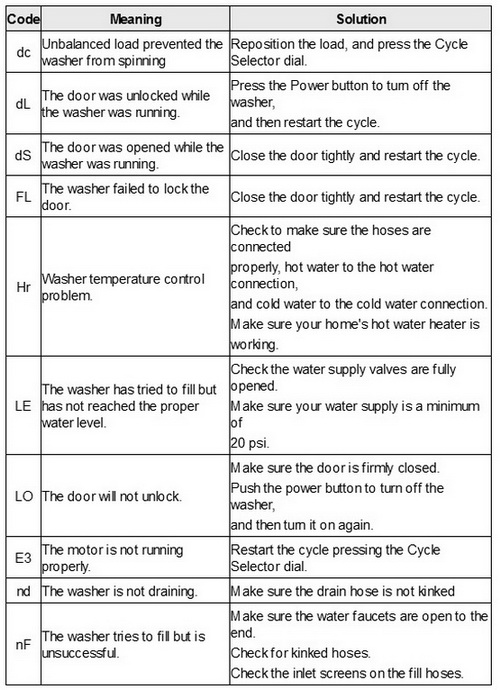 Samsung washing machine error codes list and solutions
Samsung Washing Machine Fault Codes (Older Samsung Washers)

E1
Not filling in allocated time
E2
Pump won't empty – not draining
E3
Overflow – overfilling with water
E4
Out Of Balance (OOB) detected
E5
Water temp rising or falling too quickly
E6
Water temp rising or falling too quickly
E7
Pressure switch
E8
Temp too high on low temp washes
E9
Water leak, Water level has reduced
EA
Motor generator error
EB
Motor error
EC
Thermistor
ED
Door Open
If your Samsung Washing Machine Error Code is not listed here, check
Google or YouTube to find the exact error code your Samsung is displaying.
NEED WASHER PARTS? Over 6,000 New and Discounted Washing
Machine Replacement Parts For ALL Washing Machine Models
Here are error codes for Amana, Asko, Beko, Bosch, Daewoo, Fisher & Paykel, Frigidaire,
GE, Haier, Hotpoint, Kenmore, LG, Maytag, Samsung, and Whirlpool washers.
Here are Washing Machine Error Codes For All Washing Machines.
Need assistance with finding an error code for your washer?
Ask your question below and we will be happy to assist.
Allen is an Appliance/Home Maintenance expert and the author/creator of this website.
Contact him here if you have questions.
More "Do It Yourself" Tips, Tricks, Ideas, Repair: