Your washing machine is not working properly. It does not spin, won't drain, can't turn on, unable to wash properly, ends cycle early, does not fill, etc. You need to find a washer service manual or repair guide to show you how to take it apart and diagnose what to remove and replace. These free repair service manuals are for all types of washers including portable, electric, gas, top load, and front load. Below we have researched links that will help you to either download a .pdf washing machine service repair manual or view it online in your web browser. Don't need a service technician manual? Look here for help with fixing your washing machine.

Note: Make sure to have your Washing Machine Model Number when searching for your particular service repair manual below. Model number is usually located where the washer door opens and shuts.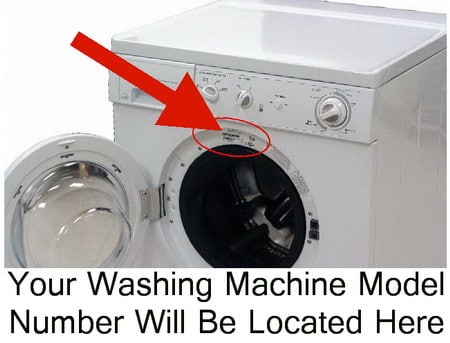 Admiral Washing Machine
Model AAV-3 view in your browser | Admiral Washing Machine Parts Online
Amana Washer
Search for your Amana Washer manual by Amana Model Number | Amana Top Load Washing Machine Manual
Beko Washing Machine Service Repair Manuals
Beko washing machine service manuals (once on Beko page, click "manuals" to the right on nav bar and type in Beko model number)
Bosch Wash Machine Manual
Search for your Washing Machine Manual by Bosch Model # | Bosch Washer Parts Online
Electrolux Washer
Search online for your washer service manual by Electrolux model number
Estate Washing Machine Manual
Made by Whirlpool – Search Whirlpool Estate Model Number
Fagor Wash Machine Repair Manual
Download your Fagor washer manual in .pdf format
Fisher & Paykel Washing Manual
Find by typing in your appliance F&P product code here
GE Washing Machine Manual
Find your GE washer by model number there you can find install guides and parts manuals
GE Front Load Full Washer Manual | GE WSL Washer | GE Profile Washer | GE Prodigy "W" Washer | GE WPRE
Haier Washing Machine Manual In PDF
HMS1000 Washer Manual Here | HWM70 and HWM80
Hotpoint Washer Repair Manual
Download .pdf washing machine Hotpoint service manuals for Creda models, Ariston models, AQ models, Ariston multi language .pdf files, WF install and troubleshooting.
Kenmore (Sears) Washing Machine Manual
Choose from your Kenmore make and model to find your washer | Kenmore washer parts online
Kenmore direct drive washer repair manual | Kenmore Elite Front Loading Washer | Kenmore old style manual
LG Washing Machine Manual
LG makes over 100 different type of washing machines, choose your here to find your specific repair manual
Magic Chef Washing Machine Manuals
Find ALL service manuals for Magic Chef washers – Here are the CAV and HTW models view in PDF format
Maytag Washing Machine Service Manual
For Maytag manuals and misc parts guides, type in your model number here to find all Maytag manuals
Maytag 1990 washer PDF manual | Maytag S1000 washer service manual | Maytag MFR front load washer manual | Maytag Neptune manual | Maytag Atlantis Washer Manual | Maytag Performa manual | Maytag MAH2400AW
Need Maytag washer parts? Shop Maytag Washer Parts
Samsung Washing Machine Repair Manual
Choose your Washer, then type in your model number to download your service manual
Sharp Washing Machine Service Guide
Simply choose your washing machine and type in your model number to get your Sharp washer repair manual
Siemens Washing Machine Instruction Manual
Type in Siemens Washer Model Number and download your manual
Speed Queen Washing Manual
This page will allow you to type in your washer model number to get your Speed Queen washer manual
Toshiba Washing Machine User Manual
Many different PDF service manual files to view in your browser for all models of Toshiba Washers
Whirlpool Washing Machine Manuals
Search by your washing machine model number (Whirlpool) | Whirlpool Direct Drive Manual | Whirlpool Calypso Service Manual | Whirlpool Duet Washer Manual | Whirlpool Front Load WFC Manual | Whirlpool Cabrio Manual
White Westinghouse Washing Machine Manual
All White Westinghouse User repair washing machine manuals
If your washing machine brand name is not included in the above list… Do a Google search using your Manufacturer, Model Number, and the words "Service manual" and you will more than likely be brought to the manufacturers website and land on the "Wash Machine Service Manuals Download Page". You can also do a search on YouTube for your particular machine to be shown guided help on how to take your washer apart.
If you would rather purchase the original service manual for your washing machine, here is a good place to find it.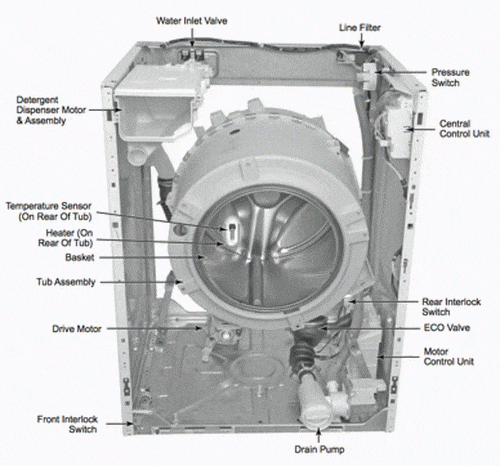 SAFETY NOTE: WHEN WORKING ON ANY WASHING MACHINE, ALWAYS UNPLUG THE MACHINE FROM POWER AS ELECTRIC SHOCK CAN OCCUR!