(Last Updated On: June 1, 2018)
How do you fix a washer that will will not spin or drain? If your old or new washing machine does not spin we have some diy fix tips below to get it running again. The absolute first thing to do to your washing machine that will not spin or drain (whether it is top loading or front loading) is to perform a "Master Reset" to the washer. This should be completed before taking off parts or removing panels to make sure the computer control is not at fault. To fix your washer yourself, you may need to find your Washing Machine Service Repair manual.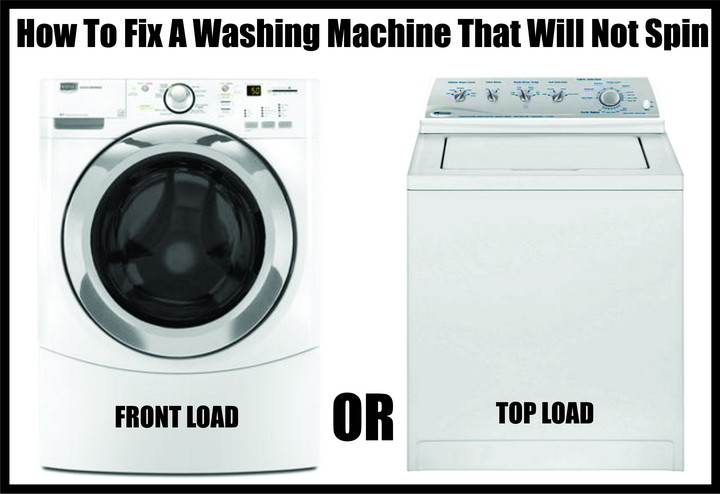 There may be an issue with the "Lid Switch". Top loading washing machines that have a faulty lid switch will not turn the agitator and the spin cycle will not start. However on some washing machine models it will still agitate but not spin. To properly check this you must remove the lid switch. (The lid switch is inside the washing machine main housing near the door frame.)
The proper procedure for removing the switch will vary by different washing machine models so look in the user's manual guide that came with your washer for the proper removal procedure. Or type in your washing machine's model number and company manufacturer into Google and do a check for "Washing Machine Remove Lid Switch Model# Serial#".
Remember to unplug your washer before you begin any testing or repairs. Once the switch is removed keep the wires coming from the washer attached to it so you can test it with a digital multimeter. Press the button on the switch to simulate closing the lid. When you have the lid CLOSED (button pressed in), the switch should have continuity. When the lid is OPEN (button not pressed in), the switch should have no continuity. If the switch does not have continuity when pressed in, the lid switch needs to be replaced. Find your washing machine lid switch. If the lid switch is functioning properly, go to the next step.
Another common item to go bad in your washer is the "Water Level Control / Pressure Switch". This is usually always the defective part when your washing machine pumps the water out but will not spin and also when the water overflows on your washer. You can check this yourself by removing the 4 screws that hold the control panel in place. Once removed you will see the Water Level Control Valve.
To identify it look for the part with the small plastic tube attached to it. Once identified, pull the plastic hose off the water level switch and blow air into it. If the tube is clogged with soapy residue, then you can try forcing vinegar down the tube and in the switch itself by using a turkey baster as this will dissolve the soapy residue. If the switch is visibly cracked or burned you will need to replace it. To replace this switch, the proper procedure for removing the switch will vary by different washing machine models so look in the user's manual guide that came with your washer for the proper removal procedure. Or type in your washing machine model number and company manufacturer into Google and do a check for "Washing Machine Remove Replace WLC Pressure Switch Model# Serial#".
"Washer Drive Belt / Spin Belt on Front and Top Load Washers"
In most TOP LOAD WASHING MACHINES the washer drive belt connects the drive motor to the washer transmission. In most FRONT LOAD WASHING MACHINES the drive motor connects to the wash basket. When your washer is not spinning, check the drive belt for damage, rips, over stretched, or has fallen off. If the belt is in good condition be sure you check that the idler pulley and or glide on the motor is working correctly and is able to move as designed.
On TOP LOAD WASHING MACHINES be sure the pulley on the transmission turns in the spin and agitate positions.
Check that there is nothing hindering the agitator or wash basket movement.
If something is hindering the agitator or wash tub from turning or moving, this can cause the washer belt on the pulley to SLIP and therefore not spin. Make sure to inspect for oil drips or any water leaking on the pulleys or the washer belt that could cause any slippage and therefore not spin properly.
On FRONT LOAD WASHING MACHINES use your hand and be sure the tub will turn freely. Using the exact replacement washing machine belt is critical as the size, length, and width will help to run your front load washer as designed. If the belt is slightly longer, slippage can occur and the washer may not spin on certain cycles or wash load sizes.
If the above troubleshooting procedures are not what you need then have a look at the "Washing Machine Quick Check Fix Guide" below to get help finding the cause of your problem.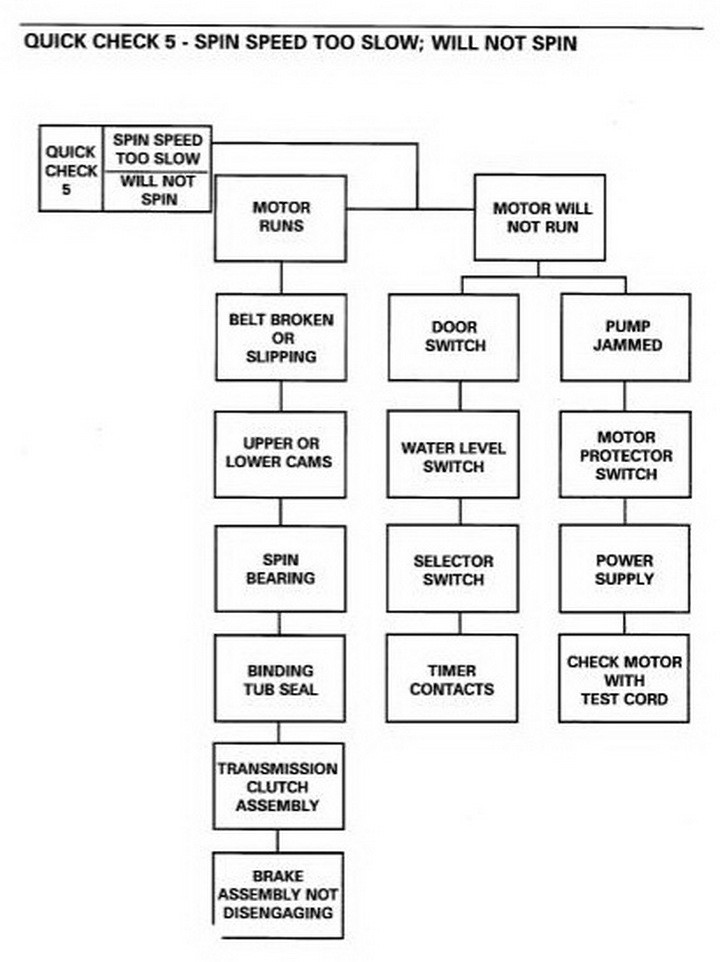 Washing machine will not spin on the spin cycle
Question: My Top Load Whirlpool washing machine will not spin on the spin cycle for the regular wash anymore. It will spin if I put it on the pre soak setting and then all it does is fill up with water and drain when it goes into the actual "spin" cycle. Both cycles will not agitate the clothes. Will I need to buy a new one or is there hope in saving my washer?
Answer 1 – Sounds like the coupling as that is usually the bad part in most Whirlpool models for the problem you are describing. The Whirlpool washer has no belts and is a direct drive gearbox. The motor coupling was a weak plastic part which has been replaced with a steel coupling as a direct replacement. However, if the washer does spin on pre soak then it could be a bad switch. There should be repair information online for your model that can help you figure it out.
Answer 2 – Our washing machine had spin troubles also. It is a Kenmore front loading washer and only 1 year old. Try going on the Appliance Repair Questions website. Those guys are very helpful and some of them are actual appliance technicians that answer your questions free. We got advice and fixed our washer by replacing the motor control board which was about $130 online.
Answer 3 – If it spins on one setting but not another, then it would seem to me that it's one of two things…
A – If it was a motor issue or a mechanical issue then it wouldn't spin AT ALL. Seems more to be a control panel issue. It may be the timer itself. Test the timer.
B – Your particular brand of washer may have a sort of interlock or fail safe that prevents it from spinning if something else isn't right in the system. Possibly a clogged drain or a pump not pumping? If the washer fills at a certain rate and it drains at a certain rate then this is probably not the cause. Do some tests and find out.
Get a wiring and parts diagram and look at the wiring on your washer and find out what leads to what to trace and test the components with a multimeter. Make sure those functions are turning on when they should.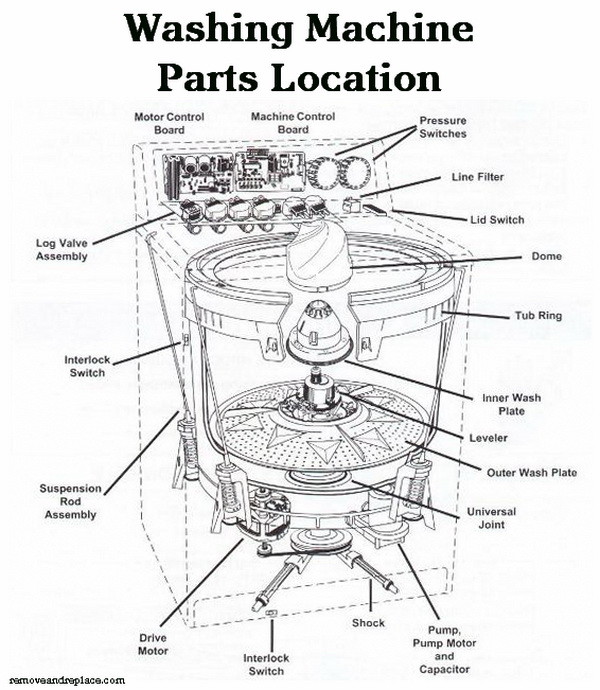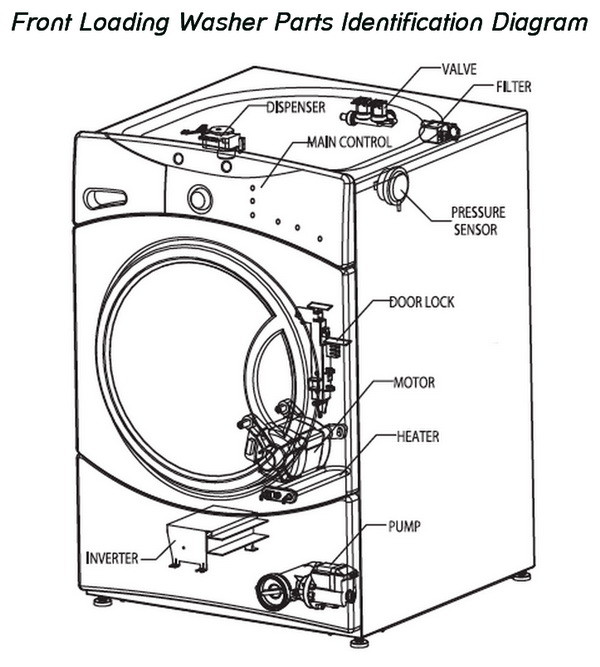 If you still need help, assistance, or answers to fix your Washing Machine Won't Spin or Drain problem, ask the
experts over at Appliance Repair Questions for free answers to fix your broken appliance!
Allen is the author and creator of this website. He has years of experience with appliance repair, commercial food machinery maintenance, electrical, HVAC, plumbing, vehicle maintenance, and critical aviation related systems.