Last Updated on March 21, 2018 by Appliance Repair Assistant
Is your Samsung washing machine showing the error code DC or UE? If you are doing a wash load in your Samsung washer and either of these error codes show up on your washers display, it means that you have an unbalanced load. This is not a serious error code, it simply means there is too much clothing in your washer or it has accumulated to one side and because of that the load is UNBALANCED. You may have bed sheets or towels in the washer and there are either too many sheets or towels or they have found their way to one side of the washer therefore the washer tells you it has an unbalanced load.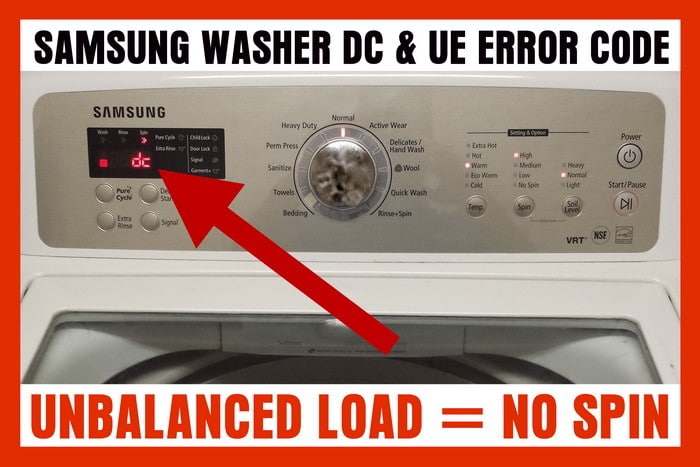 Samsung Washer DC Error Code
Here is exactly what these 2 different but similar error codes DC & UE mean:
SAMSUNG DC ERROR CODE: The DC error code shows on your washers display when your Samsung washer is unable to spin DUE to an unbalanced load.
SAMSUNG UE ERROR CODE: The UE error code tells you that the laundry load is unbalanced and therefore cannot spin.
Both of the DC & UE error codes work together to tell you that you have an unbalanced load and because of that… the WASHER WILL NOT SPIN.
If you get the DC or UE error code, simply redistribute the laundry load by removing some items and moving some items of clothing so the tub is balanced. (Not having a mass of clothing all on one side)
Once you have taken some clothing out of your Samsung washer or you have redistributed the load of laundry: PRESS THE START/PAUSE BUTTON TO CLEAR THE ERROR.
See the chart below for the load and type of clothing load recommended for Samsung washers: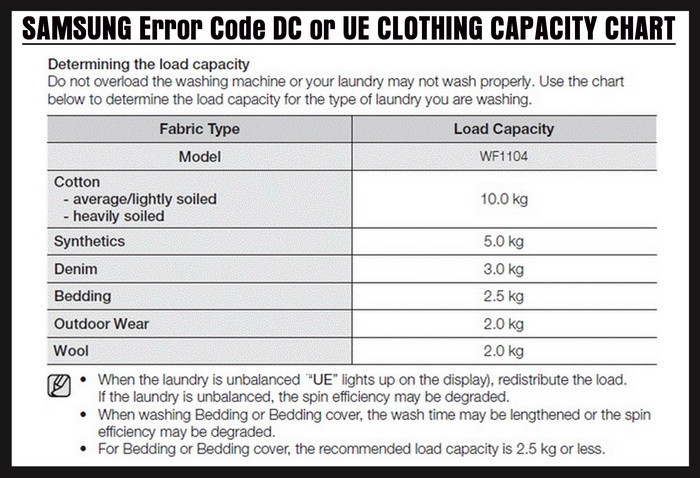 Samsung DC UE error code washer capacity chart

Samsung Washing Machine Fault Code DC How to fix the DC Code

Samsung top load washer dc error unbalanced fix
If you need help or have issues with the DC or UE error code on your Samsung washer, please leave a question below and we will be happy to assist.