Here is information that will assist you in identifying what may be making your Whirlpool washer display an error code. Identifying what the error or fault code is will help you to repair your washer. The Whirlpool specific error fault codes below are to give you an idea as to what part is at fault. You may have to do further troubleshooting to find what may be causing the fault for that specific part.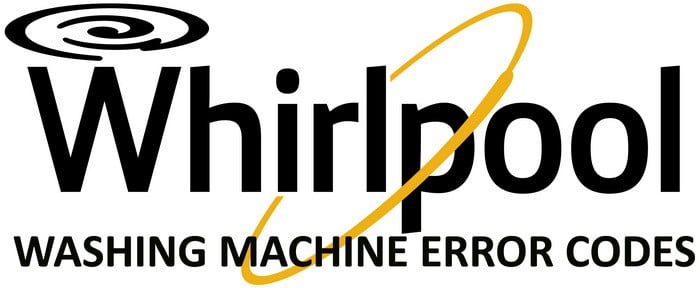 Whirlpool Washing Machine Error/Fault Codes – Probable Fault Identifiers
Whirlpool Duet Front Loading Automatic Washer Fault Codes
FH
No water detected entering machine
F02
Long Drain
F05
Water temperature sensor error
F06
Drive motor tachometer error
F07
Motor control unit error
F09
Overflow condition
F10
Motor Control Unit (MCU) heat sink thermal trip
F11
Serial communication error
F13
Dispenser circuit error
F14
EEPROM error
F15
Motor Control Unit (MCU) error
F20
Water Supply Issue
F21
DRAINING PROBLEM – Drain Pump and Filter
Sud
SUDS LOCK
FdL
Door lock error
FdU
Door unlock error
Whirlpool Calypso Automatic Washer Fault Codes
PF
Power failure
FL
Flood condition
Er
Processor reset error
LF
Long fill
CE
Communications error
Ld
Long drain
CI
Average current limit
ob
Off balance
Sr
Stuck relay
LS
Lid switch error
SL
Suds lock
Whirlpool Cabrio Error Fault Codes
dL (F80, 82, 84, 85) = Door Lock Fail
DU (F83) = Door Unlock Fail
F1 (F60-68) = Primary Control Fail
F2 = Keypad User Interface Fail
F40 = ATC Thermistor Open Short
F41 = Motor RPS Thermistor Open Short
F42 = Heater Thermistor Open Short
F50 = Motor Stalled
F51 = Motor RPS Fail
F52 = Motor Stop Fail
F53 = Motor Control Over Temperature
F54 = Motor Control Over Current
F72 = Basket Re-engage Fail
HC = Hot and Cold Reversed
Ld (F32) = Long Drain Time
LF (F30) = Long Fill Time
Lid (F81) = Open or Close Door Lid
oL (F70) = Overloaded Tub
Po = Pump Out Lid Open
Sd (F71) = Excessive Suds Detect
uL = Unbalanced Wash Load
If your Whirlpool Washing Machine Error Code is not listed here, check
Google or YouTube to find the exact error code your Whirlpool is displaying.
NEED WASHER PARTS? Over 6,000 New and Discounted Washing
Machine Replacement Parts For ALL Washing Machine Models
Here are error codes for Amana, Asko, Beko, Bosch, Daewoo, Fisher & Paykel, Frigidaire,
GE, Haier, Hotpoint, Kenmore, LG, Maytag, Samsung, and Whirlpool washers.
Here are Washing Machine Error Codes For All Washing Machines.
Need assistance with finding an error code for your washer?
Ask your question below and we will be happy to assist.