Here is information that will assist you in identifying what may be making your Amana washer display an error code. Identifying what the error or fault code is will help you to repair your washer. The Amana specific error fault codes below are to give you an idea as to what part is at fault. You may have to do further troubleshooting to find what may be causing the fault for that specific part. First try the solutions suggested here or visit www.amana.com/help for assistance and to possibly avoid a service call.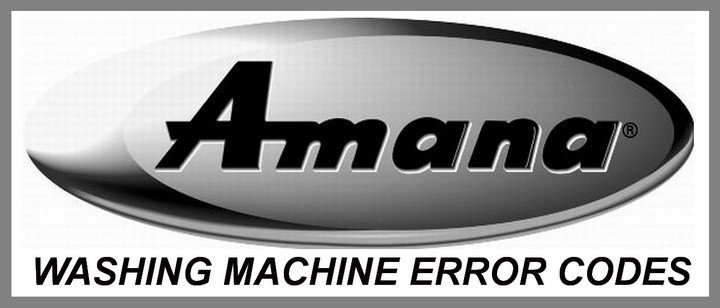 Amana Washing Machine Error/Fault Codes – Probable Fault Identifiers
"Sd"
(Excess suds)
F8 followed by E1
(water supply error)
F9 followed by E1
(drain pump system error)
F5 followed by E2
(door will not lock)
F7 followed by E1
(motor drive error)
"rL"
(remove load)
Washer making error beeps
Door has not been opened and closed for at least 3 cycles
Washer beeps when HOLD TO START is touched
Door not closed
F# E# code other than as described above appears in display
System Code Error
"nt" (interrupted)
Cycle was paused or cancelled
Clean Washer LED flashing at end of wash cycle
The washer has run 30 wash cycles and is indicating a reminder to run the Clean Washer cycle
If your Amana Washing Machine Error Code is not listed here, check
Google or YouTube to find the exact error code your Amana is displaying.
NEED WASHER PARTS? Over 6,000 New and Discounted Washing
Machine Replacement Parts For ALL Washing Machine Models
Here are error codes for Amana, Asko, Beko, Bosch, Daewoo, Fisher & Paykel, Frigidaire,
GE, Haier, Hotpoint, Kenmore, LG, Maytag, Samsung, and Whirlpool washers.
Here are Washing Machine Error Codes For All Washing Machines.
Need assistance with finding an error code for your washer?
Ask your question below and we will be happy to assist.