Need a Free Vehicle History Report? There are many websites now offering FREE VHR's. They offer an alternative to paying fees to check a vehicle's history. The vehicle history that will be shown for free is public record but is organized in a way that shows you detailed info and is completely free. Here is how to get a free Vehicle History Report right now…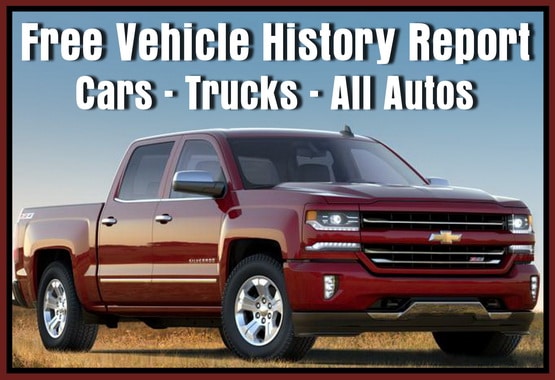 What Is A VHR?
A VHR is a Vehicle History Report. It is a combination of information that will inform you all issues and matters about the repair history of a car or truck, and ownership about a specific vehicle. If it has been in a wreck, is reported to be a lemon, ever been in a flood, repossessed, stolen and much more.
To get a free VHR you need to first retrieve the Vehicle Identification Number or (VIN) from the vehicle you need to find out about.
Where is the VIN Number located on a vehicle?
The Vehicle Identification Number is located on the dashboard that you can see by looking through the windshield from the outside of the vehicle.
Also it will be located on the driver's side door jamb printed on a sticker.
The VIN may also be on the hood, engine, etc.
You can also check the car's title, the insurance papers, and also the service records to find the VIN.

VIN number decoder breakdown in full detail
Once you have the VIN for the vehicle you need the history report from, there are a few different websites you can go to that will provide the free service. We will list all known free VHR websites below…
---

VEHICLE HISTORY – FREE Vehicle History Reports
VehicleHistory.com offers FREE VEHICLE HISTORY REPORTS
Full VHRs are normally available only for purchase. This free source is named VehicleHistory.com.
This free service offers you a VHR for FREE.
Research Vehicles By VIN or Make and Model
You will have to enter the vehicle VIN number OR the vehicle's Make, Model, and Year, on the website.

The VHR report from VehicleHistory will show you:
– The vehicle ownership records
– The public records
– The background history
– The historical records
– The state records
– The vehicle information
– The government records
---

AUTOCHECK – FREE Vehicle History Reports
FREE Vehicle Search: Enter a VIN or Plate

AutoCheck.com is another website for FREE VEHICLE HISTORY REPORTS
Vehicle History Reports are normally available for a fee.
This free source is called AutoCheck.com.
This service offers you a VHR for FREE.
You will have to enter the vehicle VIN number OR the Vehicles USA License Plate on the website.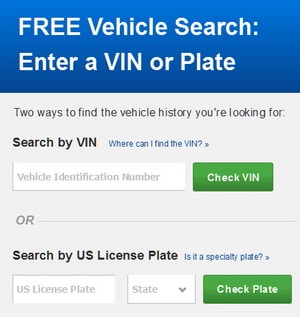 FREE Vehicle Search Enter a VIN or Plate
The VHR report from AutoCheck will show you:
– If a vehicle has been reported in an accident
– Has been branded a lemon
– Was damaged in a flood
– Was ever reported repossessed or stolen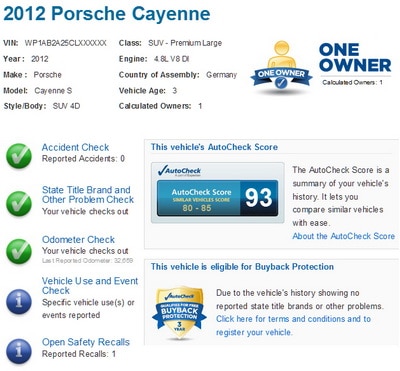 SAMPLE VEHICLE HISTORY REPORT FROM AUTOCHECK – FREE SERVICE
---
Buying a used Car? Show Me the CARFAX with DMV.org
Don't run the risk of buying used cars with costly hidden problems
Get a detailed vehicle history report from the database within seconds

CarFax Report – Enter VIN

Every report contains information that can impact your decision
about a used vehicle through a detailed VIN # check, such as:
– Past ownership
– Title history blemishes
– Faulty odometer settings
– Flood damage
– Accidents
– Car title check
– Airbag deployments
– Liens on the vehicle
– Vehicle maintenance
These are just a few services that offer free VHRs. If you intend to purchase a VHR at some point, run a free report with a great service like VehicleHistory or AutoCheck first. This will help you to see how the service and the company are and get an understanding of the website's layout and how it works before you buy a FULL COMPLETE VHR.

---

Motosnoop For Vehicle History Reports – Cheapest Price For Full VHR
If you need a full VHR and want to pay the cheapest price possible, use MotoSnoop, as one VHR will cost you $5.99 and has no bulk expiration.

MOTOSNOOP VHR pricing
---
Here is a known HACK to get a complete VHR:
Here is how to run a free car history report…
Go directly HERE and after the = symbol in the address bar type your VIN#
Your vehicle history should show up after you press enter
Need to sell your car? Here is a step-by-step way to use CraigsList to sell your car yourself online.
Need help with finding a complete VHR? Let us know your issue or question and we will be happy to assist you.