VIN number decoder breakdown in full detail. The below information will explain how to decode your VIN (Vehicle Identification Number) number. A VIN number consists of 17 positions.
Basically the digits can be broken into 3 groups. Those 3 groups are… World Manufacturer Identifier (WMI), Vehicle Descriptor Section (VDS), and Vehicle Identifier Section (VIS).

Need to lookup your VIN info?
Click here to type in your VIN number to get vehicle report
Note: VIN Numbers do not include the letters I (i), O (o), Q (q), U (u) or Z (z), or the number 0, so they will not be confused with similar looking numbers and letters.
World Manufacturer Identifier (WMI)
The first three positions in a VIN number show the World Manufacturer Identifier.
The first position (number or letter) identifies what country the vehicle was made.
1, 4 or 5 = United States
2 = Canada
3 = Mexico
J = Japan
K = Korea
S = England
W = Germany
Y = Sweden/Finland
The second position (number or letter) identifies the company who made the car.
A = Audi, Jaguar, or Mitsubishi
B = BMW or Dodge
C = Chrysler
D = Mercedes-Benz
F = Ford or Subaru
G = General Motors, Pontiac or Saturn
H = Honda or Acura
J = Jeep
N = Nissan
R = Audi
T = Toyota or Lexus
V = Volkswagen VW or Volvo
1 = Chevrolet
4 = Buick
6 = Cadillac
The third position (number or letter) identifies the vehicle's type or manufacturing division.
Each vehicle maker uses different codes for this so go to the Automobile Manufacturer website for your vehicle to find out what the third position in the VIN means for your particular vehicle.
Vehicle Descriptor Section (VDS)
Positions 4 through 9 identify the Vehicle Descriptor Section.
The fourth, fifth, sixth, seventh, and eighth positions (number or letter) identify certain specifics.
These positions tell you the:
Specific vehicle model
Specific engine type
Specific body style
(Each manufacturer for your vehicle uses different codes so check website for your vehicle.)
The ninth position is used to see if the VIN is invalid.
The Department of Transportation developed this based on a mathematical formula.
(It does not tell you details about the vehicle itself.)
Vehicle Identifier Section (VIS)
VIS gives you info such as when the vehicle was produced and the specific options or optional equipment that was added. These numbers or letters will vary depending on your car or truck.
The tenth position (number or letter) tells you the model year.
(Many automobile manufacturers start to produce next years model car this year.)
This standard applies to vehicles built in or after 1981. Before 1981 the VIN format was not standardized and was different by each car manufacturer.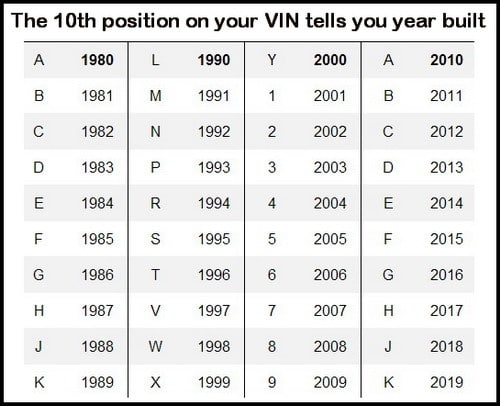 What year was my car really built? – Use VIN Number to find out
To find your actual vehicle model year, use the table below.
A = 1980
B = 1981
C = 1982
D = 1983
E = 1984
F = 1985
G = 1986
H = 1987
J = 1988
K = 1989
L = 1990
M = 1991
N = 1992
P = 1993
R = 1994
S = 1995
T = 1996
V = 1997
W = 1998
X = 1999
Y = 2000
1 = 2001
2 = 2002
3 = 2003
4 = 2004
5 = 2005
6 = 2006
7 = 2007
8 = 2008
9 = 2009
A = 2010
B = 2011
C = 2012
D = 2013
E = 2014
F = 2015
LAST 7 POSITIONS OF VIN NUMBER: The VIN positions (number or letter) of the eleventh, twelfth, thirteenth, fourteenth, fifteenth, sixteenth, and seventeenth sections tells you information about the vehicle that VIN is assigned to. These details would be, name of the assembly plant, options on the vehicle, production number, etc.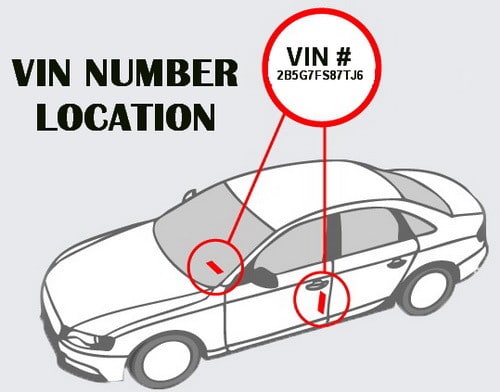 To find the VIN number on your car look on bottom right of windshield or inner driver door

HOW TO FIND YOUR VIN NUMBER ON YOUR CAR OR TRUCK
You can type in your VIN number and have it automatically decoded by using the VIN Decoder website.
If you are trying to find your original window sticker for your car or truck, it can be printed out and used to sell your car or just keep in your glove box to have the original sticker that came with your car when it was new.
If you need a guide to sell your car on Craigslist, you can find great tips on the easiest and fastest way to do so.
If you want a way to run a free history report on your vehicle there are many sites that do so and won't cost you a penny.
If you need to fix your cars cloudy headlights before selling your car, there are many different products that can help you do this in a few hours.