LG fridge getting the 22 code? This error code means one thing. The Refrigerator Compressor RELAY is faulty. The refrigerator is probably making a clicking noise. This is why your LG refrigerator is NOT cooling. All lights should work but the compressor will not turn on and therefore the refrigerator or freezer will not be cool, cold, or frozen. Below we will show how and what part to replace and a video to make removing and replacing the LG refrigerator compressor start relay easier.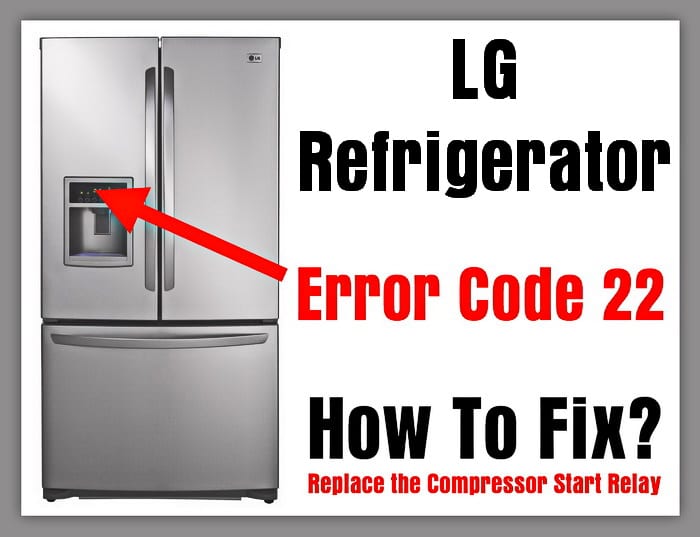 LG Refrigerator Error Code 22 – How To Fix It?
LG Refrigerator Error Code 22


Error is Clicking Sound/Faulty Compressor Start Relay
Replace the Compressor Start Relay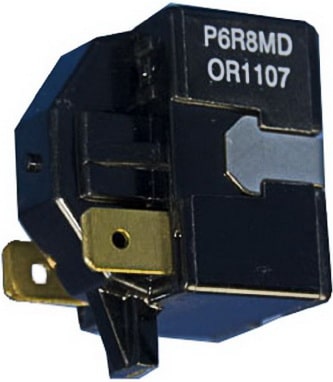 LG Refrigerator Compressor Start Relay
HOW TO FIX ERROR 22 ON LG REFRIGERATOR:
Use caution and unplug the refrigerator.
Slide out refrigerator from the wall.
Remove panel if applicable.
Find the compressor start relay near the compressor.
Remove it and replace with new.
Be sure wires are put onto the same terminals as the old one.
Install back panel if applicable.
Plug fridge back in and test.
Slide fridge back into place.
Give the fridge some time to start the compressor.
Once you hear the compressor turn back ON you know your fridge is now fixed.
If fridge does not start (compressor start) check wiring.
Here is a video showing How To Replace an LG Refrigerator Compressor Start Relay:

Refrigerator Compressor Start Relay How To Replace

Here is the part you will need to fix your LG refrigerator with the error code 22
This repair procedure will work with the following LG Refrigerator Models: LFX25960SB, LFX25960ST, LFX25960SW, LFX25960TT, LRBC22544SB, LRBC22544ST, LRBC22544WW, LRBN20512WW, LRBN22514SB, LRBN22514ST, LRBN22514WW, LRDC22744ST, LRDC22744SW, LRDN22734TT, LRFC22750TT, LRFC25750SB, LRFC25750ST, LRFC25750SW, LRFD21855ST, LRFD25850SB, LRFD25850ST, LRFD25850SW, LRFD25850TT, LRFD25850WW, LRBP1031T, LRBP1031W, GRK09S, GRK13PBQ, GRF258JBTA, LRFC22750ST, LFD22860TT, GRF258JVTA, LRFC22750SW, GC349SQF, GRL258SSWQ, LFC25760SB, LFX25961ST, LFX25971ST, LFX25961SW, LFX25971SW, GMF228JQKA, LFC25760ST, LFC25760SW, GRL218USGH, LFC25760TT, and GC349STQ.
If you have any questions please leave it below and we will be happy to assist.
More "Do It Yourself" DIY Tips, Tricks, Ideas, Repair: