Here are the 5 dishwasher problems and how to fix them. We have included images and videos to assist you to fix your dishwasher.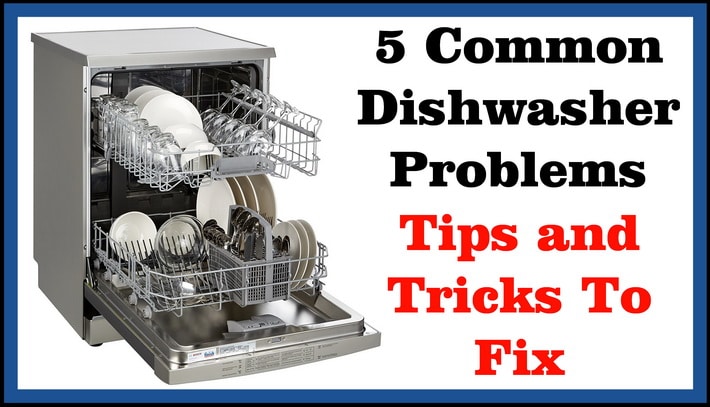 5 Common Dishwasher Problems and How to Fix
1. Dishwasher Does Not Turn On
Your dishwasher is not turning on. Ensure that your dishwasher is properly powered. Verify that the appliance is plugged into the electrical outlet and inspect the circuit breaker as well. For added assurance, you can connect the dishwasher to a different outlet that you are certain has electrical flow.
Secure the dishwasher door firmly by engaging the latch. A loosely closed or improperly latched door can often prevent the dishwasher from operating. To rule out issues with the latch or door, close and securely latch the door. For this step, it may be beneficial to have someone assist you. While maintaining a tight grip on the latch, initiate the dishwasher's cycle. If the machine starts, you've identified a defective latch as the culprit.
Evaluate your home's hot water supply. Some dishwashers necessitate a minimum water temperature for optimal cleaning. Test the hot water from your sink to confirm its availability. Bear in mind that many dishwasher models require the water to be at a minimum of 120 degrees Fahrenheit to function as intended.
Pro Tip: Always exercise caution while working with electrical components. If you're unsure at any step, it may be best to consult with a professional appliance repair technician.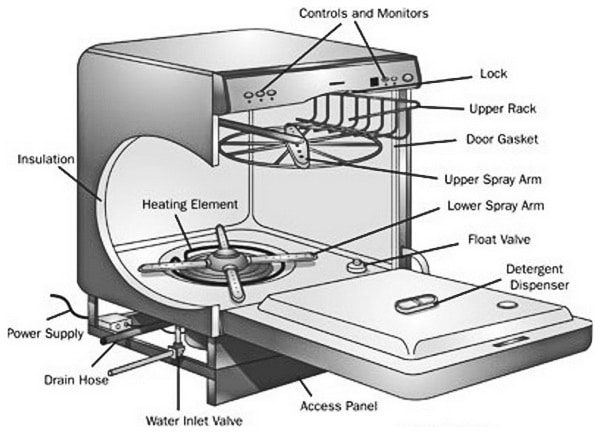 Dishwasher Parts and Locations

Dishwasher Won't Start
2. Water Is Leaking Through Dishwasher Door
If you notice a small puddle forming around your dishwasher due to a leaking door, it may be time to replace the door gasket. The gasket is a rubber or vinyl strip within the door frame designed to contain water inside the appliance.
Inspect the condition of your existing gasket by opening the dishwasher door. Over time, the gasket can wear out, and any tears, trapped debris, or other damage may compromise its sealing ability. If the gasket appears faulty, replacement units can be found at local hardware stores or online, tailored to your specific dishwasher model.
Install the new gasket ensuring it fits snugly around the door frame without any bulges or gaps. Secure it in place with the appropriate screws. After installation, run a test cycle to confirm that the issue has been resolved.
Extra Tip: When purchasing a new gasket, it's advisable to refer to your dishwasher's user manual or model number to ensure compatibility.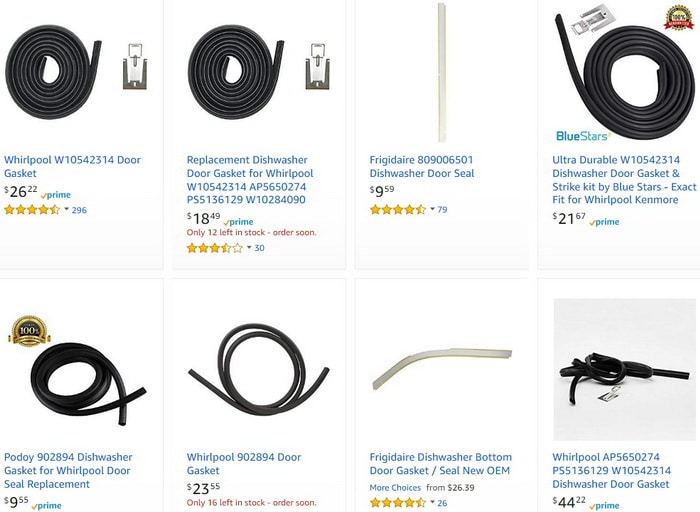 Dishwasher door gaskets

5 Reasons Dishwasher Leaks
3. Dishes Not Drying Properly
While rinse aid is a frequently used remedy for dish-drying issues, persistent problems may point to a malfunctioning heating element in your dishwasher. A faulty heating element can lead not only to poorly dried dishes but also to the formation of white residue.
The design of the heating element can vary among dishwasher models, but it typically assumes a circular, "W," or "U" shape, especially in newer units. It may even resemble the heating element in your oven or look like a heating plate. You'll generally find it situated near the bottom of your dishwasher.
To inspect the heating element, first ensure that the dishwasher is disconnected from the power supply. Check the element for any signs of discoloration or darkened areas, which could indicate burnout. If the element appears to be in good condition, proceed to the next step.
With the power still disconnected, remove the front panel of your dishwasher to inspect the terminals and connectors underneath. Look for signs of wear, loose connections, or corrosion.
Pro Tip: Before attempting to remove the front panel, consult your dishwasher's service manual for specific guidance.
If you find any of these problems with your heating element, it will likely have to be replaced, and if this is the case, they can be found online below.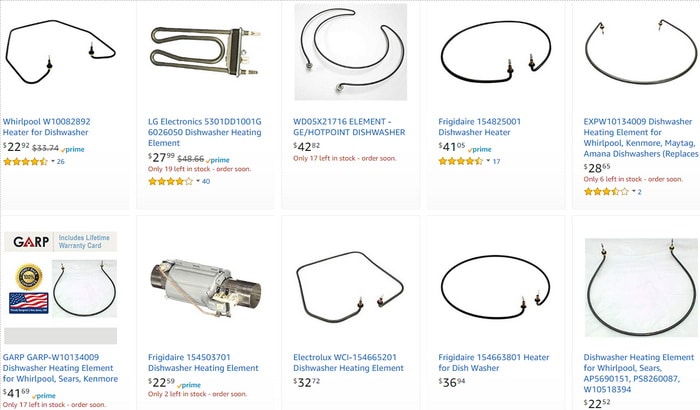 Dishwasher heating elements

Reasons Dishwasher Not Drying
4. Dishwasher Has Water In Bottom Of Unit
The likely reason for water in bottom of dishwasher is that your drain hose is positioned flat under the sink, which can allow water to flow back into the dishwasher.
To prevent this, elevate the drain hose using a twist-tie or zip-tie, positioning it as high as possible under the sink. The dishwasher's pump expels water out, but if the hose isn't elevated, gravity can cause the water to flow back into the appliance after the pump stops. This elevated hose setup is known as a High Drain Loop.
Extra Tip: Implementing a High Drain Loop is not only a preventative measure but also often a requirement according to many dishwasher installation guidelines. Failure to do so may void your warranty.

Reasons Dishwasher Leaks
5. Dishwasher Is Emitting A Bad Smell
Eliminating unpleasant odors from your home is a priority for most homeowners. Here's how to ensure your dishwasher not only keeps your dishes sparkling but also smells fresh:
Check or Replace the Drain Filter:
Often the primary source of foul odors, the filter can collect food particles that, if not cleaned regularly, can decompose and cause a stench. Maintain a clean filter or, if it's been neglected for some time, consider purchasing a replacement from a local hardware store or online.
Inspect the Door Gasket:
Accumulated food particles on older door gaskets can contribute to unpleasant smells. Wipe down the gasket using a mixture of hot water and vinegar to help eliminate these odors.
Maintain Your Garbage Disposal:
Since the drain hoses of garbage disposals are often connected to dishwashers, food waste can sometimes backflow into the dishwasher hose. To address this, disconnect the power to your garbage disposal and detach the hose. Using a thick wire wrapped in a damp cloth, clean the interior of the hose.
Pro Tip: Always refer to your appliance's user manuals for maintenance guidelines. If you're not comfortable performing these tasks, it might be a good idea to consult a qualified appliance repair technician.

Smelly Dishwasher Drain Hose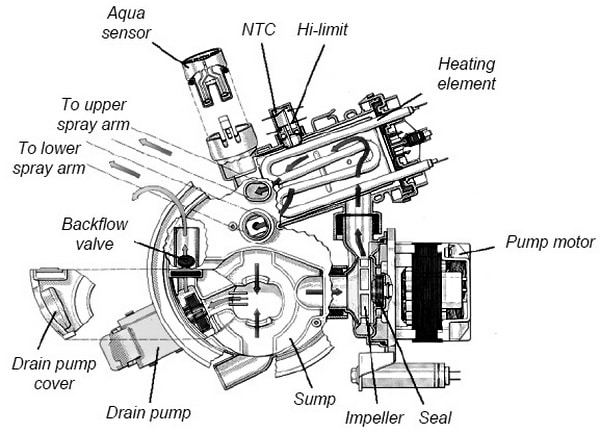 Bottom of dishwasher – Part Names and Locations
If you'd like help with fixing your dishwasher please contact us using the form below for professional advice.