Best Space Heaters. It has been some of the coldest weeks we've seen in years, especially on the East. Temperatures in the teens and even in the single digits, combined with wind chills that make it feel even colder have sent many of us scurrying for shelter in search of warmth. Unfortunately, all of this frigid weather is making our heating systems work overtime and conjuring up visions of the high heating bills we know we're all facing.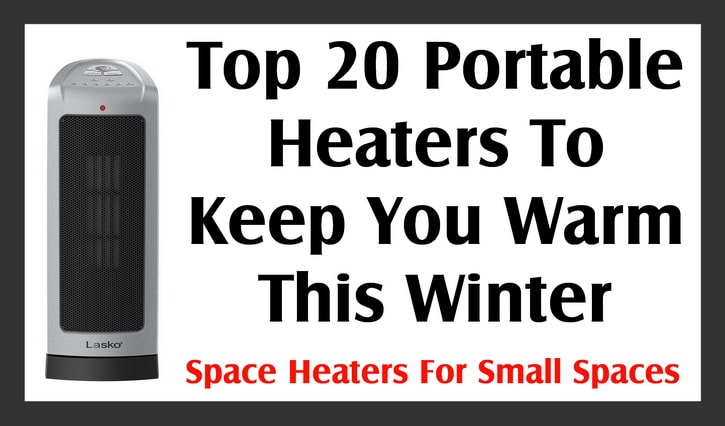 Top 20 Portable Space Heaters – Space Heaters For Small Spaces
If you are looking for ways to keep the thermostat set at a "reasonable" temperature, you may be considering other options for staying comfortable, and one of those options may be a space heater, and specifically, one that doesn't attempt to heat a whole room, but instead just keep you warm while you're sitting at your desk or reading in bed.
There are times when you might need just that little extra heating to keep you warm and cozy during super cold nights. Small electric heaters can help you save up on long, painful electricity bills while giving you just that extra heat that you need on a cold night.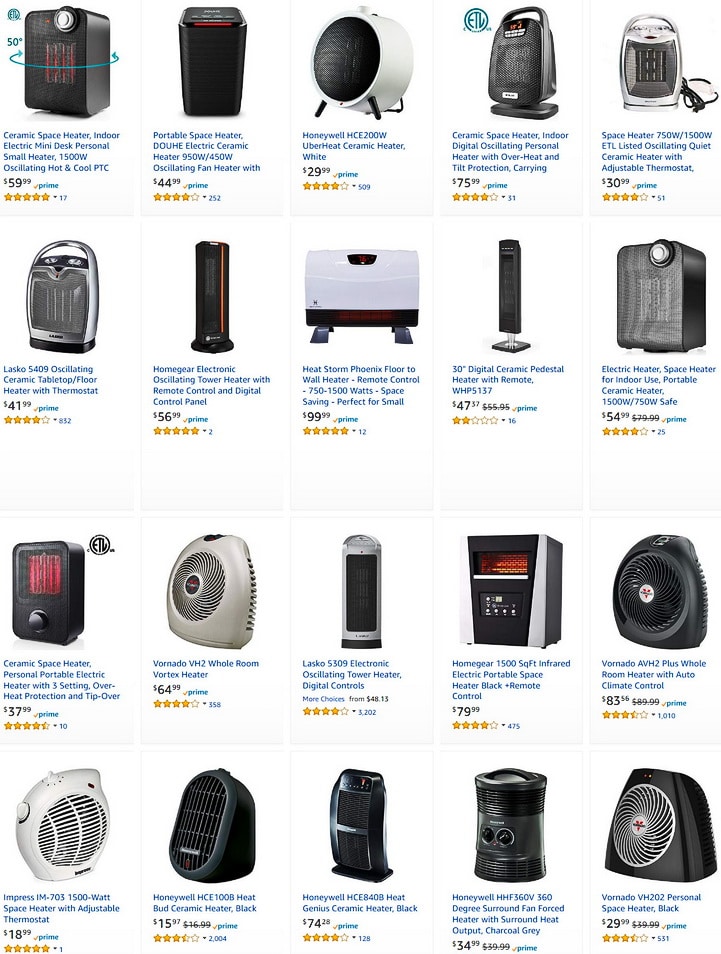 Space Heaters On Amazon – INFO HERE
In other words, you're looking for a good small-space electrical space heater. But before you rush out and buy the first space heater you see that looks like it might fit the bill, why not take a moment to look over our list of 20 of the very best for small spaces?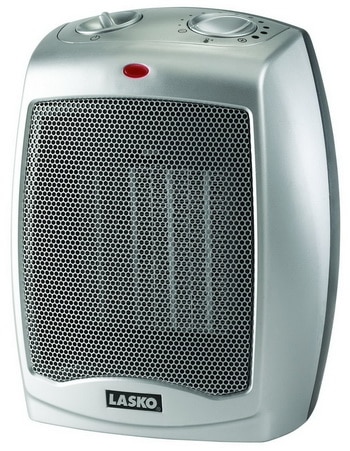 1. Lasko 754200 – MORE INFO HERE
This little dynamo of a heater takes the top spot for small-space heaters thanks to rave reviews. At only 9.2 inches high (x 7″ wide x 6″ deep), this little heater delivers. It's not only inexpensive, retailing for around $30, but it heats up faster than any other model tested. Three heat settings let you control its output. Even more impressive? It's small size (about the same size as a loaf of bread) lets you move it from room to room easily. Reviewers have been using it for several years now with zero complaints.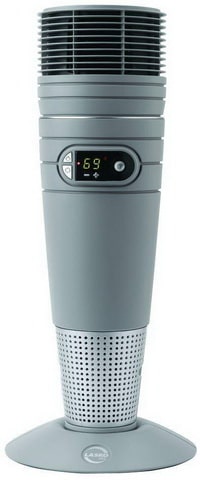 2. Lasko 6462 Full Circle Ceramic Heater – MORE INFO HERE
If you are looking for the best, portable room heater, the Lasko 6462 full circle ceramic heater is the perfect choice. It is small yet functional, allowing you to carry it with ease while still providing you with that extra warmth that you need to enjoy a cold night. This unit uses ceramic plates to heat the air to your ideal temperature. Plus, The remote control allows you to change the temperature and direction of the heat. The Lasko ceramic heater is almost completely silent, giving you a noiseless heating experience.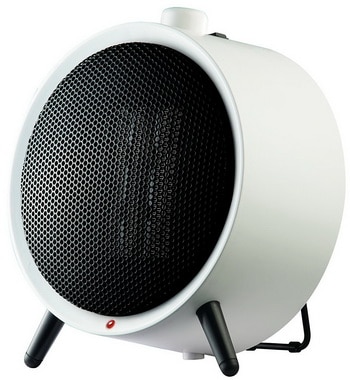 3. Honeywell UberHeat – MORE INFO HERE
It's quieter than most space heaters. Has great specs and is around $35. This is our second choice because of specs and price. This space heater gives you great heating capacity without high electricity bills.

4. Lasko 755320 Ceramic Tower Heater – MORE INFO HERE
This unit utilizes a 2 feet tall tower design. This Lasko features strong oscillating heat, allowing you to control between a low to high speed power. With a digital display, remote control features, and a built in timer, this room heater is great for when you want to drift off to sleep without having to worry about leaving the heater on.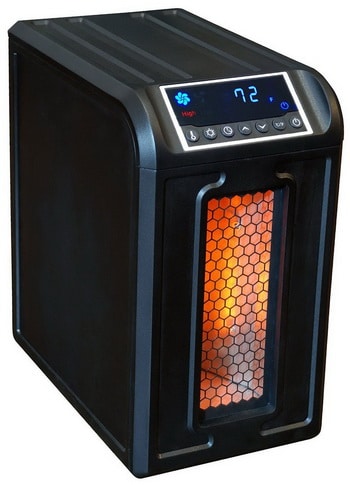 5. Lifesmart Medium Room Heater – MORE INFO HERE
A medium sized heater for your medium sized room, the Lifesmart medium room heater looks just like a toaster oven to keep your room warm! There are 2 different heat settings you can choose from, and the infrared heater gives your room a slightly sci-fi appeal. The digital display with remote control features allow you to easily control the heating of your room with the press of a button.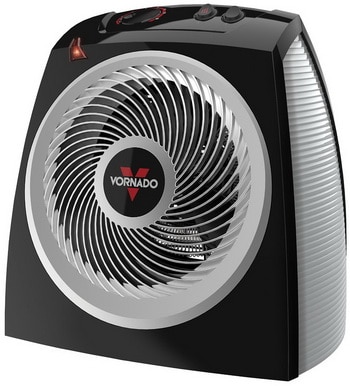 6. Vornado VH10 Vortex – MORE INFO HERE
This heater has excellent performance in small spaces. (It warmed up a 10′ x 13′ room in under 10 minutes.) We like the fact that it's fast and super quiet. It represents a jump in price though, compared with the Lasko and Honeywell units listed above, retailing for around $75.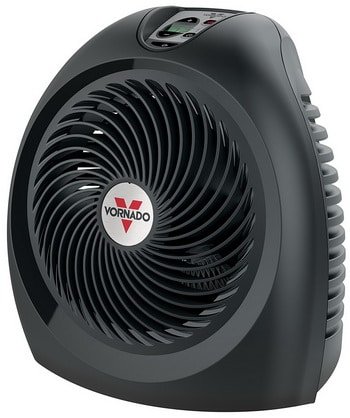 7. Vornado AVH2 Vortex Heater – MORE INFO HERE
The Vornado AVH2 Vortex heater is perfect for sensitive sleepers. The heater's non glowing element won't light up your room and the noiseless technology allows you to easily fall asleep without any disturbance from the heater itself. Plus, the circular vortex design ensures that every inch of your room is uniformly heated without leaving any cold spaces. This heater even has its own built in fan so you can use it even during the hot, summer months for extra cooling.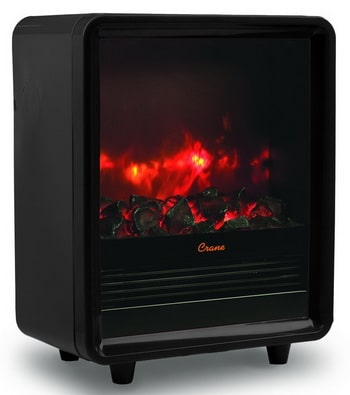 8. Crane Mini Fireplace Heater – MORE INFO HERE
You'll like this heater if aesthetics are a concern. It's made to look like a mini fireplace (in a sort of tongue-in-cheek way), has 2 heat settings and can be set to "glow" only if you want to pretend you've got a fire in an itsy-bitsy fireplace! Aside from the fact that it's "cute", it also offers impressive heat output, according to reviewers and users alike. It's not cheap, though, retailing for around $90.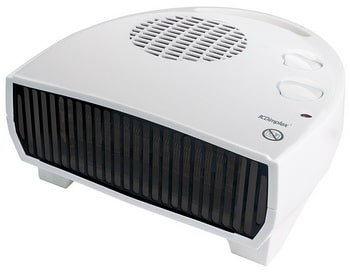 9. Dimplex Flat Fan Heater – MORE INFO HERE
If storage is an issue in your room, the Dimplex flat fan heater is a perfect fit. It's small flat design makes the unit ideal for a small room, like your child's bedroom. This space heater may be small, but it powers up to 3000 watts of energy, giving you a great heating capacity without breaking your electricity bills.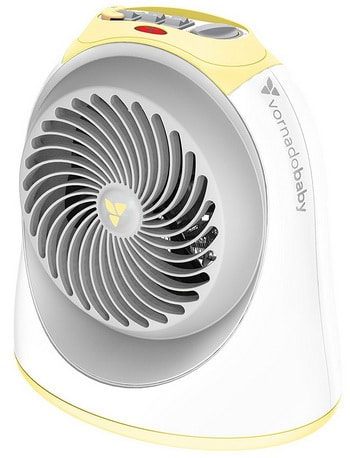 10. Vornadobaby Sunny CS Nursery Heater – MORE INFO HERE
This one gets accolades for its kid-safe features like a lockable LED display (so kids can't mess with the settings), a cool-touch casing, overheat protection, and a tip-over sensor. It retails for about $58.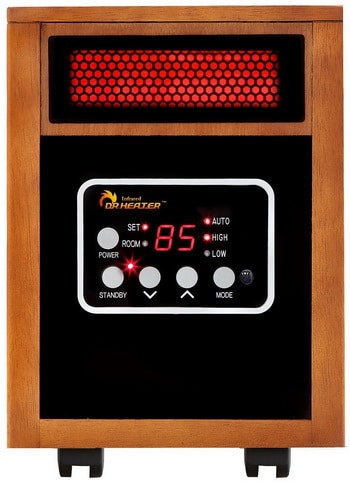 11. Dr. Infrared – MORE INFO HERE
If you value aesthetics, the Dr.Infrared space heater gives your room style with its vintage look. The infrared technology of this space heater ensures that none of the heat is lost. Plus, it comes with a built in humidifier so that you can provide a comfortable amount of moisture to your room while heating it.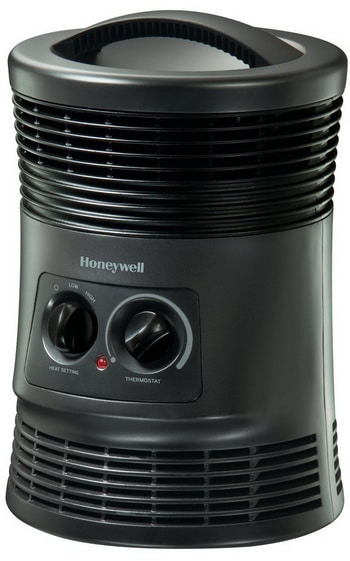 12. Honeywell 360 Degree Surround Fan Forced Heater – MORE INFO HERE
People like the Honeywell 360 Degree Surround Fan Forced heater for its ability to heat a small room in all directions. Place the heater as close to the room's center as you can, and this little heater will blast heat in all directions to quickly and efficiently warm you up, they say. It's priced at just $30.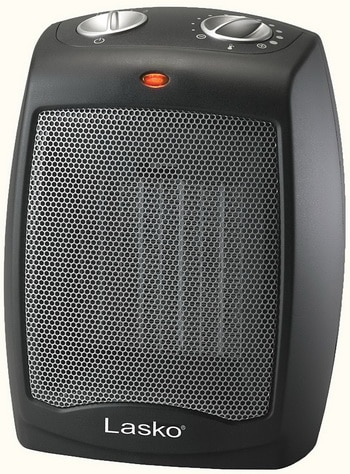 13. Lasko Ceramic Heater with Adjustable Thermostat – MORE INFO HERE
We like this little Lasko ceramic heater for its affordable price (around $32) and it's automatic overheat protection shut-off feature. Heats a room fast and efficiently too.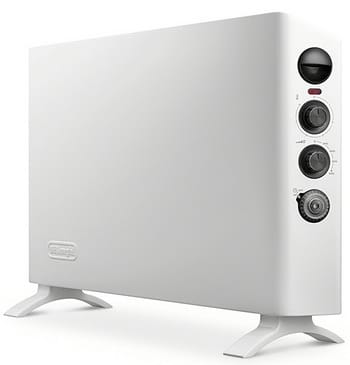 14. DeLonghi Panel Heater – MORE INFO HERE
The safety feature of the DeLonghi ensures that it automatically gets turned off once your room has reached the ideal temperature. In addition, the wheels on this panel heater allow for easy portability. Carry this room heater wherever you go without having to worry about exaggerated electricity bills.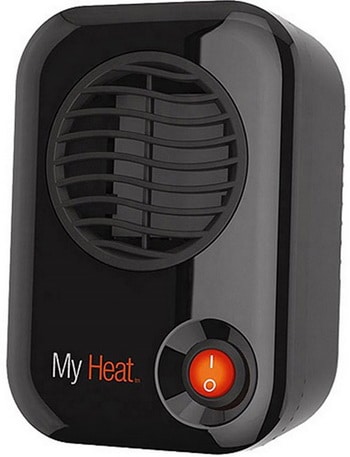 15. Lasko #100 My Heat Personal Heater – MORE INFO HERE
It won't heat up a room, but is the best" personal heater out there. It's great for warming up your feet under your desk at work or for putting on your bedside table to stay cozy while you read before turning in for the night, and at just $18, it won't put much of dent in your wallet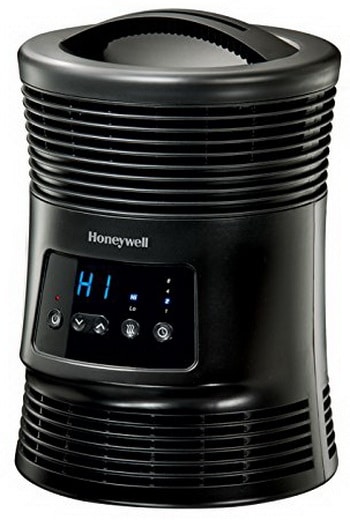 16. Honeywell 360 Degree Heater – MORE INFO HERE
Honeywell brings to you a small, portable, and easy to use room heater that you can place in the middle of any room. The 360 degree design ensures that every corner of your room is evenly heated up without moving the unit.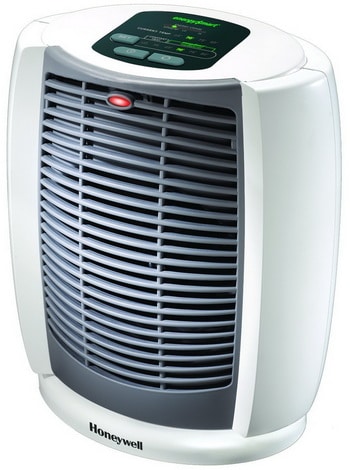 17. Honeywell HZ-7304U Deluxe EnergySmart Cool Touch Heater – MORE INFO HERE
This larger stylish heater is a good choice for a small space, offering both good looks and the ability to make it versatile in many small-space settings. There are high, low and fan settings, plus an adjustable thermostat, all for about $59, making it an affordable choice as well as this heater can be used for years to come.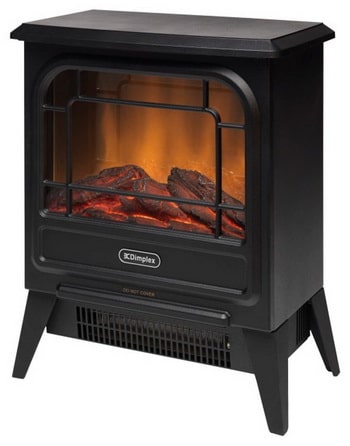 18. Dimplex Electric Fireplace Micro – MORE INFO HERE
Ever envied those big, beautiful fireplaces that you've seen on TV? The Dimplex Optiflame electric micro fire heater comes in a beautiful red color. This unit has a built in flame that perfectly adds a festive mood to your home.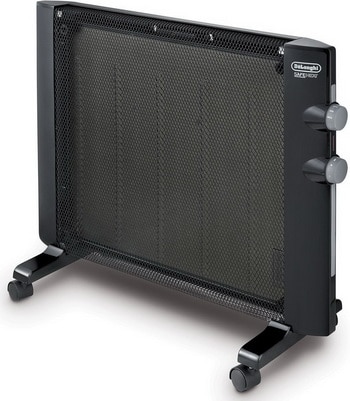 19. DeLonghi HMP1500 Mica Panel Heater – MORE INFO HERE
People also like the DeLonghi HMP1500 Mica Panel heater mainly for its versatility. They liked the fact that it can be wall-mounted, keeping it out of the way of kids (or preoccupied adults!). As an added bonus, it also has an automatic shut-off feature that works if the unit overheats or is tipped over (when not wall-mounted). It's one of our more expensive options, though, retailing for around $70.

20. Dyson AM04 Hot + Cool Heater/Table Fan – MORE INFO HERE
Tune in to your nerdy, techie side with the AM04 Dyson room heater. This freestanding heater heats up your room evenly. You can also use the cooling technology to provide extra cooling during hot, summer months. There are no visible heating elements on this heater, making it a safe option for a home with children or pets.
Safety Tips When Using A Space Heater:
-Keep flammable objects like blankets, papers, and other electricals at least 3 feet away from the heater.
-Keep the heater in a safe place if you have a house with small children or pets.
–Never use an extension cord with your space heater.
-Keep all wet objects away from the heater, including aquariums.
-Never leave the heater unattended.
-Remember to switch it off from the mains or unplug when you are leaving the room.
-See the safety video below for more safe ways to use your space heater…

PSA – Space Heater Safety Video
Need more DIY advice or useful home hacks? Be sure to check out the ever-changing, ever-expanding tips, tricks or contact us below anytime with your questions.