My Maytag front loading washer flashes the F3E2 error code. I begin a wash cycle, the washer fills with water, and the error code shows immediately. Other times the washer will run for 5 minutes and the error code pops up. At times, the washer will run the complete cycle. What does this code mean and how do I fix this? I do have a multimeter if I need to check parts.
The F3 E2 error code indicates an INLET WATER TEMPERATURE fault. If the temperature sensor (thermistor) value is out of range during the water heating step of the wash cycle, it will display the error. This is caused by a faulty WATER TEMPERATURE SENSOR (NTC) or most commonly a wiring fault. This error code can also indicate a heating circuit fault.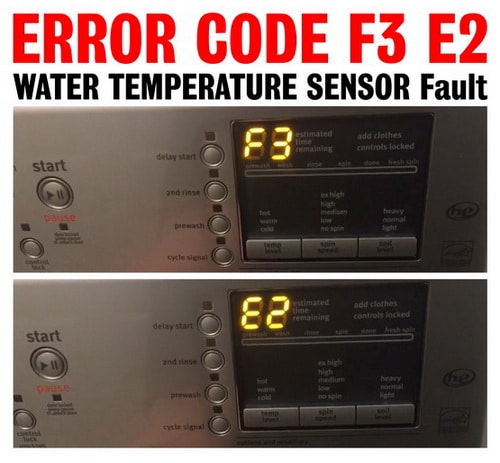 Washer Error Code F3 E2 – Maytag Whirlpool Front Load Washers
Most commonly a wiring fault causes this error code on Whirlpool and Maytag washers. This issue can be intermittent as the washer vibrates and moves. Inspect the wiring near the temperature sensor. Check the 2 black wires that go to the temperature sensor near the washer drum as this is where the wires seem to be most commonly damaged and causing the F3 E2 error. The error code can also be seen as E2 F3.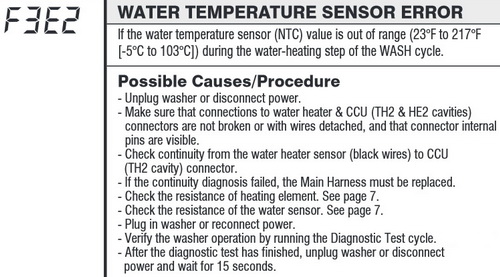 Error Code F3 E2
NOTE: Wear safety gear and always unplug the washer when performing maintenance or troubleshooting.
F3 E2 Quick Clear Error Code:
HINT: Temperature sensor is located at the base of the wash tub.
1. Check for faulty wiring on temperature sensor to and from CCU (2 black wires).
2. Test the resistance through the temperature sensor with meter – Should measure 50K ohms.
(Wiring can check good when not in use due to vibration – Important to inspect wiring in insulation)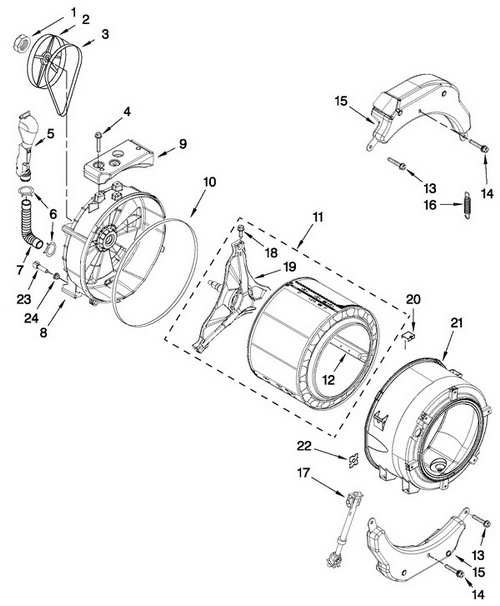 Maytag F3 E2 Error – Replace temp sensor
Sensor is number 23 in above parts diagram
Fix Inlet Water Temperature Error – Maytag/Whirlpool Washing Machine:
1. Unplug the washing machine.
2. Carefully slide washer out from wall. (use caution with water hoses)
3. Remove rear panel(s) to access components.
4. Locate temperature sensor. (located on the back of the tub)
5. Check resistance through temp sensor – should measure 50,000 ohms.
6. Remove and replace temp sensor if found faulty.
7. Check all wiring. (2 black wires)
8. Repair wiring harness/replace sensor.
9. Install panel(s).
10. Plug washer back into power.
11. Test washer to be sure F3 E2 is clear.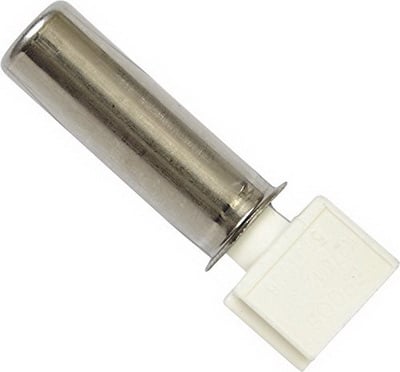 Whirlpool W10467289 Washer Temperature Sensor Replacement
NOTE: The location of the temp sensor is at the bottom of the washer tub. Located on the heating element in the front. You will see a square shaped plug between the heating element terminal and be sure the plug is secure. The plug can become loose from the washer vibrating during wash or spin cycle. Check this connection to be sure it is secure. (This repair method works on Whirlpool and Maytag Washers.)

How to repair error code F3 E2 – Whirlpool | Maytag
WATER TEMPERATURE SENSOR (NTC)
What does NTC mean?
NTC = Negative Temperature Coefficient
What is an NTC temperature sensor (thermistor)?
NTC thermistors are resistors with a negative temperature coefficient. The resistance decreases with increasing temperature. NTC sensors are commonly used in a range from -67°F (-55°C) to 392°F (200°C).
How does a thermistor fail?
Can be due to mechanical separation between the lead material and the resistor element. Can be caused by thermal mismatch, handling damage, and excessive heat.
Is your washer still under warranty? Call or go online to find out. Contact Maytag US: 1-800-344-1274 | Contact Whirlpool US: 1-866-698-2538 – Canada: 1-800-807-6777
Have the F3E2 error code displaying on your Maytag or Whirlpool washer? Please let us know the model number of your washer so we can assist further. If you have tips for how to fix this error code in a different manner, please let us know to assist others troubleshooting the same issue.