How do I get my screen centered? My laptop computer screen shifted to the right side. Everything is off center. I am running Windows and my laptop is an HP. How do I get the screen back to return to the center? FIX TV SCREEN OFF CENTER – COMPUTER SCREEN MOUNTING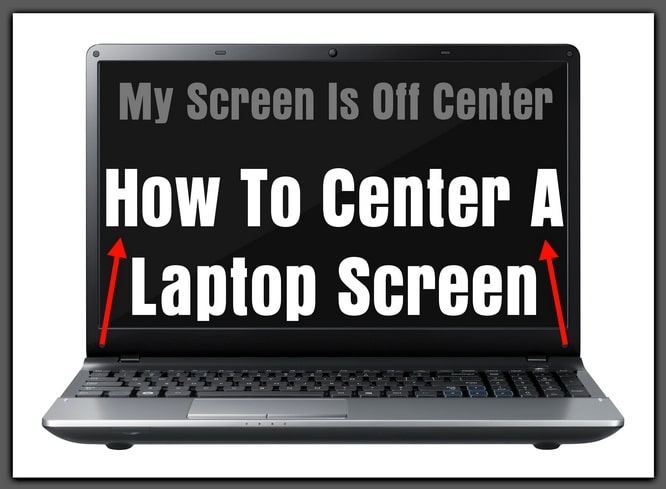 The graphics card software is usually the best place to start within Windows. "Right Click" on the desktop, go to "Graphics Settings", then "Panel Fit", and "Center Image".
Here are a few different ways to attempt to center your laptop screen…
Display Resolution Issue
1 – "Right Click" on the desktop.
2 – Select "Display Settings".
3 – Navigate to "Resolution".
4 – Change the "Resolution" to where it says (Recommended).
5 – If screen is not centered, try different "Resolution" settings.
Graphics Card/Video Driver Settings
1 – Navigate to "Control Panel"
2 – Select the "Video Driver" such as Nvidia or Intel GMA.
3 – Go into "Display Settings"
4 – Choose "Advanced Settings"
5 – Move the "Arrows" around until the screen is centered.
6 – Click "Apply Settings" and "OK".
Intel Graphics Settings
1 – "Right Click" on the desktop.
2 – Click "Intel Graphics Settings".
3 – Choose "Display".
4 – Navigate to "Resolution".
5 – Change "Resolution" until screen centers.
6 – Also check "Scaling" and be sure it is set correctly.
7 – After choosing the settings, click "Apply".
(Within "Scaling" settings is Maintain Display Scaling, Maintain Aspect Ratio, Scale Full Screen, and Center Image. You will also have the option to Override Application Settings. Choose the setting that best fits your screen.)
Screen Orientation Problem
1 – "Right Click" on the desktop.
2 – Select "Display Settings".
3 – Select "Orientation".
4 – Set the "Orientation" to "Landscape".
HP My Display Setting
1 – "Right Click" on the desktop.
2 – Select "HP My Display".
3 – Go to "Options".
4 – Change the "Pivot" to 0 degrees. (From 90, 180, or 270)
NOTE: If you cannot find "Control Panel", go to bottom left of the desktop screen and select "Settings". In the search bar simply type "Control Panel" and select it. Once in the "Control Panel", select "Appearance and Personalization". There will be a "Video Driver" icon/shortcut. Click the "Video Driver" and change the settings until screen centers.
Resolution/Video Driver Out Of Date
1 – Reinstall the video driver to be sure you are up to date.
2 – Check video card resolution and set to native resolution.
3 – Change video card resolution if different settings are needed.
BIOS Defaults Setting
1 – Power down the laptop.
2 – Power the laptop ON and press the F10 key repeatedly so the BIOS loads.
3 – Once the BIOS screen appears press the F10 key to load the BIOS default settings.
4 – Save and then exit the changes.
5 – Let Windows load normally.
6 – Check the display to be sure it is centered.
Still having problems getting your laptop screen to center? Please let us know by using the comment form below. Let us know what version of Windows you are using and we can help assist you in fixing your laptop.