Having issues with your Rinnai AC? You may have an issue with the AC filter, error codes, the control panel, the remote, or the basic operation of the unit. If problems or errors occur you can troubleshoot the unit using the charts and information below. Once you have the information needed, you can adjust, clean, or repair components on your AC unit to get it working properly.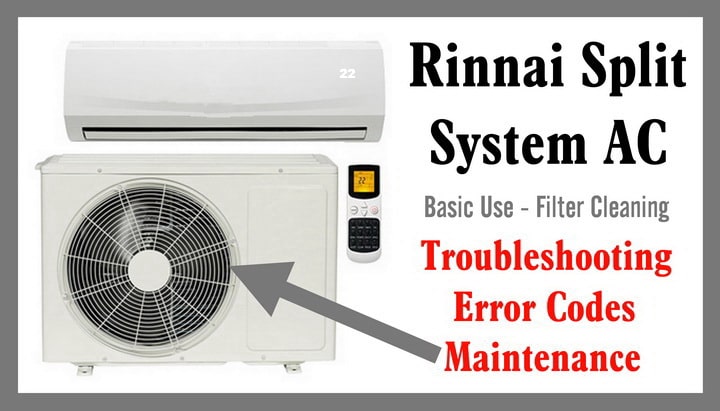 Rinnai Split System AC Troubleshooting & Error Codes
RINNAI AC MAINTENANCE AND INSPECTION
If your AC unit is not working properly or has been turned off for long periods of time…
Check that the unit is powered ON
Be sure the unit has power
Look to see that a circuit breaker has not tripped
Check for damaged wiring
Inspect for any wire harness that may be loose
Clean all air filters
Check for any leaks
Replace the remote control/unit batteries
Check that nothing is blocking the outdoor air inlets and outlets
Inspect that nothing is blocking the indoor air inlets and outlets
Be sure the settings are set correctly
RINNAI AC GENERAL MAINTENANCE FOR LONG PERIODS OF NON USE
If will not be using the air conditioner for an long period of time, do the following…
Clean all air filters
Dry the unit out completely by turning the fan function ON
Turn off the unit
Disconnect power to the unit
Take out the batteries from the remote
ERROR CODES ON RINNAI AC
(Note: Most error codes do not have exact definitions, try to reset the unit if an error code displays)
If the indicator lamps are flashing or the error codes appears in the window display or indoor unit: Examples of error or fault codes are E0, E1, E2, E5, P0, P1, P2, P6, F0, F1, and F2. If any of the error codes show, the AC unit may cease working or continue to run in a safe manner.
If the indicator lamps flash or an error code shows on the display, simply wait for about 10 minutes for it to clear by itself. If the issue does not resolve within 10 minutes, turn the unit off and unplug the unit from power.
After unplugging the AC unit, wait for a few minutes before plugging the unit back into power. After a few minutes, plug the unit back in and turn on power. This "Error Code Reset Procedure" may help to reset the control board (computer) and clear the error code or flashing lights from your Rinnai Split System AC Unit.
If the error code still appears on the display or the unit is not working properly after the reset, seek the service manual (see PDF manual below) or seek professional AC maintenance service through RINNAI.
Looking for the service and troubleshooting manual for your Rinnai Split AC? Here is the manual for the Rinnai AC. PDF HERE – Rinnai Split AC Service Manual
TROUBLESHOOTING YOUR RINNAI AC UNIT
Troubleshooting is explained below, have a look at the charts and images to follow step-by-step how to understand and troubleshoot certain Symptoms and Causes with your Split System AC…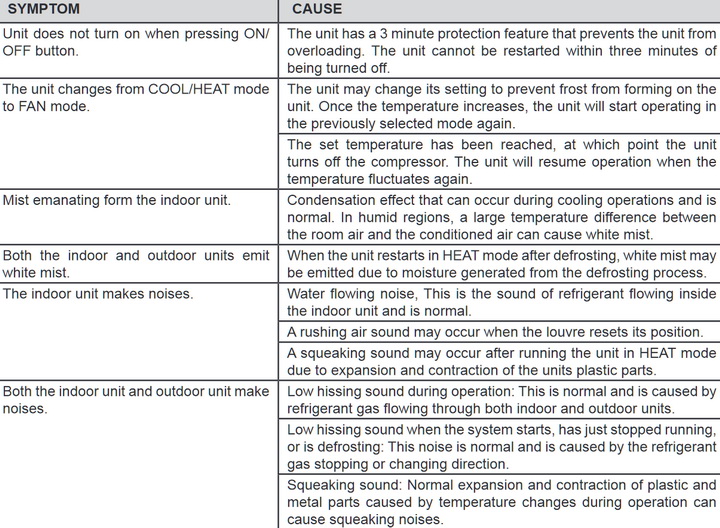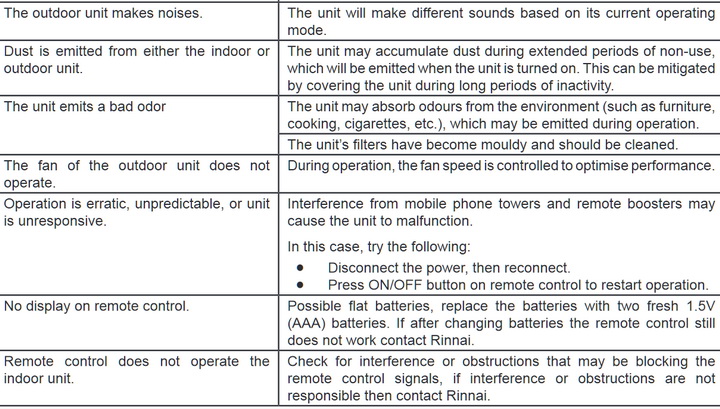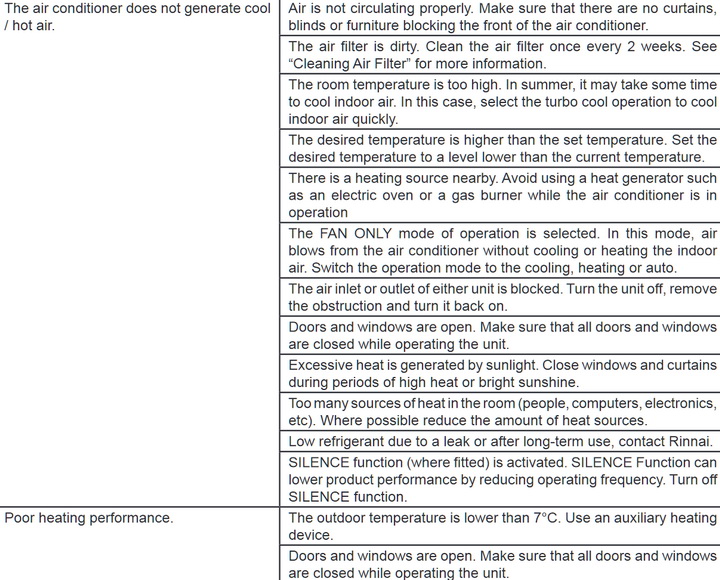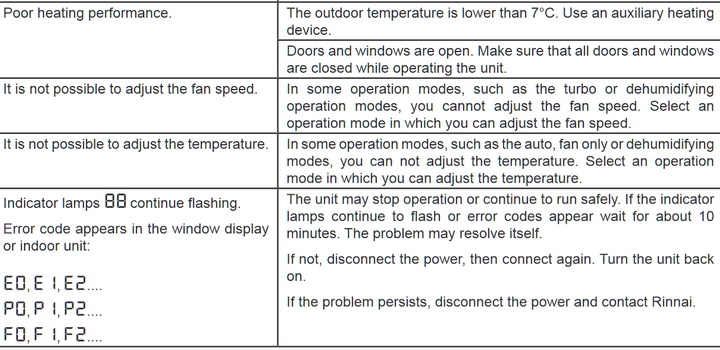 Rinnai Split AC Troubleshooting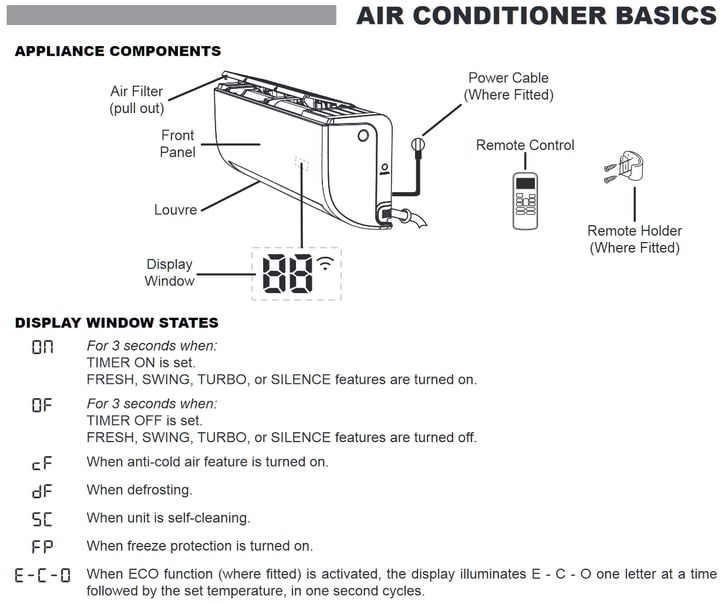 Rinnai Split Air Conditioner Basics
Learning the basic operation of your AC unit is essential.
Knowing the basic operation and use of your
split AC will help to avoid problems in the future.
NOTE: cF, dF, SC, FP, and E-C-O are not error codes.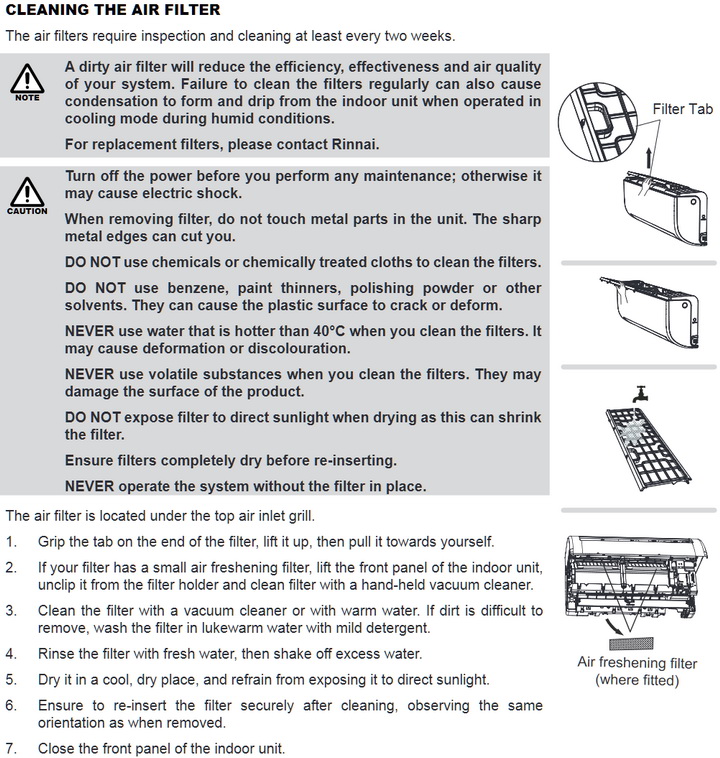 Rinnai Split AC Clean Air Filter
Split AC filter cleaning is important for the unit to run properly.
A blocked or clogged air filter will affect performance.
Always clean the air filter on a regular basis.
NOTE: Rinnai Systems and Units that apply to the Basic Operations, Filter Cleaning, Error Codes and Troubleshooting on this page are: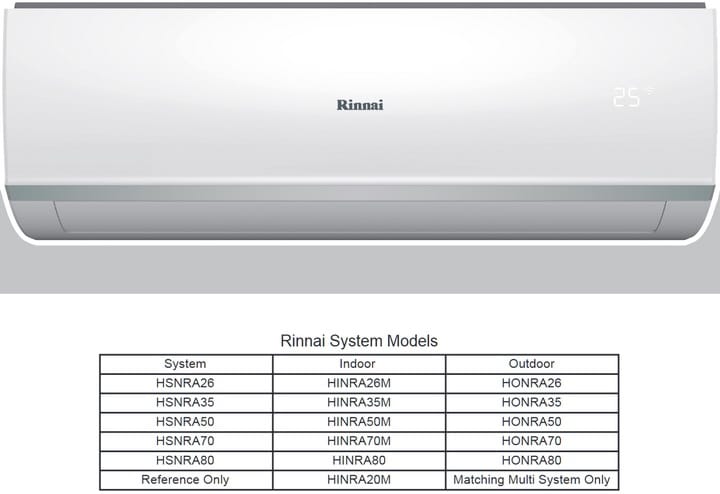 Rinnai Split AC Model Numbers
RINNAI SYSTEMS
HSNRA26
HSNRA35
HSNRA50
HSNRA70
HSNRA80
INDOOR UNIT
HSNRA26M
HINRA35M
HINRA50M
HINRA70M
HINRA80M
HINRA20M
OUTDOOR UNIT
HONRA26
HONRA35
HONRA50
HONRA70
HONRA80
RINNAI PROFESSIONAL HELP AND SUPPORT
For professional RINNAI AC System technical service, help and maintenance, contact Rinnai Customer Support in USA 1-800-621-9419 or Australia 1300 555 545
Visit the official USA website RINNAI USA or for Australia visit RINNAI AU.
For the Rinnai cooling solutions website in Australia visit RINNAI AU COOLING SOLUTIONS and for Rinnai document downloads for AC units (and more) in Australia visit RINNAI AU DOWNLOADS.
Need some basic help with your AC? Ask your question using the comments form below (It is free and you do not have to register) and we can help to troubleshoot your split system ac problem.