Understand electrical wire color codes when wiring a switch or outlet. The USA follows a standard home electrical wiring color code that identifies every wire in an electrical circuit. If you need to understand what the wire colors are for electrical wiring, what color the live or hot wire is, or what color is the ground wire in your electrical system, you will find the answers here.

Electrical Wire Color Codes – What Each Color Indicates
When wiring a light switch or other electrical component you need to know the color of the wire that informs you what color wire does what. Knowing which wire goes where will help you to wire or rewire an electrical component safely.
SAFETY: Shut off power to the circuit or use a multimeter to be sure the wiring is not HOT or LIVE before wiring or rewiring a switch or outlet.
Electrical Wire Color Codes
GREEN WIRES
Are the GROUND wire and are used for GROUNDING the electrical circuit. Ground wires can be a bare wire, a green wire, or a green wire with a small yellow stripe.
BLACK WIRES
Are the HOT wire and carry electricity from the breaker into the source.
WHITE/GRAY WIRES
Are the NEUTRAL wires and takes unused electricity/current which is sent back to the breakers or the main breaker panel.
YELLOW WIRES
Are used as switch legs to structural lights, outlets paired with light switches, and ceiling fans.
BLUE WIRES
Are mostly used as travelers for three or four way type switches.
RED WIRES
Are secondary live wires in 220 volt circuits. Red wires are found in a multi conductor cable. Red wires are mostly used for switch wiring and between smoke detectors that are hard wired into the electrical circuit.
See the electrical wire color code illustration below that shows each wire color and purpose…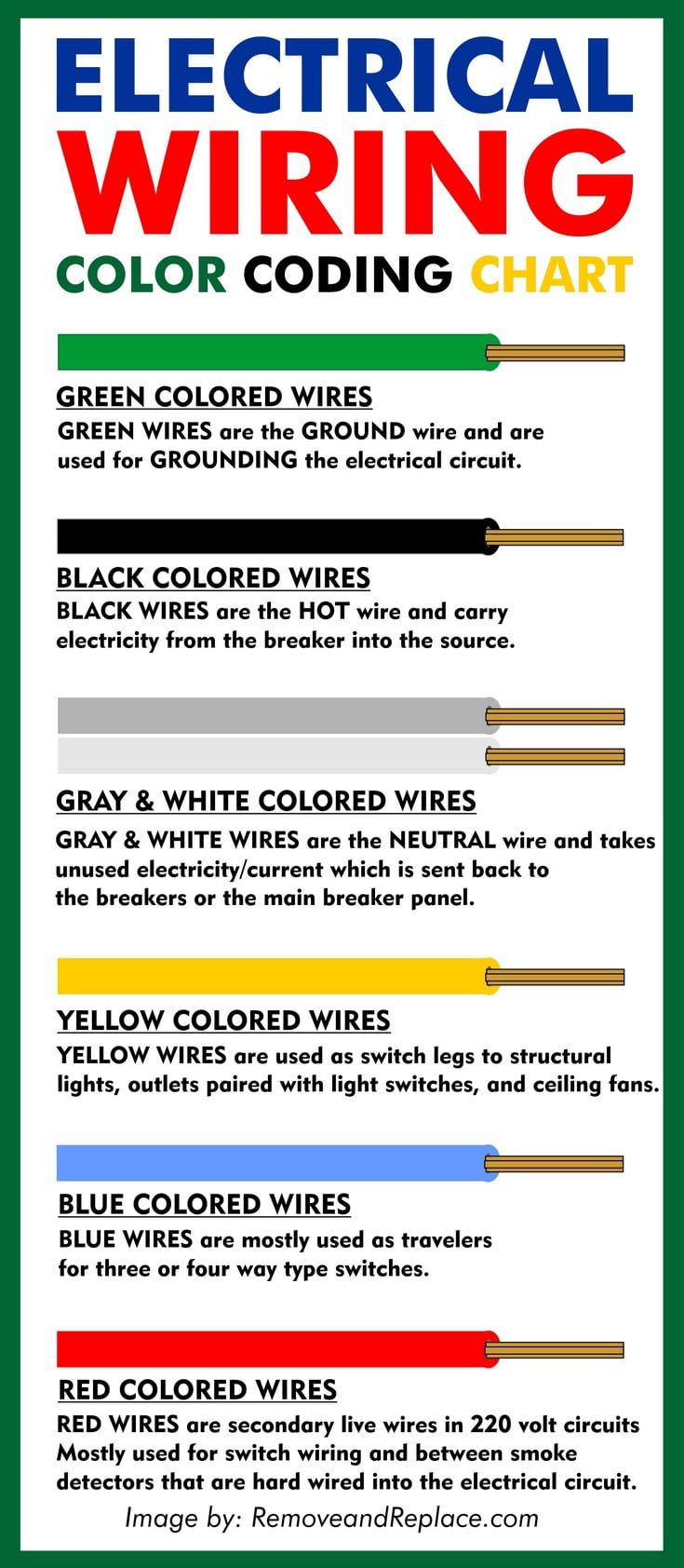 Electrical Wire Color Codes Chart
PDF – Download this Electrical Wire Color Codes image in pdf here. Electrical Wire Color Code Chart in PDF
Wire Color Codes For USA
Phase 1: Black
Phase 2: Red
Phase 3: Blue
Neutral: White
Ground wire is either a Green wire, a Bare Wire or a Green wire with Yellow Stripe.
Below is a simple light switch wiring diagram if needed. The switch diagram below is for a dimmer switch. It shows the Black HOT/LIVE wires, the Green GROUND wires, and the White or Gray NEUTRAL wires for reference.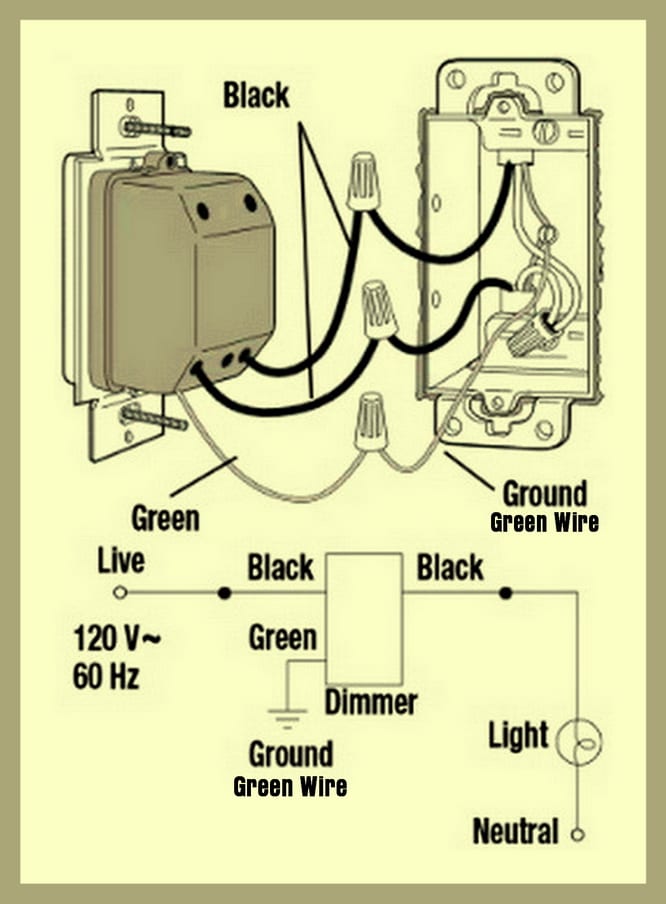 Light Switch Dimmer Wiring Diagram
BE AWARE: All electrical wires may carry electrical current if wiring was not done correctly. Always treat all wiring as if was LIVE or HOT.
NOTE: Older homes that were constructed before 1941 may use assorted wire color codes if the wiring has not been replaced. So use extreme caution and use a multimeter to be sure some wire colors are not HOT or LIVE.
If you are having issues with the breaker tripping when you turn on the light switch, information for how to troubleshoot this issue is here… I turn the light switch ON and the circuit breaker trips.
Need help with wiring a light switch or outlet? Please let us know your situation using the form below and we will assist.