Fix PS5 wifi issues. Are you having issues with slow wifi when using your PS5? PS5 can't connect to the internet? Experiencing lagging, buffering, or other slow Wifi issues? Is the lag affecting the playability of your games? Here is how to troubleshoot and fix the issues with you Playstation 5.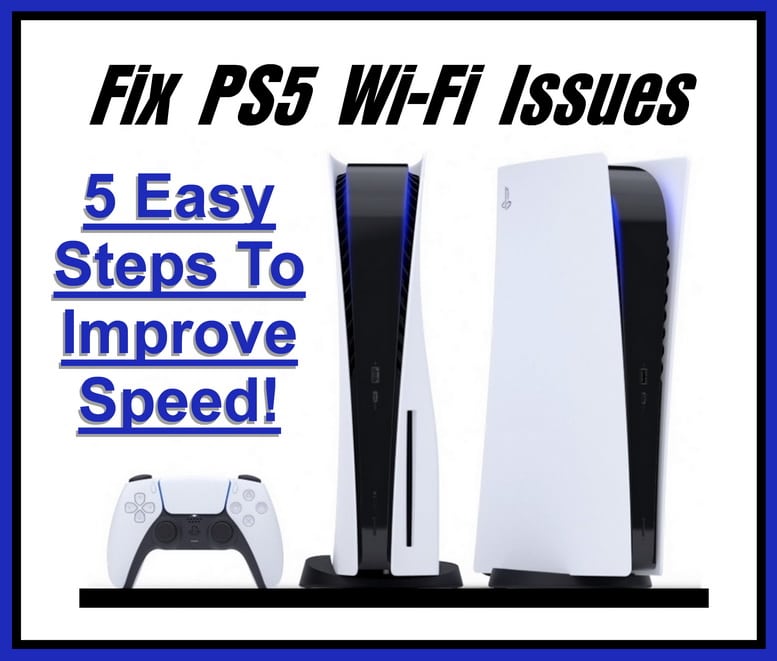 How to fix slow wifi issues with PS5
What can cause slow wifi with your PS5?
1. Issues with router or modem
Reset the router and or modem. Unplug the router and modem for 5 minutes then plug back in. Rebooting both of these will help and stop slow lag and slow wifi. This is a full reset and should be the best way to get the wifi to perform better when playing games.
2. PS5 console needs to be rebooted
The console has not been restarted for long periods of time. Reset the console by rebooting it. Fully power down the PS5 for 5 minutes then turn back on. Press and hold the PS button and the UI will show you an option to power down the console. This resets the console and clear memory issues.
3. PS5 and router too far away
WiFi signal may be weak if the console is far from the router. Move the console closer to the router. If possible, keep the PS5 in the same room as the router. If not possible, a wifi extender should provide a boost in wifi therefore strengthening the signal and making your wifi faster.
4. PS5 connectivity problems
Try changing the PS5 DNS. By changing the PS5's default DNS, this can help with connecting issues and help with downloading speed. Go into settings and change primary DNS to 8.8.8.8 and the secondary DNS to 8.8.4.4. Or, change primary DNS to 1.1.1.1 and the secondary DNS to 1.0.0.1. This MAY help tweak some connecting issues and reduce lag, and or buffering. Wondering how to change DNS?
5. PS5 ethernet port alternative
Your PS5 has a port for an Ethernet connection. Try connecting the PS5 to the router with an ethernet cable. Doing this will remove wifi from the equation and give you a much quicker, stable, and reliable connection to the internet.

How to Boost PS5 Internet speed
More helpful tips and tricks to fix slow wifi for PS5
Try using the Sony "Fix and Connect tool" to fix the slow wifi. If you choose "My online experience is poor" you can answer questions to troubleshoot the slow wifi. This process will give you recommendations to fix or repair your connection.
Keep the firmware of your PS5 updated. Outdated firmware can cause issues. If you see a "Update System Software" notice, allow the system to update. This will help improve network features.
Run a connection speed test on your PS5 to be sure the speed is sufficient to play certain games online.
If others in your home are streaming video, playing games, or using the internet in any way, this can slow down your gaming. Try testing the speed of your wifi with your PS5 when no one else is using your home's wifi connection.
If all of the above has not improved your wifi connection, check with your internet provider to make sure your plan is up to speed to work well with your type of gaming on your PS5.

PS5 Tips And Tricks – Things About PlayStation 5
Do you have any suggestions for improving wifi speed with a PS5? Please leave your helpful tips or tricks in the comments below.