Remove white cloudy stains on stovetop. A glass stovetop is an attractive, practical addition to any kitchen, but can be difficult to keep clean. A white cloudiness or cloudy stain on a stovetop makes it look dirty. Here are the easiest ways to get rid of those cloudy white stains on a glass stovetop.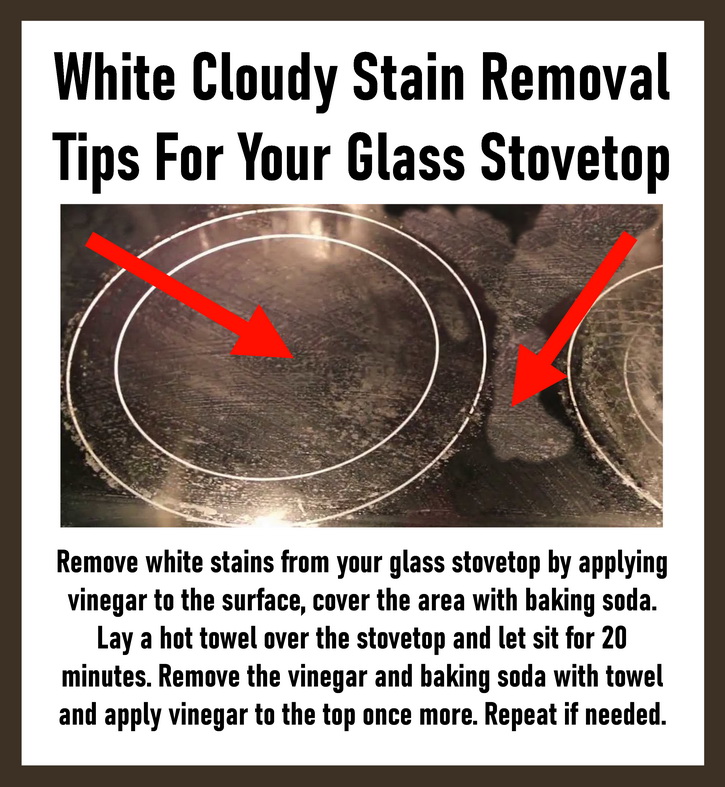 Stain Removal Tips For White Cloudy Stovetop
What Causes Cloudy Stains On Stovetop?
White cloudy stains can be caused by water boiling over or other items cooking that have boiled over and touched the surface of the stovetop. When this happens the white stains form on the glass top and are difficult to remove.
Quick Fix: Remove white stains from your glass stovetop by applying vinegar to the surface, cover the area with baking soda. Lay a hot towel over the stovetop and let sit for 20 minutes. Remove the vinegar and baking soda with towel and apply vinegar to the top once more. Repeat if needed.
Remove White Stains On Glass Stovetop
Avoid abrasive cleaners as they will scratch the surface. Use the tips listed below for the best and easiest results.
Make sure the stovetop is off and not hot.
Apply white vinegar on the glass stovetop.
Add some baking powder on top of the vinegar.
Lay a hot wet towel or rag over the complete surface of the stained area.
Allow the mixture and hot towel to sit for 20 minutes.
After 20 minutes, wipe off the mixture with a damp towel.
The white stains should be removed after the 20 minutes.
If a white haze still appears, wipe off the surface again with white vinegar.
Repeat this again if the white stains reappear.
You can also try a light coat of vegetable oil on the white stain and let sit for a few hours. Use a towel to wipe up the excess oil and with some white strains, the oil removes it.

Removing Tough Stains off Glass Stove Top
Another product that can help you to remove the white stains on your stovetop is Cerama Bryte. A small amount of this product can clean the entire stovetop without scratching the surface. It comes with a scrubber pad to clean and scrub the residue. After scrubbing with the pad, use a towel to remove the product residue and then polish for a clean look that removes all white cloudy stains.
MORE TIPS: Remove watermarks from cup rings – Remove rust from bathtub – Remove stains on white shirts
With these white cloudy stain removal tips for your glass stovetop, we hope to have provided some helpful tips on how to get rid of the stains. Once reading our quick help guide, if you are not able to remove these white stains from your glass stovetop, please leave a comment below and we will assist.