Have questions about your Koblenz LCK 60 washer or similar compact portable washing machine? We will show you the proper installation, operating procedures, and how to troubleshoot to fix your washer. For Koblenz Model: LCK60 & similar washers. Instructions and images in English and Spanish.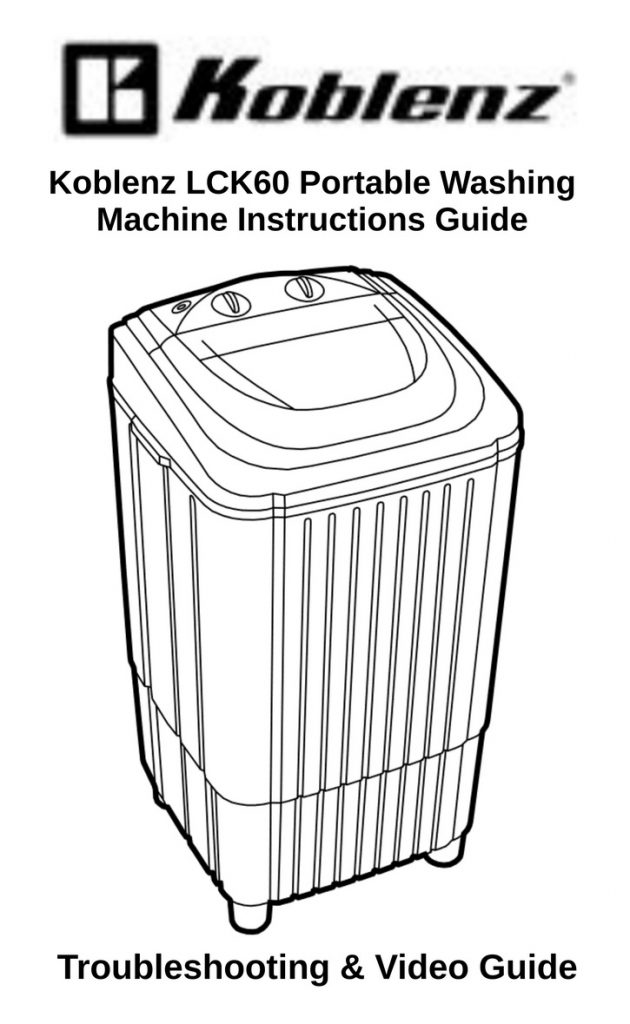 Koblenz LCK60 Portable Washing Machine
Read this operation manual before connecting your washer – Koblenz PDF manual here – Koblenz LCK-60 Portable Washing Machine Manual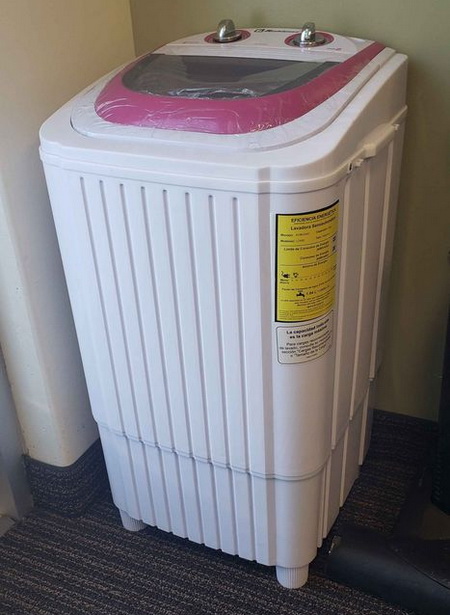 Koblenz LCK-60 Washer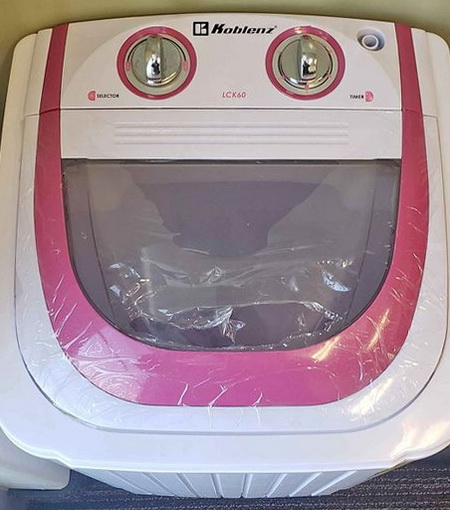 Koblenz lck60 washer top view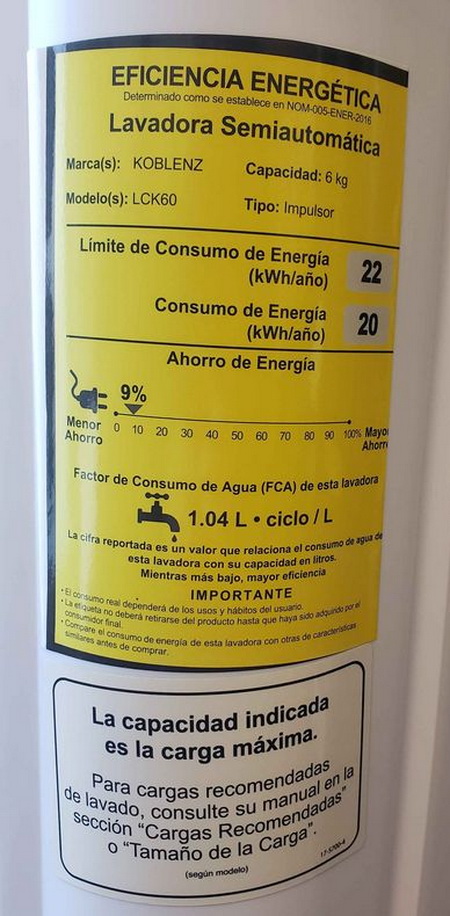 Koblenz lck60 washer specs
OPERATING INSTRUCTIONS – INSTALLATION
Before beginning washing:
Install your washer in a place with the proper water and electric supply, and a draining system.
Make sure your washer is clean and free of foreign objects and that the draining hose is in a horizontal position, and that the timer is in the "0" position, and wash selector in hi or low position.
Make sure that the electric outlet has 120 VAC grounded / 60 Hz (120 V grounded / 60 Hz) (or what your home electrical system provides)
The slots in the base must not be obstructed when the washer is installed.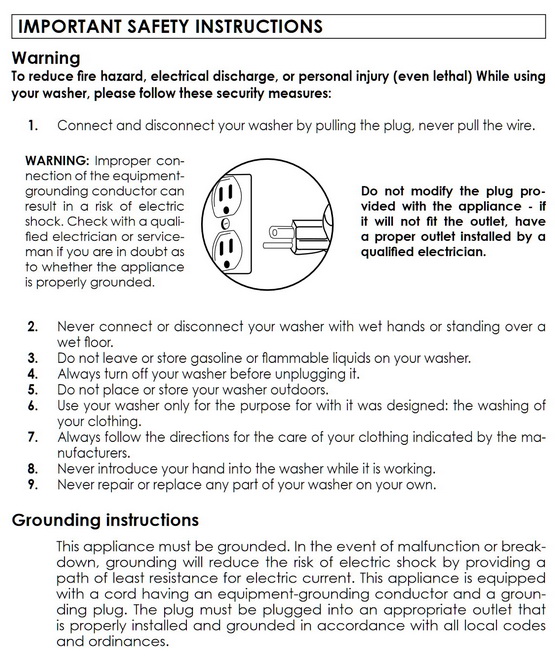 Safety for Koblenz LCK60 Washer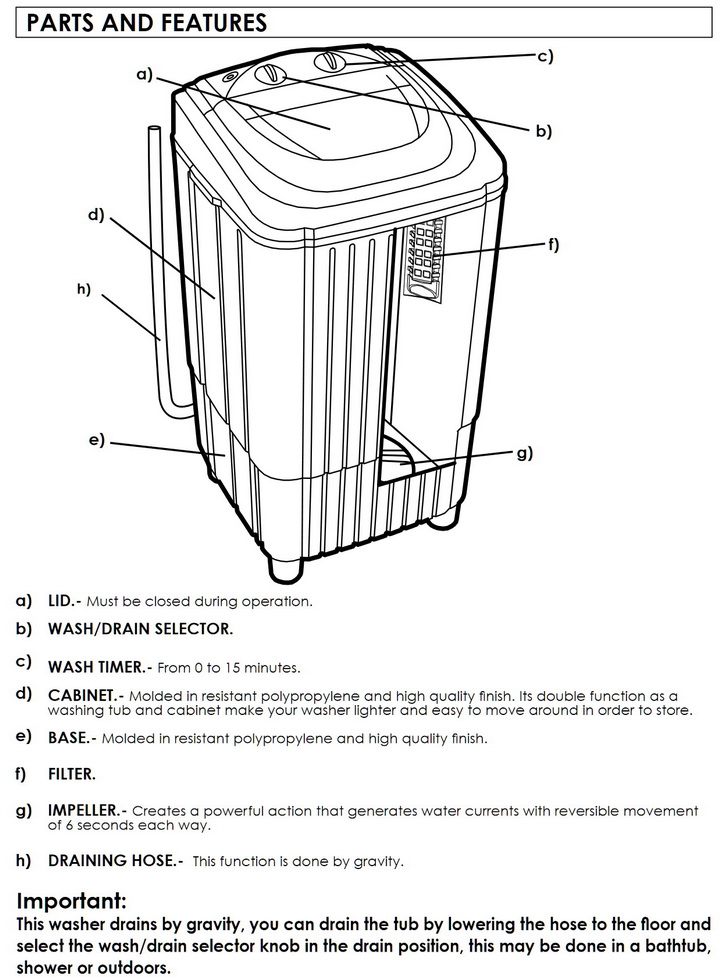 Koblenz lck60 washer parts identification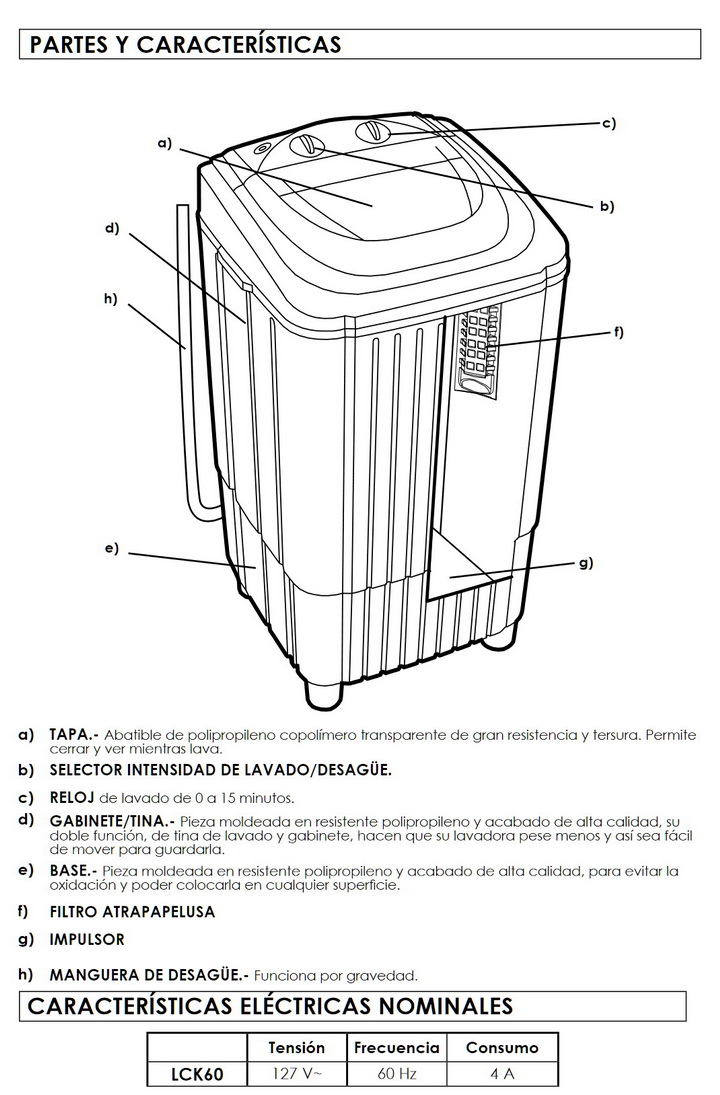 Koblenz lck60 washer parts identification in Spanish
IMPORTANT: TO AVOID OVERFLOWS WE RECOMMEND THAT YOU CAREFULLY FOLLOW OPERATING INSTRUCTIONS.
IMPORTANT: DO NOT USE HOT WATER FOR OPERATION.
To begin washing:
Classify laundry according to the different types of fibers and colors.
Fill the washer with water to the desired level: Low or High. – Important: If clothing floats we recommend that you push it to the bottom of the tub.
Pour detergent in the washer tub.
Turn the timer to desired washing time and wash se-lector knob in low or hi position according to the material of clothes.
Place the draining hose in horizontal position.
Proceed to load the washer with laundry one piece at a time.
Once the washing time is over, you can drain the washer only by placing the selector knob intensity wash and drain in drainage position. The washing machine must not be working.
The washer can rinse your laundry by repeating the washing cycle, but without detergent.
Once you have finished washing your laundry, rise the tub clean water and dry it with a soft clean cloth.
After using, do not forget to turn the timer to the "O" position and unplug the washer.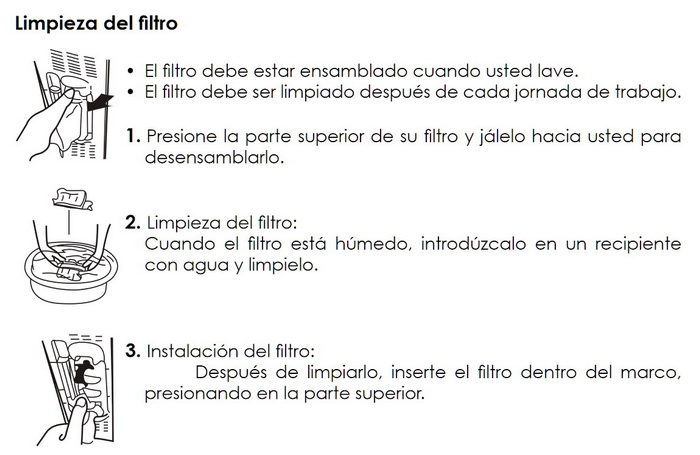 Clean filter on Koblenz LCK60 washer
IMPORTANT SAFETY INSTRUCTIONS
Warning – To reduce fire hazard, electrical discharge, or personal injury (even lethal) while using your washer, please follow these security measures:
Connect and disconnect your washer by pulling the plug, never pull the wire.
Never connect or disconnect your washer with wet ands or standing over a wet floor.
Do not leave or store gasoline or flammable liquids on your washer.
Always turn off your washer before unplugging it.
Do not place or store your washer outdoors.
Use your washer only for the purpose for with it was designed: the washing of your clothing.
Always follow the directions for the care of your clothing indicated by the manufacturers.
Never introduce your hand into the washer while it is working.
Never repair or replace any part of your washer on your own.
Grounding instructions
This appliance must be grounded. In the event of malfunction or break-down, grounding will reduce the risk of electric shock by providing a path of least resistance for electric current. This appliance is equipped with a cord having an equipment-grounding conductor and a grounding plug. The plug must be plugged into an appropriate outlet that is properly installed and grounded in accordance with all local codes and ordinances.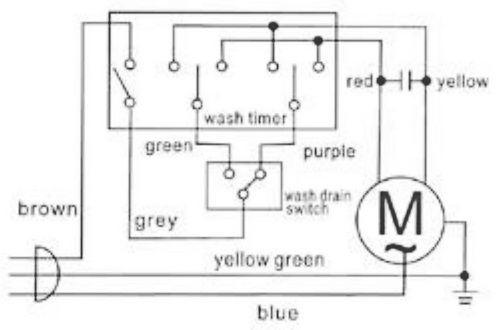 Koblenz lck60 washer electrical diagram
This is considered a compact Washer – Model: LCK 60
Capacity 13.22 lb. (6.00 kg)
Portable: Easy to move from one place to another
Durable: Rustproof polypropylene cabinet for longer life
Easy to use
Automatic timer: Up to 15 minutes
Reversible action impeller
Water level indicator
Wide washtub opening for easy loading and unloading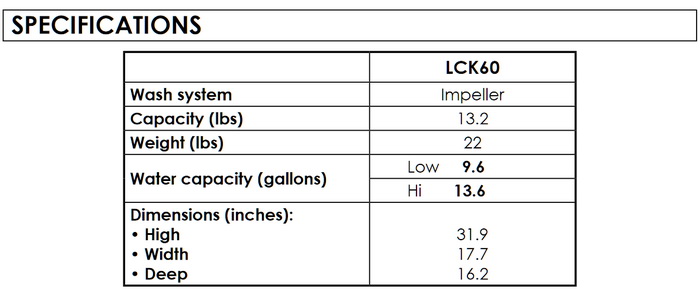 Koblenz lck60 washer specifications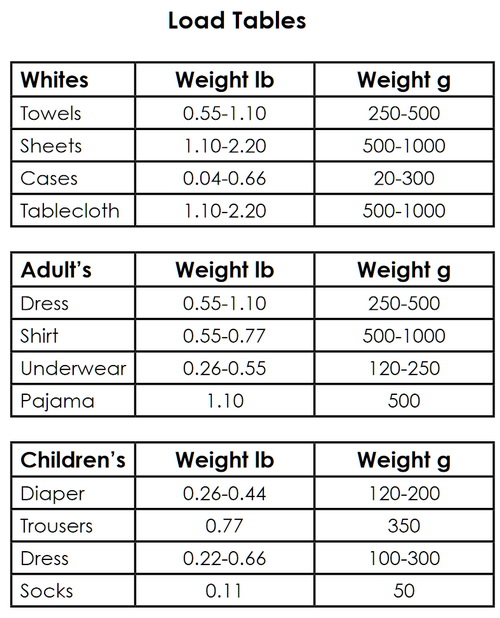 Koblenz lck60 washer load tables
Problems and Solutions for Koblenz Washing Machine
Your washing machine does not turn on – Make sure the power cord is connected and in good condition
Does not drain – Make sure the drain hose is down – Make sure the hose is not clogged
Abnormal noise in the wash – Make sure there are no objects such as screws, coins, pins, metal things, etc. in the wash tub.
(If there is some water in the hose on the first use, it is the water left from the factory inspection.)
Problemas y soluciones para la lavadora Koblenz
Su lavadora no se enciende – asegúrese de que el cable de alimentación esté conectado y en buenas condiciones
No drena – Asegúrese de que la manguera de drenaje esté hacia abajo – Asegúrese de que la manguera no esté obstruida
Ruido anormal en el lavado – asegúrese de que no haya objetos como tornillos, monedas, alfileres, objetos metálicos, etc. en la tina de lavado.
(Si hay algo de agua en la manguera en el primer uso, es el agua que quedó de la inspección de fábrica).

Koblenz lck60 washer problem and solutions

Arreglo de secadora koblenz rápido

centrifuga konblenz se cayó la tina como checar este problema

Lavadora coblenz no tiene potencia de lavado

centrifuga koblenz no enciende ve por que ???

lAVADORA KOBLENZ vota la banda ve por qué
For warranty service please contact your dealer, the store or web store where you purchased this equipment. You can also get the latest service center list updates online at: www.koblenz-electric.com For any further information contact…
Thorne Electric Customer Service Center at: 1-800-548-5741
Distributed by: Thorne Electric Co.P.O. Box 18363
San Antonio Tx, 78218-0363 U.S.A.Tel: (210) 590 1226 / Fax: (210) 590 1258
Koblenz Eléctrica, S.A. de C.V.Av. Ciencia No. 28 Fraccionamiento
Industrial Cuamatla
Cuautitlán Izcalli, Edo. de México
C.P. 54730; Tel (55) 5864-0300
Need assistance with your Koblenz LCK-60 washer? Please leave a comment below and someone will be happy to assist you. Let us know the model number of your washer and if you are in the USA or in Mexico or Central America. If you know the power or voltage you are plugging the washer into, that will also help us to diagnose your issue. Feel free to let us know the exact problem you are having and we can help even further.