A common question we get asked is: "How do I re-key my SmartKey Security™ locks?" We'll take you through the steps of how to re-key your Kwikset SmartKey Security locks. It will only take a few minutes to re-key and the information provided below is easy to follow and understand.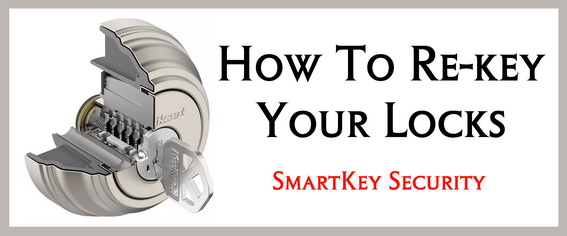 SmartKey Security – How To Re-key Your Locks
This information is from the Kwikset SmartKey Security website. We have added it in its entirety to make this info more accessible to all who have problems with re-keying the lock.
It is important to prepare your door, before re-keying the lock. For extra help and tips, see the videos below for easy step-by-step instructions.

How do I re-key my SmartKey Security locks?
Make sure the SmartKey Security lock is installed on your door and that your door is all the way open. (The deadbolt must be locked before you can re-key it. Also with any KNOB or LEVER ensure they are in the locked position.)
To ensure your door cannot close on its own, make sure the door is open or that there are other ways to enter the house.
Insert your FUNCTIONING KEY into the lock.
Rotate the key clockwise 90 degrees.
Insert the SmartKey LEARN TOOL fully into the SmartKey hole. (You may feel the tool snap into place or click inside the lock.)
Remove the SmartKey LEARN TOOL from the lock hole.
Remove the FUNCTIONING KEY from the lock hole.
Insert the NEW KEY you will be using with the lock. (The NEW KEY needs to be FULLY inserted to work properly and the edge of the key needs to touch the indent in the cylinder.)
Do not push or pull on the NEW KEY and turn it counter-clockwise 180 degrees.
Then rotate the NEW KEY clockwise 180 degrees.
Gently pull on the NEW KEY to make sure it will not come out in the current position.
Rotate the NEW KEY counter-clockwise 90 degrees back to the position you started.
Remove the NEW KEY.
Your lock has been successfully re-keyed.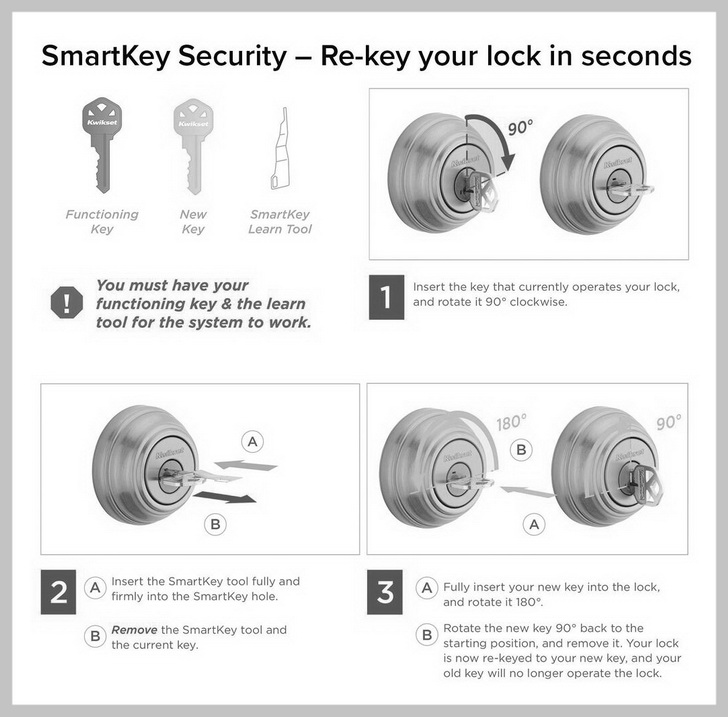 How do I re-key my SmartKey Security locks?

How to Rekey Kwikset SmartKey Lock In 4 Easy Steps

3 Simple Steps to Fix Misprogrammed SmartKey Cylinder
Rekey a lock
Please note: The above information is to help you to rekey your SmartKey Lock. This applies to only Kwikset locks and can be re-keyed very quickly and easily. You will need to have the SmartKey Learn Tool to correctly re-key your lock. If you have lost or misplaced your SmartKey Learn Tool, you can find where to get another SmartKey Learn Tool here.
Have questions about rekeying your Kwikset SmartKey Lock? We can help. Leave a comment below and someone can assist you.