Do you have Christmas lights outside that don't work? If so we will give you some tips on what to check on why they do not turn on. You should have a much better understanding of what's going wrong with your Christmas light setup and ways to fix it after reading the information below.

Fix Christmas Lights Not Turning On
Reasons Christmas lights not turning on
Christmas light strand plug not fully inserted into outlet.
No electricity flowing through the circuit – GFCI outlet or breaker tripped.
There is a problem with one or more of the bulbs not seated properly.
Extension cord to Christmas lights is damaged or loose.
A fuse has gone bad in the Christmas light strand plug.
Lights strands "half out" means one bulb is causing it.
A bulb has burned out, resulting in failure of the other bulbs to not illuminate.
Christmas light timer/controller not set correctly.
The wire on the Christmas lights are frayed/damaged.
The Xmas lights shut off when it rained and has tripped the GFCI outlets.
Change the batteries if you're utilizing battery-operated Christmas lights.

How To Fix Christmas Lights Half Out
Christmas lights not working outside
Inspect the main breaker
Check the main breakers to be sure the outlets are getting power. Find the main breaker that controls power to the outside outlets. Be sure it has not tripped. Reset it if you find it has tripped. Check the Christmas lights, are they on? If not check the GFCI outlets.
Check the electrical GFCI outlets
A common issue with outside electrical outlets not working is because of a GFCI outlet "tripped" issue. If the Christmas lights are plugged into these outlets the Christmas lights will not turn on if the outlet has been tripped.
Reset the GFCI outlet
Try to reset the GFCI outlet. Possibly one of your outlets either in the garage, in a bathroom near the garage, or one of the outlets outside has a GFCI that has TRIPPED.
Inspect all electrical outlets and if any are GFCI, press the reset button and you will get power back on ALL outlets outside (and possibly in your garage).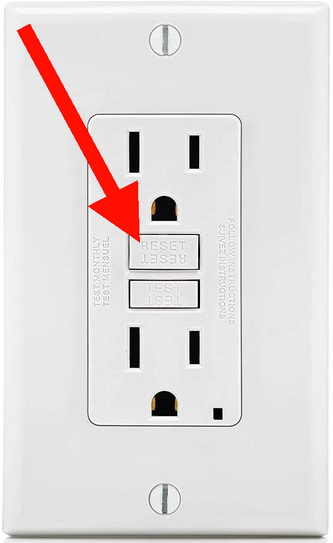 GFCI outlet – Press reset button if tripped
Check other Xmas light issues
If the issue is not the GFCI outlets, check the extension cord or the light controller you are using.
If you have an automatic device that turns on power when it senses it is getting dark, then that may be your issue. It may be defective or not seeing the light and will not send power to the Christmas lights.
Using a timer to turn on the Christmas lights is very common. Check to be sure it is set properly. Some timers are difficult to use and can be set incorrectly. Read the manual to get it set properly or try another method.
You may have faulty Xmas lights. Check the bulbs, you may have Xmas lights that completely turn off if you have one bulb burnt out or missing.
If one Christmas light is missing from the strand and the strand does not illuminate, use a light bulb from another strand to get the complete strand working again.
There are fuses in the Christmas light strand plug. If the fuse fails, the lights will not turn on. String lights have two fuses in the plug. You should have a replacement fuse in a small plastic bag that came with your lights.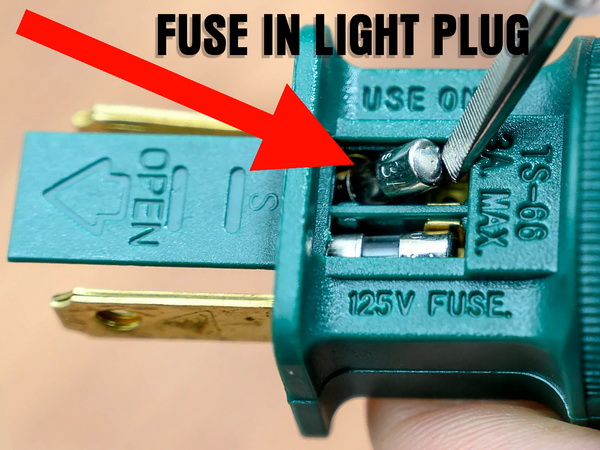 Check the Christmas light fuse
If all else fails, get a different extension cord and test the lights or test the Christmas lights inside with a power outlet you know works. If the lights turn on, then you know you have a problem outside.
Lights that will not turn on at Christmas time is a common issue. One of the most common causes for this issue is wires and plugs not completely plugged in or loose connections. It's also possible you have a bad fuse, blown bulbs, faulty strand wiring, tripped outlets, or bad light sockets.
If you have issues with your Christmas lights outside not turning on, please let us know your situation in the comments below.