DVR not recording or working? There are many common causes of why a DVR will not work. Here is how to reset a DVR and refresh the signal when it is not functioning. Use these troubleshooting steps and helpful hints for maintaining your DVR.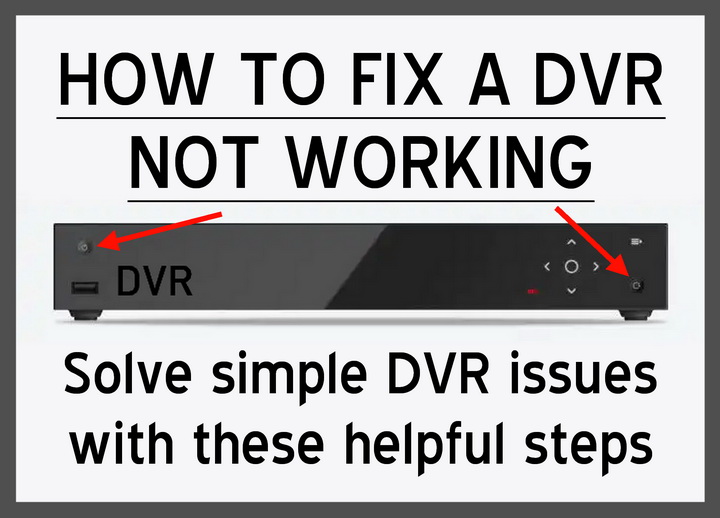 DVR not working- How to fix?
Solve DVR issues with these helpful steps
How do I reset my DVR box?
Reset your DVR receiver by unplugging it and waiting one minute before plugging it back in. This will reset the DVR and is the most common method to get it working again.
How do I send a refresh signal to my DVR?
Send a refresh signal to your DVR box by going to the website of your Cable/Sat company. Sign into your Cable or Sat account and look for the REFRESH SIGNAL button. This will reset the DVR box and any issues should be resolved.
Why is my DVR not recording?
Verify that your equipment such as the Cable Box, TV, and the DVR is properly connected to all connections and switched on. If the DVR is turned OFF, it will seem as if there is an issue. Be sure the DVR is turned ON. See images below for connection and button locations on your DVR. Another issue might be that your DVR storage drive is full and does not have the space to record.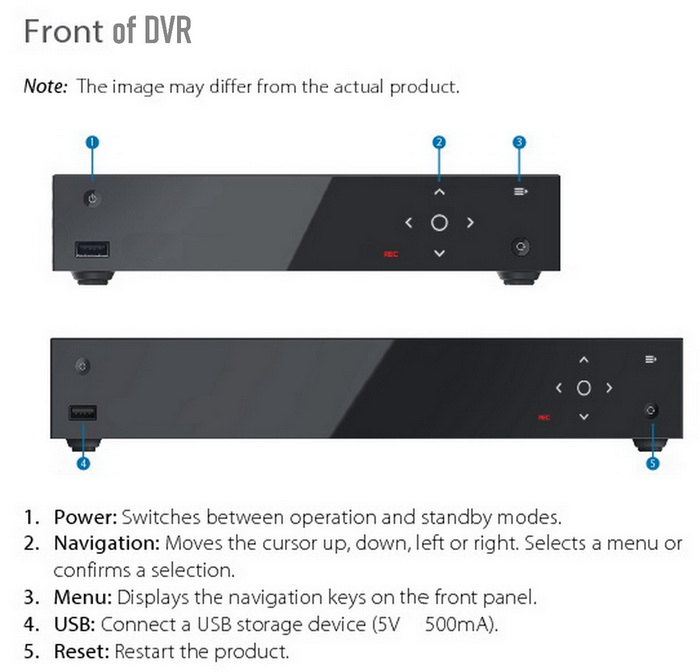 Front of DVR box with button locations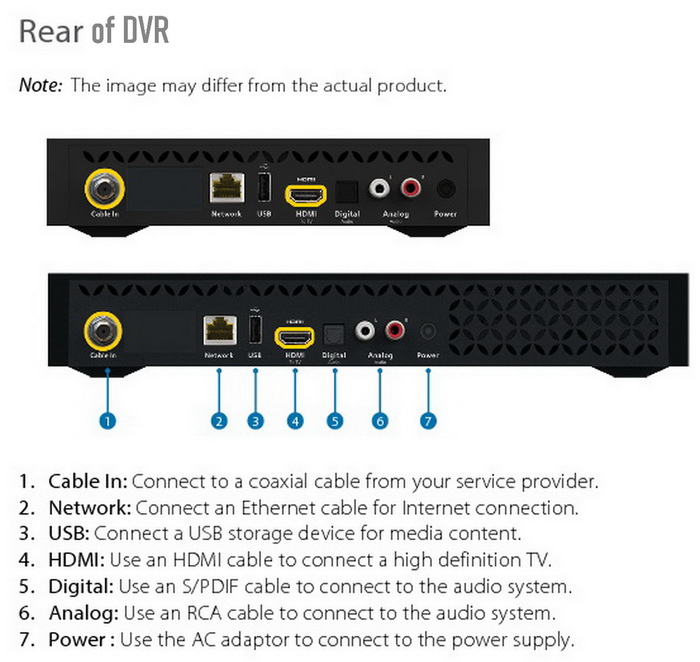 Rear of DVR box with cable connection locations
HINT: Check the batteries in your DVR remote control to be sure the remote is not the issue.
Why is my DVR glitching/cutting off?
Check the coax cable from the DVR and TV to the wall coax connection and be sure it is connected and secure. This cable is usually white or black. This cable has a threaded end that needs to be connected in the TV, DVR, and the wall coax connection. Also check that the coax cable is not bent. Remove and replace any bent or broken coax cables.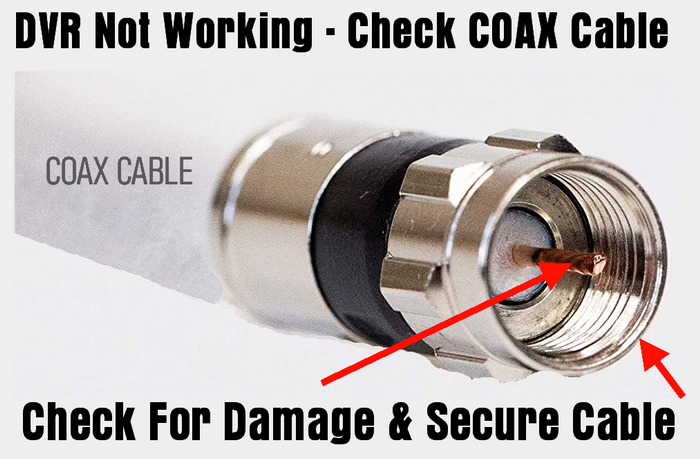 Check COAX CABLE if DVR not working
Why is my DVR freezing/not rewinding?
If you're having difficulties playing back recorded shows, such as the image freezing or rewinding or fast-forwarding is not working, this could be due to a problem with the original broadcast. Try resetting the DVR if this happens.
Why has my DVR stopped recording?
The DVR may NOT have sufficient storage space to record the broadcast. Go into the menu of the DVR and examine the disc space percentage. DVR storage space will vary by brand and model number. Another issue could be that you are attempting to record on demand. On Demand movies or shows cannot be recorded on your DVR.
What if my DVR is at 100% Storage?
If the DVR storage is at 100%, you will need to delete some programs to make room for new recordings. If you record many programs and the DVR is filling up the hard drive, you may need a new larger and updated DVR box from your cable or sat company. Newer (usually more expensive monthly) DVR boxes can hold many more recordings and record up to 8 or more shows at once. So check with your cable or sat company to see if you can possibly exchange your box for free or for a slightly larger monthly fee. Call your cable or sat company and ask about upgrading to a newer larger storage capacity DVR box. In most cases, you can simply unhook the DVR from your TV and physically take it into the cable or sat company and exchange it for a new one.
How to test a DVR if it is recording?
Record a few minutes of any TV broadcast with the DVR then view the recorded program. If this works then you know the DVR is working properly. If this does not work, then try refreshing your receiver signal and once again attempt to view the recorded program.
Is my DVR overheating?
Remove any obstructions near your receiver in order for it to have the proper ventilation as objects on or near the DVR can obstruct heat coming out of the DVR box and cause a malfunction.
How do I view storage space on Spectrum DVR?
Step 1. Press the DVR/My DVR button on the DVR remote control.
Step 2. Go to the DVR Settings using the arrow keys and then press OK or Select.
Step 3. Press the right arrow key and highlight the Available Storage and press OK or Select. This will show you the storage amount on your DVR hard drive.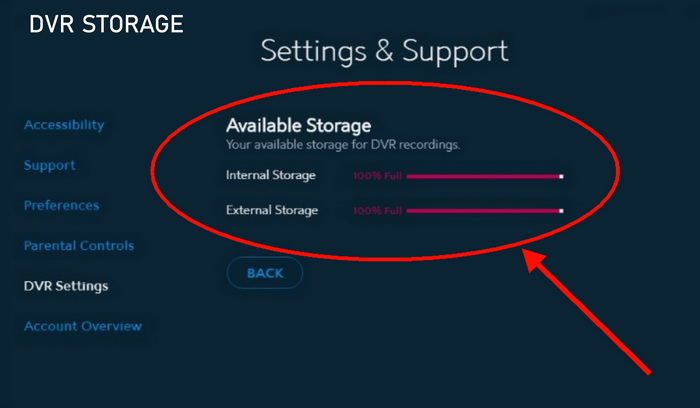 DVR storage menu screen
These DVR fix methods will work with most manufacturer DVR boxes. DVR boxes such as AT&T, Cox, Dish, Optimum, Spectrum, Verizon, and Xfinity can all be reset or fixed using the methods we have shown above.
Have we solved your issues with your DVR not working? If not, please leave a comment below and we can assist you with your problem. Please let us know the Model Number of your DVR/cable box and we will get you help to fix your DVR issue.