You do not have to worry about losing all of your Pins on Pinterest or what if you accidentally delete a board that took multiple hours to create.
Here is a way to save them, a few easy methods to saving your Pins FOREVER.
OPTION 1 –
1. Log into Pinterest and go into the board you want to save.
2. Once in the board, Press the "Control" and "P" key at the same time. This will bring up the "Print" box.
3. Do not use the "Printing" option but instead look for "Print to PDF" and select "All Pages" then "Print".
4. Save them wherever you choose on your computer and name them the same as your board names.
5. Do this with all your Pinterest boards you want to save.
6. Be patient and make sure all your Pins are done being "fetched" or the PDF with your saved board will not be totally complete.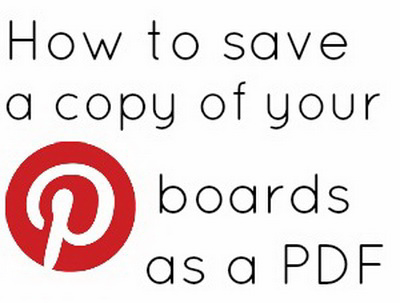 NOTE: You can over write the current boards saved on your computer by just saving over them. The PDF will not capture the entire hyperlink, just the website below each pin.
OPTION 2 –
Use the service called Pin4Ever.
This service protects the information that you have spent time selecting and organizing on your Pinterest boards. If you click the wrong button you may accidentally delete your favorite pins or boards yourself. Then there is the chance that Pinterest could terminate your account "for no reason" without even giving you notice. Some Pinterest users have had their accounts hacked, and pins permanently deleted and replaced with spam links. Some writers have even voiced concern that Pinterest could be sued for copyright violations. So this service will back up all of your pins for free. The service has a free account included to back up your pins for free one time.