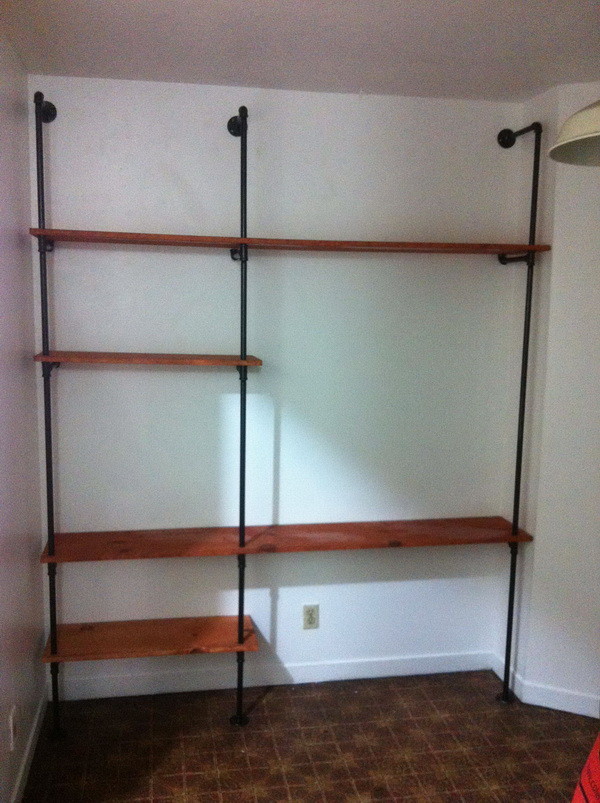 Here is a simple way to build a shelving unit out of plumbing conduit. This plumbing shelf took us around 8 hours to put together and bolt on the wall from start to finish. The unit is roughly 6ft wide by roughly 8ft tall and around 12in deep. All of the items needed to create this cool plumbing fixture shelving unit was around $200 dollars total.
Material Needed:
Fittings:
13 – 90º Elbows
10 – 3-Way Tees
6 – Base Flanges
Pipe:
10 – 8″
3 – 9″
1 – 25″ (Custom cut at Lowes)
3 – 44″ (Custom cut at Lowes)
3 – 18″ (Custom cut at Lowes)
4 – 12″
2 – 10″
Wood:
Sheets of Pine Wood
Fasteners:
Misc Bolts to secure the shelf to the wall
Tools:
Medium sandpaper
Degreaser
Ladder
Drill
1" Holesaw
First we drilled some holes in the wood for the pipe to fit through. We used a 1″ round drill bit to allow for error. We used a degreaser to clean the nasty sticky grease of the pipes before we did any assembling. We then assembled the pipe together in the room we were going to use the shelf in. After this we sanded and stained our wood. Then we bolted the piping to the wall and made sure to add the wood shelf units as we were attaching everything to the wall area. The most difficult aspect was getting all of our measurements correct. See below for our measurements and pictures of the piping material before we assembled the shelving unit.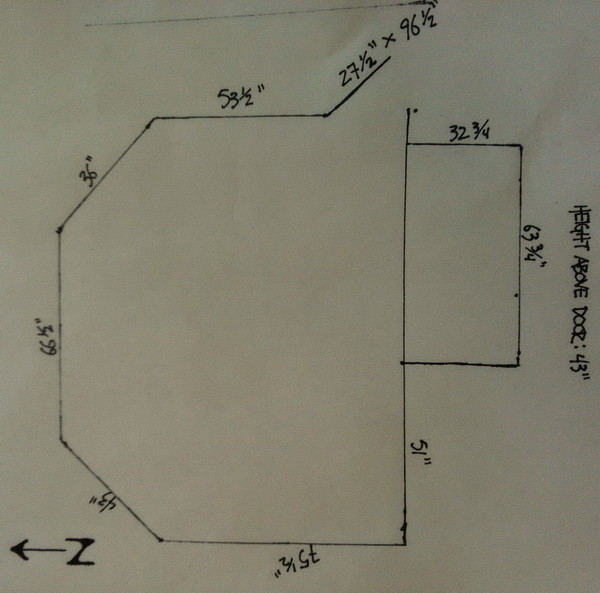 We measured our room before we went and purchased our plumbing pipe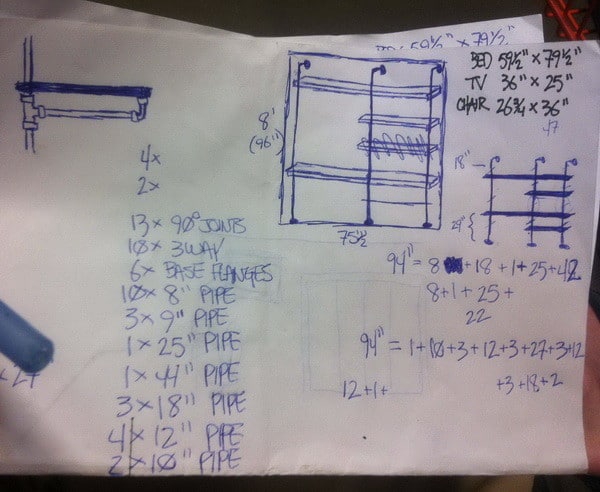 We figured out exactly how many pieces of plumbing pipe we needed for our shelving unit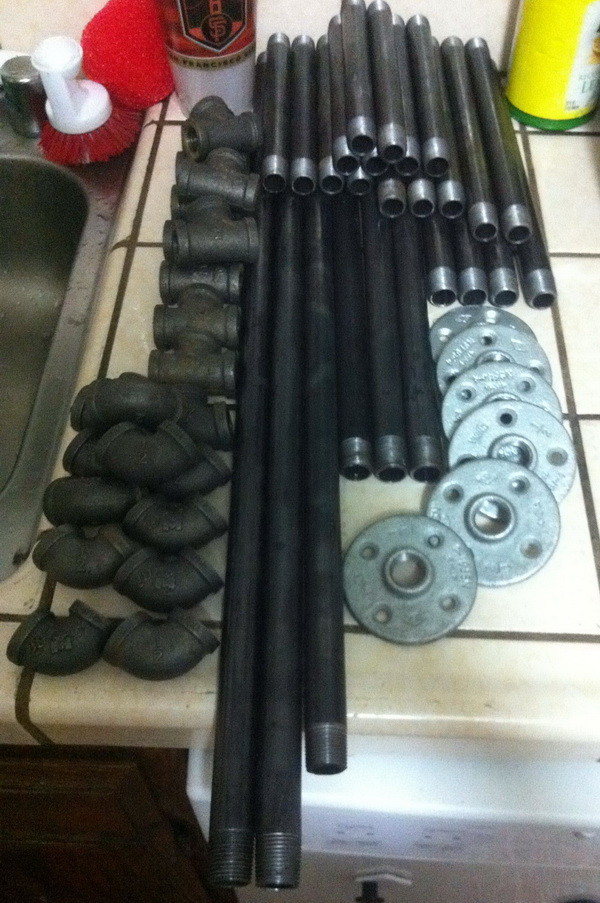 Here are all the metal pipes and fittings we used in our project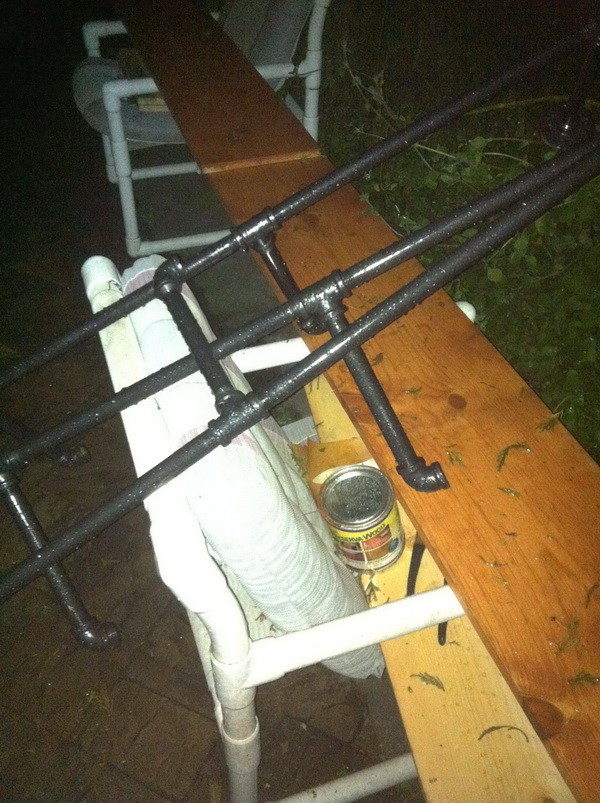 We assembled some of our pipe pieces together to make sure the measurements were correct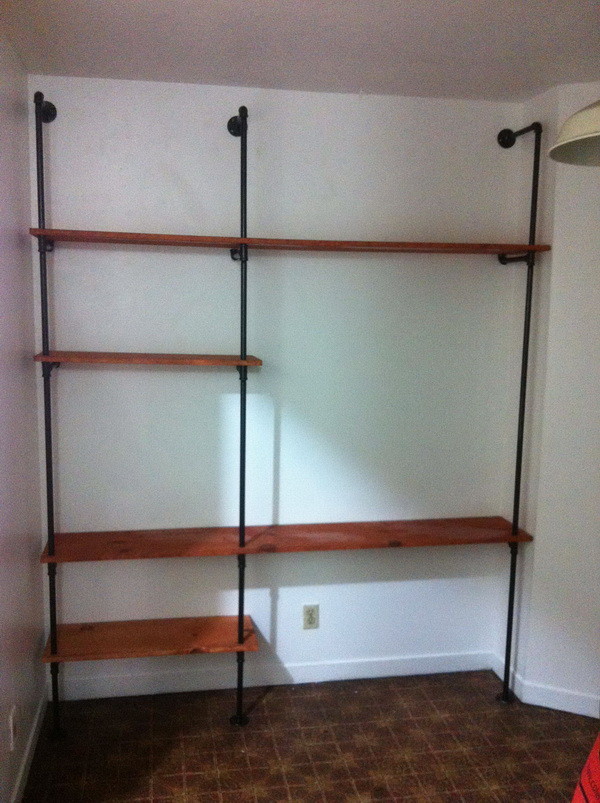 Our Plumbing Pipe Shelving Unit Completed