Here is another "do it yourself" custom diy steampunk lamp we built but this time using some really inexpensive plumbing pipe fittings. This diy Lamp Project cost us under $40 dollars and we found all of the parts to make it right in our local home improvement store.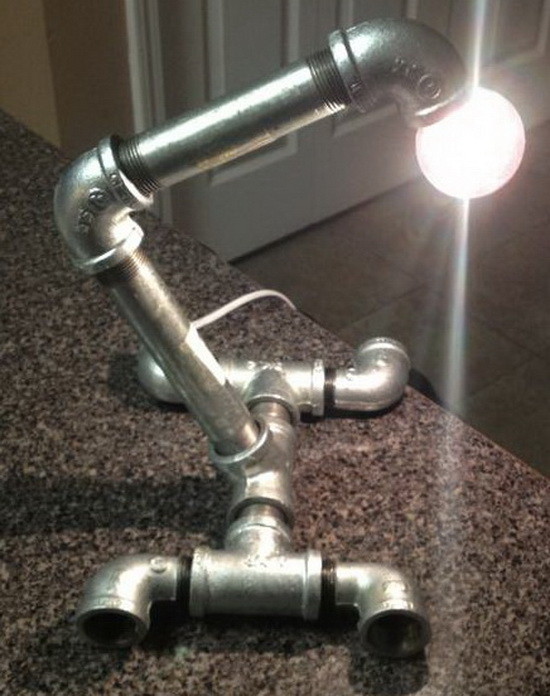 We used a candelabra socket and bulb for our pipe lamp. The light socket is held in place with a 3/4 inch rubber grommet which makes changing the light bulb very easy. The light socket and electrical cord are from a lamp kit we purchased online for around $9 dollars.  (can be purchased at home depot or lowes but will cost more) We used an "inline" cord on/off switch to turn the lamp on and off easily. We drilled a hole in the bottom of our "T" pipe fitting and ran the wires through. A small rubber grommet is holding the wire in place so it does not get pulled out. We could not use wire nuts to connect the wires together so we used a solder gun to connect our power cord to the light socket. We then used heat shrink tubing on the wiring so the wires do not touch the inside of our metal tubing.
Materials used for diy Pipe Lamp:
Galvanized Plumbing Pipe Fittings (Everything is 3/4 inch):
2 – 90 degree (female / female) pipe
4 – 90 degree (male / female) pipe
1 – 5″ pipe
1 – 4″ pipe
2 – Pipe thread inserts (male / male)
3 – "T" fittings
Electrical:
5 – Feet of cord with 110v plug
1 – On / Off inline switch
1 – Lamp socket
1 – 25 watt candelabra bulb
Other Material Used:
1 – 3/4″ rubber grommet (for light bulb area)
1 – Rubber grommet (to hold cord in place)
3 – Pieces of heat shrink tubing

Here is the On and Off switch we used for our light, it is called an "Inline Switch".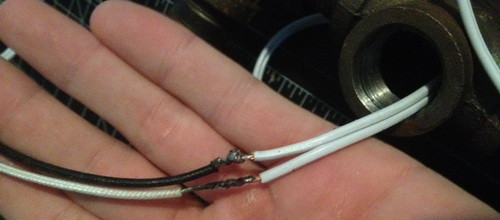 We carefully soldered the power cord wires to the light socket wires then "heat shrunk" them to insulate.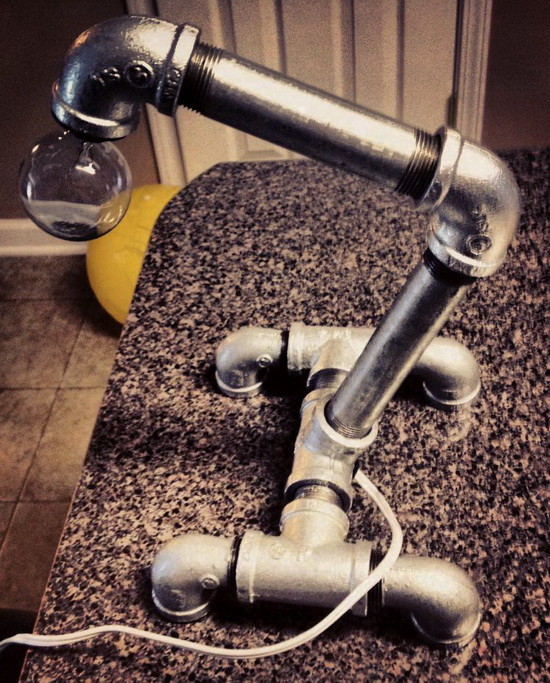 Here is our diy Pipe Lamp with the 90 degree "feet" pipe angled down.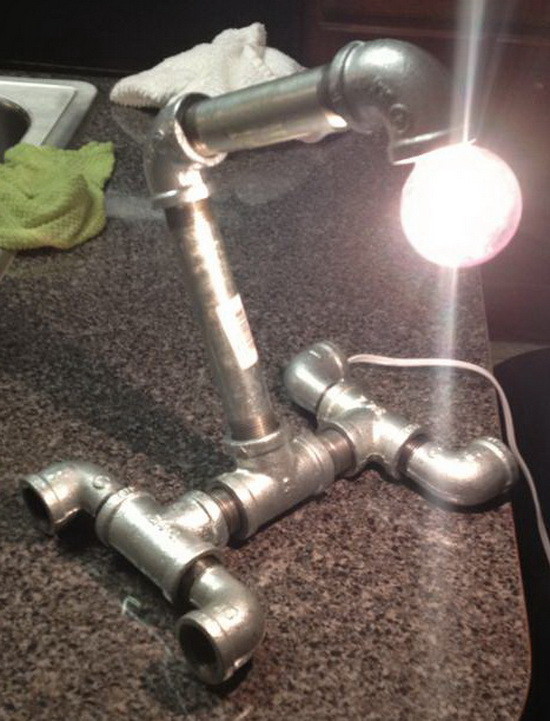 The galvanized pipe is only screwed together (no adhesive used) and can be
turned to form different shapes and angles according to your liking.
Here our lamps feet are angled outward and laying flat.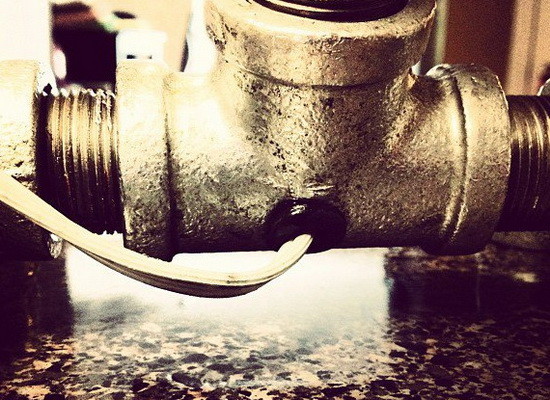 We drilled a small hole in the bottom of the center "T" fitting,
added a rubber grommet, and put our electrical cord through.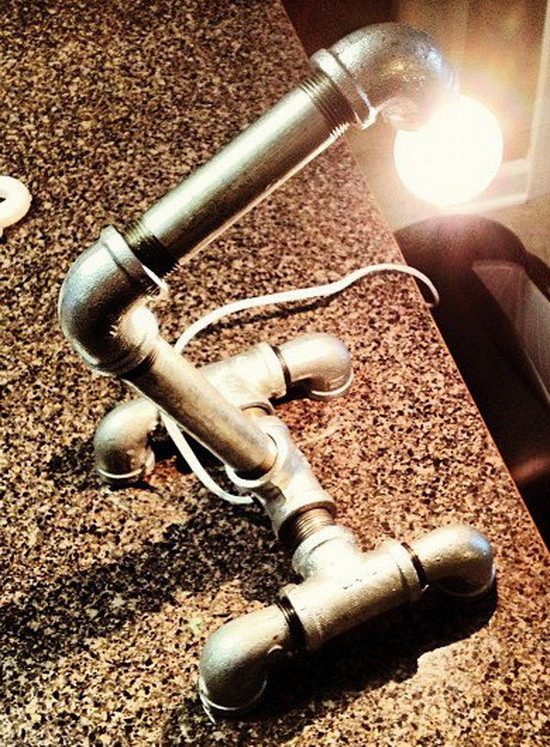 This is our prototype for the time being. We plan to clean it up and add more photos later. We are going to remove the stickers, add a modern looking lampshade, paint it in a better color more suited for a contemporary look, and add an on/off toggle switch to the front. We will update this page as we tweak our diy Pipe Lamp.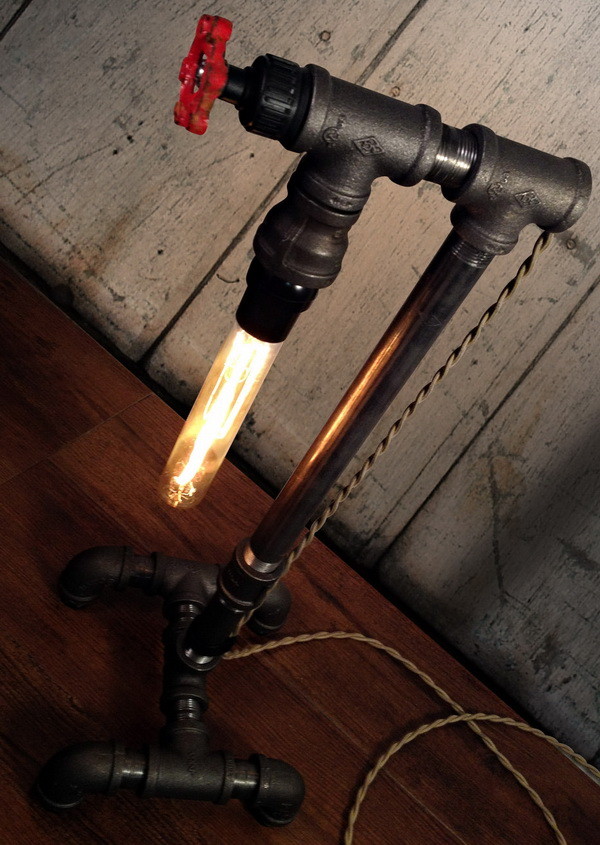 One of our readers sent this to us, they call it the "Steampunk Vintage Table Lamp". Same basic principle to build as above but different parts were used. They used a 30 Watt Tubular Edison Bulb. The rotating faucet handle is a switch to turn the light on and off and the power cord is a vintage style cloth covered wire. Very Impressive!