A bunch of ridiculous products found around the web, funny, weird, or totally stupid products. It is completely amazing that the products below were actually invented and are marketed to us through the internet or Infomercial TV. Kind of makes you wonder, who really buys this stuff? These products are the true definition of "Remove and Replace"….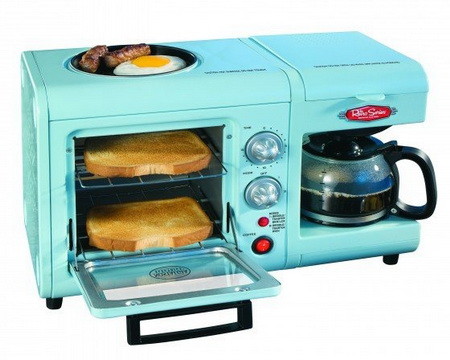 The 3 in 1 Breakfast Maker
Elite Cuisine 3-in-1 Breakfast Station 4-Cup Coffee Maker
3 in 1 toaster oven, coffee maker and griddle
4-Cup coffee maker
1-Slice toaster oven
6-Inch griddle
500-Watt of power
BUY HERE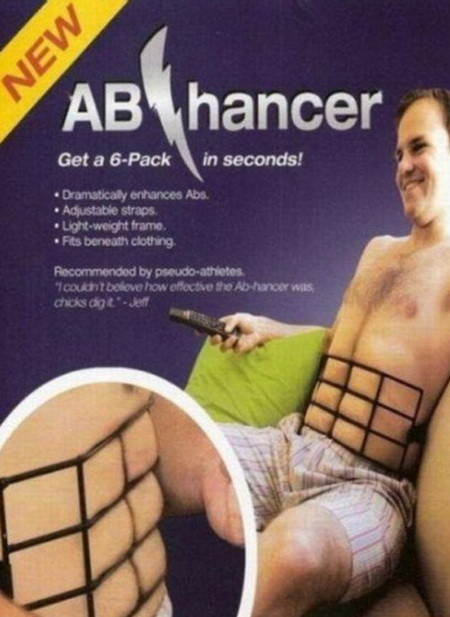 The AB Hancer
The Ab Hancer will be your choice of six-pack defining tools this summer.
It is light weight, is easy to hide under clothing, and dramatically enhances your abs!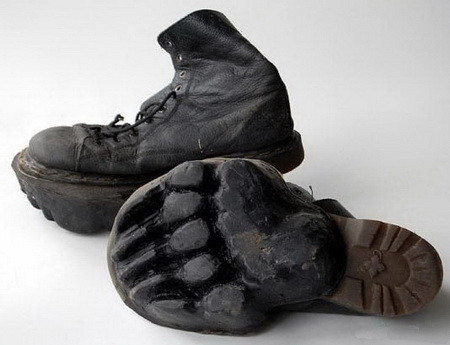 Animal Footprint Shoes
Shoes that leave realistic animal footprints in snow or soft ground.
They look like regular shoes, but with modified soles.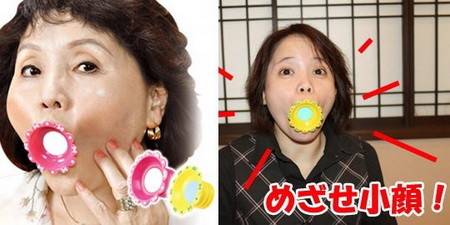 Cheek Exercise Beauty Skincare Product
The Face Exercise Mouthpiece features:
Recommended routine: 10-20 breathing exercises per session
Color: yellow or pink
Includes two mouthpieces (same color)
Materials: polypropylene etc
Includes "aroma spot" for extra therapy (aromas not included)
Made in Japan
BUY HERE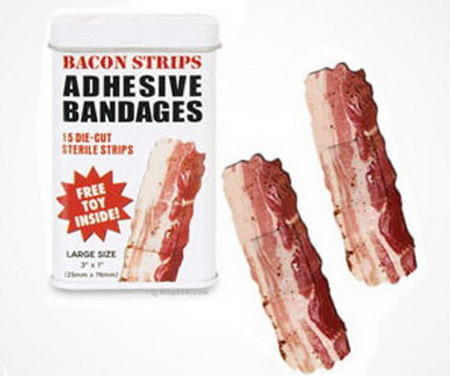 Bacon Bandages
Tin Container measures approx. 3-3/4″ H
Each tin contains fifteen BACON bandages
Each bandage measures approx. 3″ L x 3/4″ W
Each tin contains a bonus trinket.
BUY HERE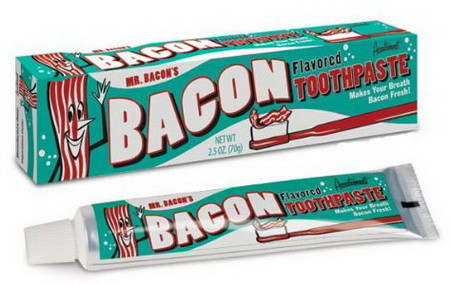 Bacon Flavored Toothpaste
Great gag/novelty gift.
Each tube contains 2.5 oz (70 g) of potent BACON paste.
BUY HERE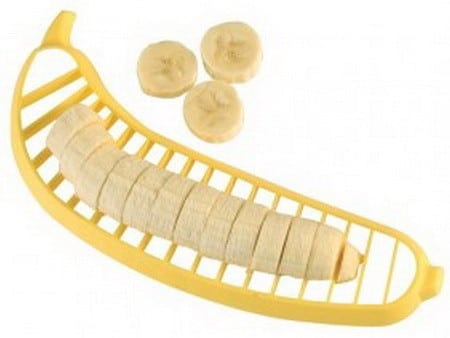 The Amazing Banana Slicer
Faster, safer than using a knife
Great for cereal
Plastic, dishwasher safe
Slice your banana with one quick motion
Kids love slicing their own bananas
"What can I say about the 571B Banana Slicer that hasn't already been said about the
wheel, penicillin, or the iPhone…. this is one of the greatest inventions of all time…"
BUY HERE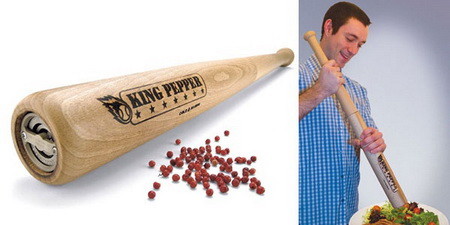 Baseball Bat Pepper Grinder
Jr. size ideal for picnics, camping or for the assistant grill master
Actual size is 19 inches long
Perfect for BBQ's
superior stainless steel pepper-grinding mechanism
Designed and manufactured in England
BUY HERE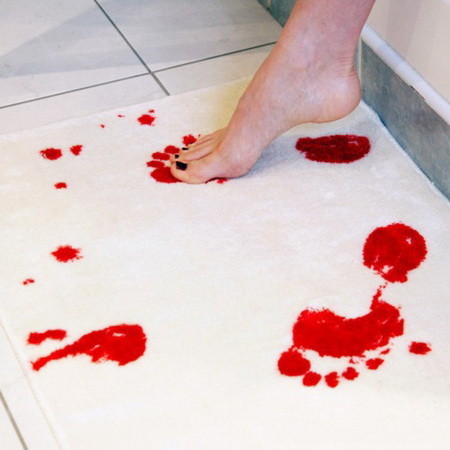 Bath mat that turns red when wet
Bath mat features bloody foot prints
Turn your bathroom into the set of a horror film
Acrylic rug with non-slip backing
Measures 27.5 x 19.5-inches
BUY HERE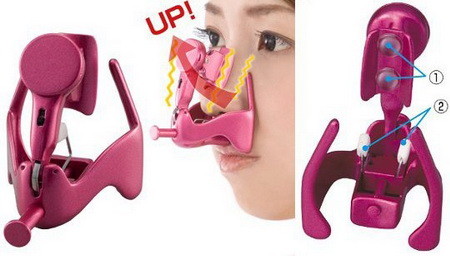 Beauty Lift High Nose Electric nose lift
Size: 7.0 (W) x 5.0 (D) X 7.5 (H) cm
Made in Japan
No manual (it's in Japanese)
Genuine, not Chinese one
BUY HERE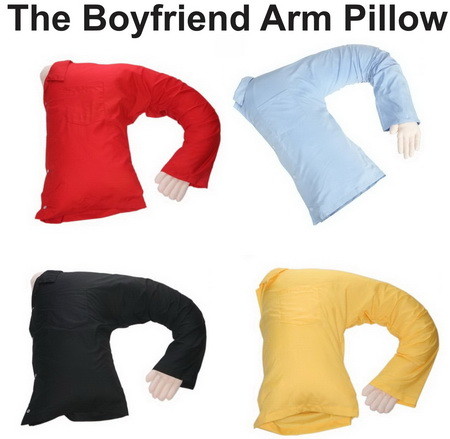 The Boyfriend Arm Pillow
Boyfriend pillow includes a removable microfiber shirt for easy care. and the pillow is filled with polyester.
Use the pillow as a body pillow; as a neckroll; unique pillow shape; great for snuggling
Machine washable
Boyfriend pillow body measures 22 by 9-inch and the arm 36-inch
BUY HERE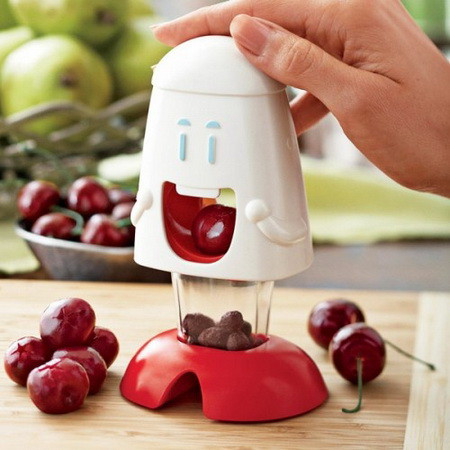 The Cherry Chomper Pitter
Pits a cherry or olive quickly and safely
Mess-free and kid-friendly device uses plunger-type action
Pushes cherry pit and residual juice into bottom container of pitter
Protective 'tooth' ensures hands and fingers won't be touched by any components
Dishwasher-safe; 6 inches tall
BUY HERE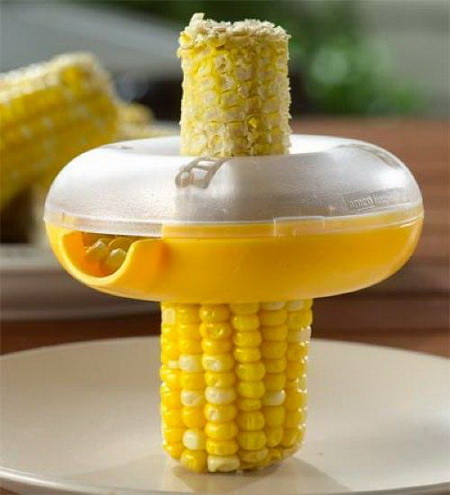 The Corn Kerneler Kitchen Tool
Easily remove kernels from the cob in one quick motion
Place on narrow end of cob and press straight down to bottom
All kernels collect neatly in holder-no more mess to clean up
Holds approximately 2 ears of corn; to empty, pour kernels from spout
Stainless steel blade adjusts to width of the corn cob; top rack dishwasher safe
BUY HERE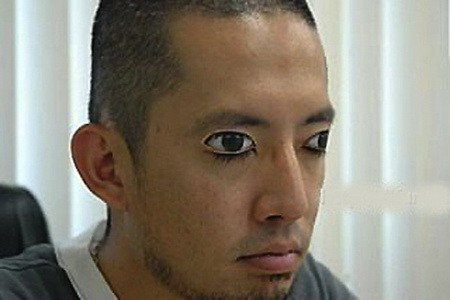 Sleep at Work Stickers – Crazy Japanese Products
To help prevent getting caught sleeping (and the subsequent unemployment)
are these eyeball stickers. You simply stick them on your eyelids and sleep away.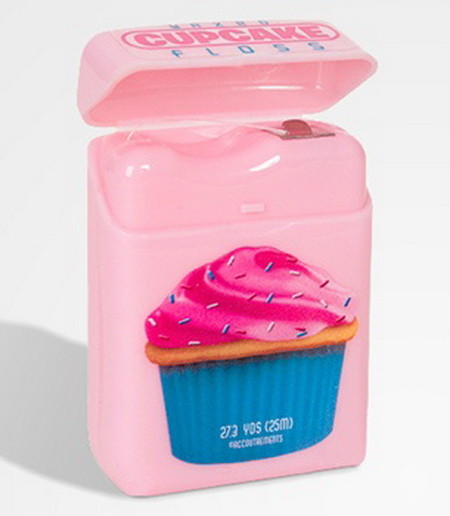 Cupcake Flavored Floss
Make flossing fun! What a novel(ty) idea! – Makes a great, wacky gift!
Turn a boring nightly routine into a party in your mouth with Cupcake Floss!
Be careful though, the delicious frosting flavor might turn you into a flossaholic!
Each 2 1/2-inches tall plastic dispenser contains 27.3 yards (982.8 inches) of waxed floss.
Illustrated blister card.
BUY HERE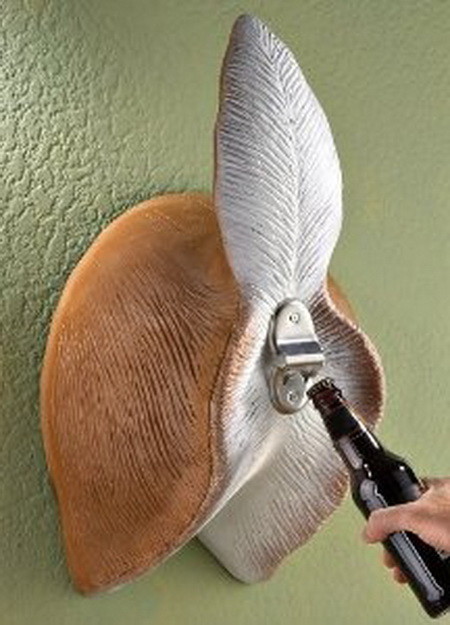 Deer Rear with Bottle Opener
Need to open a beer at a party?
No bottle opener?
Then bolt this Deer Rear to your wall!
BUY HERE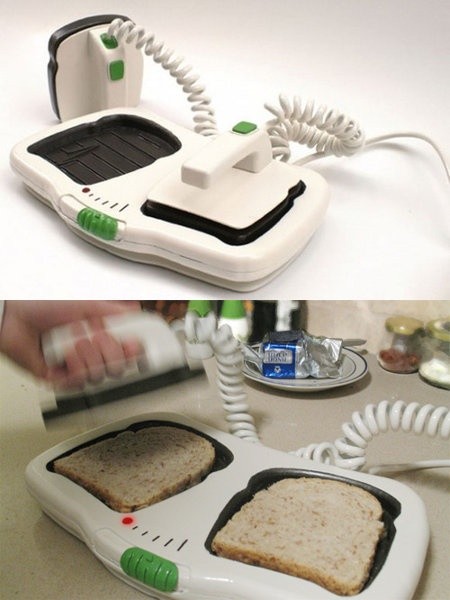 The Defibrillator Toaster
It's about time someone came up with a fresh take on the vital machine
that warms our bread every morning, the Defibrillator Toaster.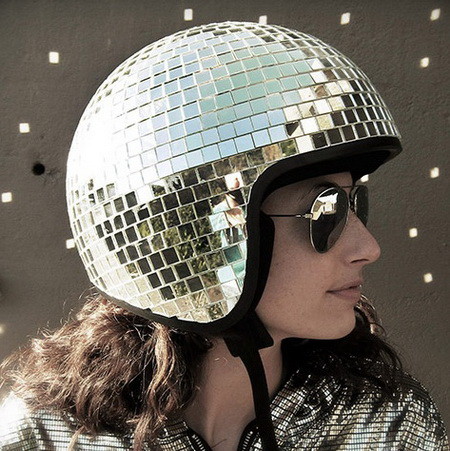 The Disco Ball Helmet
Vintage-style 3/4 Open Face Helmet
Liner with detail stitching and contrasting ventilated panels in the top
Embossed goggle strap
Vintage style chrome strip
Helmets are non-DOT approved and meant for novelty purposes only
BUY HERE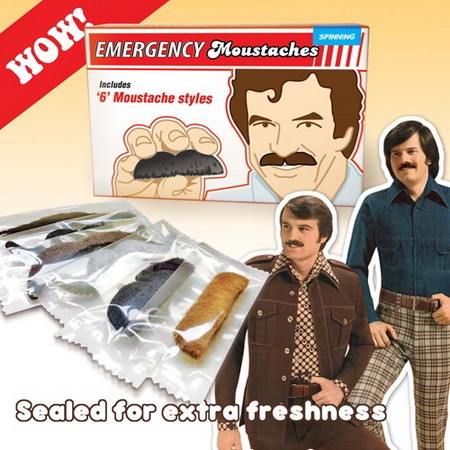 EMERGENCY MOUSTACHE KIT
Emergency moustaches to instantly become a man
Styles include traditional gent, cowboy, rusty brush, italian plumber, oil baron and abra-kadabra
Individually sealed for extra freshness
Stash your tash for emergency situations
Set of 6 self adhesive mustaches in assorted styles
BUY HERE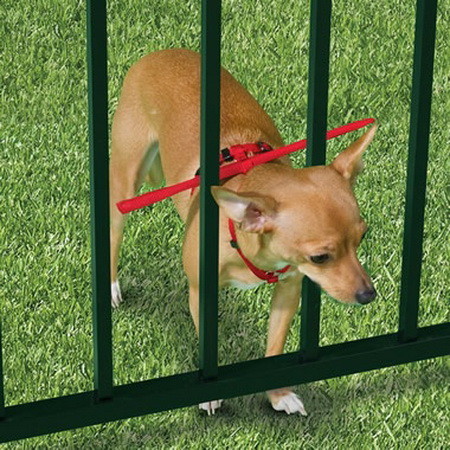 Escape Preventing Dog Harness
Patented harness that prevents puppies or small adult dogs from escaping fenced-in areas.
The device slips on a dog like a common harness, but its integrated rigid 10 1/2″-long cross-bar spans
well beyond the width of the pet, preventing it from slipping out between fence railings.
BUY HERE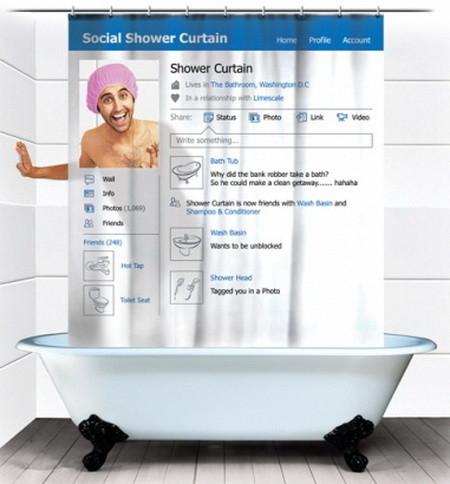 The Facebook Shower Curtain
Bring your profile to life in the bathroom
Transparent section so you can create a profile
Perfect for the social networker in your life
Water resistant
Measures 70 by 70-inch
BUY HERE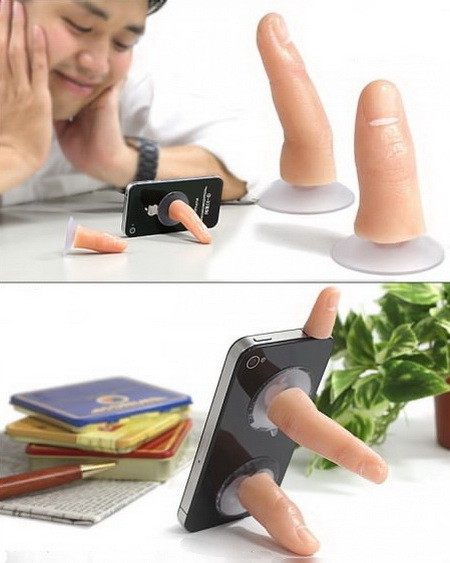 The Finger iPhone Stand
Realistic Human Finger
Suction cup sticks well
Made in Japan
Perfect gift for people who love stupid things
Shipped directly from Japan
BUY HERE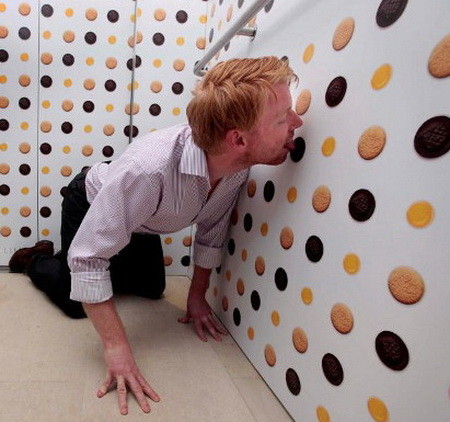 Flavored Lickable Wallpaper
Lickable Wallpaper has been installed in the elevator at Engine, a London-based communications company.
The wallpaper is cookie-flavored and consists of 1,325 McVitie's Jaffa Cookies.
Employees are encouraged to hurry and get a lick.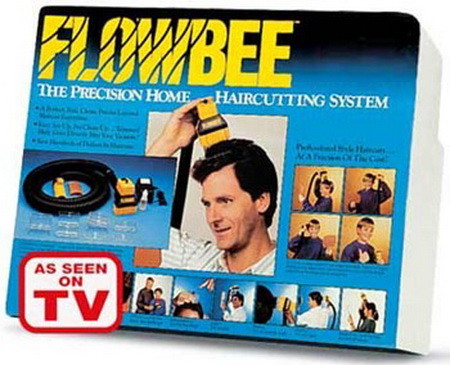 Flowbee Haircut Machine
Flowbee Haircutting System Money-saver for the entire family and even works on pets!
Over a million satisfied customers have used it for years.
Provides a precise haircut every time.
Flowbee System attaches to a vacuum cleaner (not included, needs to
be 3 hp or 8 amps to pull hair through the cutting blades.)
BUY HERE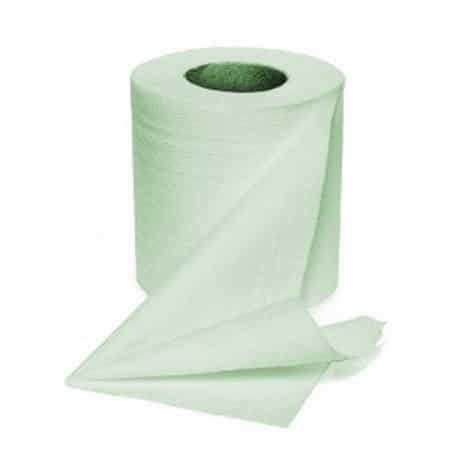 Glow in the dark toilet paper
Toilet paper roll has a glow-in-the-dark coating.
Novelty item, not intended for "actual" use.
If used your rear may glow.
BUY HERE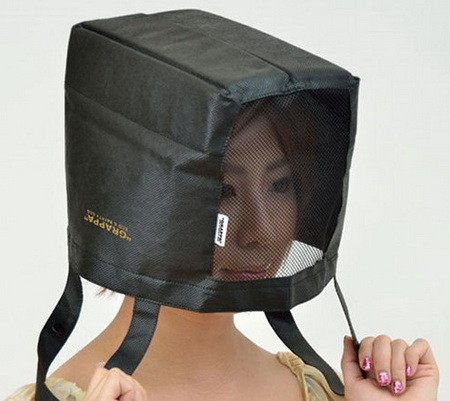 Eco Shopping Bag and Safety Helmet Emergency earthquake hood
After the 2011 Tohoku disaster, Storia developed the Grappa, which can be folded down so it's
no bigger than an umbrella, meaning you can pop it into your handbag when you go out shopping.
If you are caught in an earthquake while out shopping, just open it up and
put it on your head to provide some protection from falling objects.
BUY HERE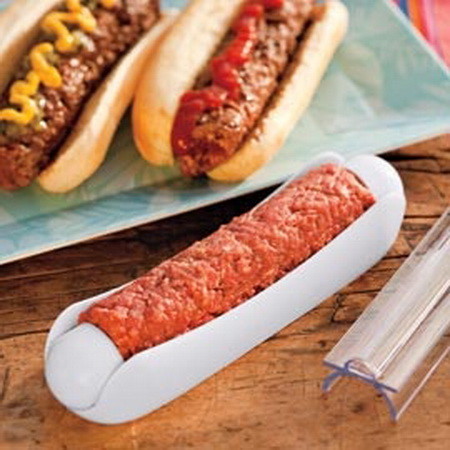 The Ham Dogger – No Hot Dogs? Shove Ground Meat In A Tube
Now you can please both the hot dog and hamburger lover.
You will never have to buy two kinds of buns when you have Kitchen Art Ham Dogger.
The Ham Dogger is easy to use and makes 1/4 lb. hot dog shaped hamburger patties.
Make specialty dogs using ground sausage or turkey.
BUY HERE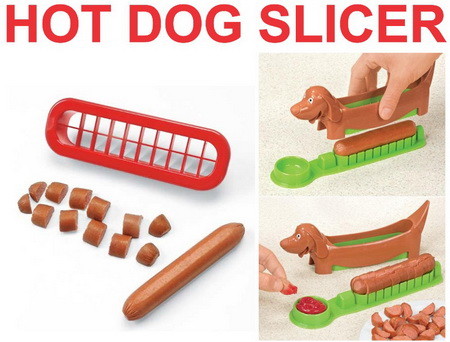 Awesome Plastic Life Saving Hot Dog Slicer
Create fun bite-size pieces in an instant
Simply place a hot dog on the base, place the dog-slicer over the hot dog, and push down
The base is designed to fit most standard sized hot dogs and sausages
You can use the slicer on cold or cooked hot dogs
Wash in the top rack of the dishwasher
Package includes 2 hot dog slicers in green
BUY HERE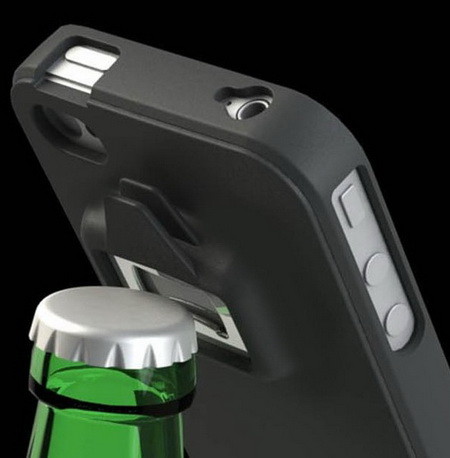 iPhone Case With Integrated Can and Bottle Opener
Stainless steel opener.
Hard-shell ABS plastic case.
Slip resistant rubber.
Comes with free app.
BUY HERE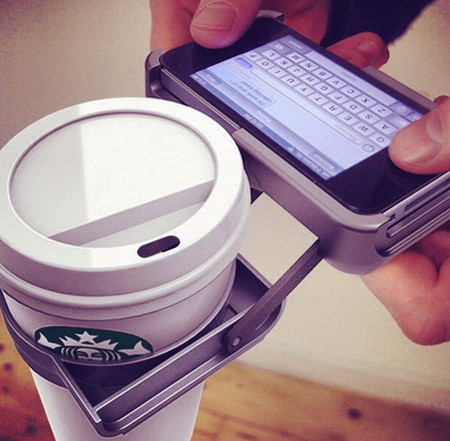 iPhone Case With Built-In Cup Holder
The Uppercup aims to be one of the first cup holders for the iPhone.
A creation from Natwerk it is called the Uppercup.
It is an iPhone case with a built-in cup holder to hold your beverage.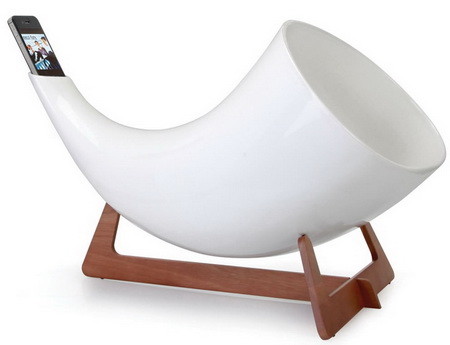 iPhone Giant Horn Speaker
The non-powered horn is held up by a hand-carved
natural wood stand, and is handmade out of ceramic.
The docking area at the top of the horn is compatible with the original
iPhone, iPhone 3G, iPhone 3GS, iPhone 4, iPhone 4S, and iPod touch.
BUY SIMILAR HERE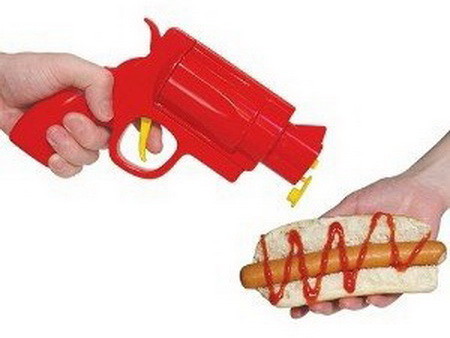 The Ketchup Gun
Comfort foods have been given their own specialist kitchen equipment.
For a sure-fire way of getting some of your much loved ketchup or mustard, simply lock
and load the nifty Condiment Gun with the reusable sauce cartridges and fire away!
BUY HERE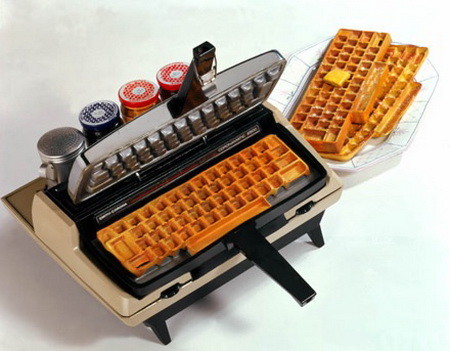 The Keyboard Waffle Iron
What's better than eating a keyboard-shaped waffle for breakfast?
This waffle iron is from an old typewriter keyboard.
The waffles come out of the iron in the shape of a keyboard, which is perfect for any breakfast-loving nerd.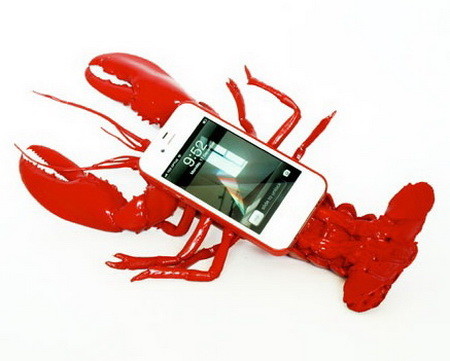 The Lobster iPhone Case
The red Lobster Mobile Telephone Case is a modern appropriation of Salvador
Dali's Lobster Telephone (Aphrodisiac telephone), created in 1938.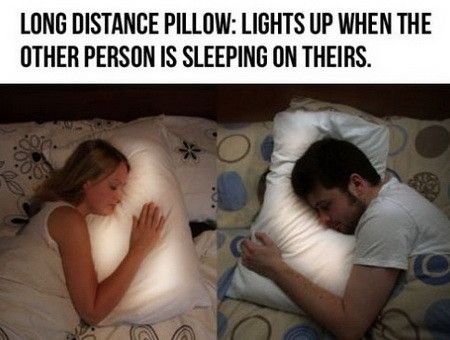 Long Distance Relationship Light Pillows
A Scottish inventor devises interactive pillows that allow lovers to
sleep together even if they're separated by continents or oceans.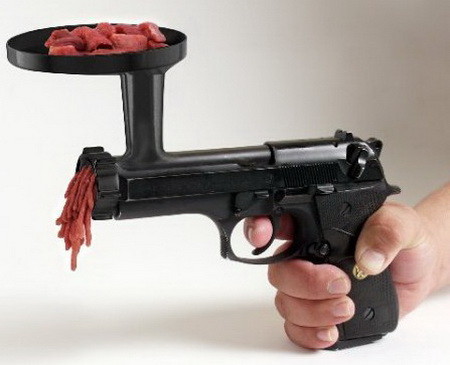 The Meat Grinder Gun
These Meat Grinder Guns are not meant for sale, but expect them to be on eBay as they're giveaway
items for new NRA members who demonstrate positively that they are professionals in the culinary field.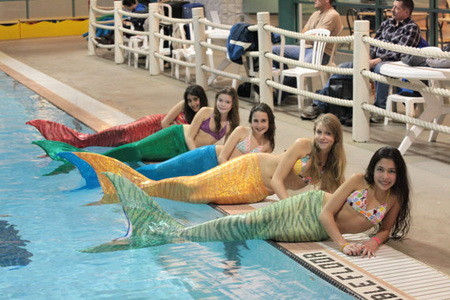 Mermaid Tails You Can Actually Swim In
Mermaid tails that are ready to take you for a swim!
There are mermaid tail makers that fit all budgets.
Make your fantasy a reality and swim in your pool or ocean.
BUY HERE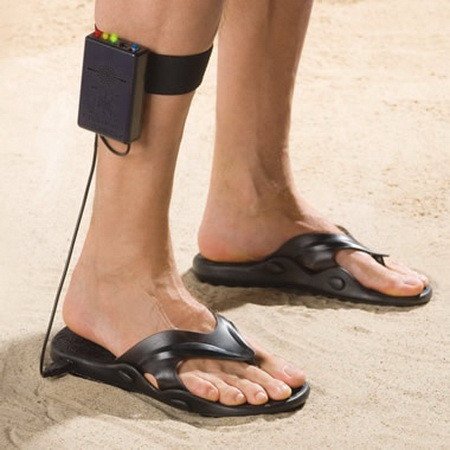 Metal Detecting Sandals
These are the sandals that can detect metal while you walk,
allowing you to find buried artifacts while strolling the beach.
A copper coil built into the right sandal is powered via a battery pack that straps to your calf.
BUY HERE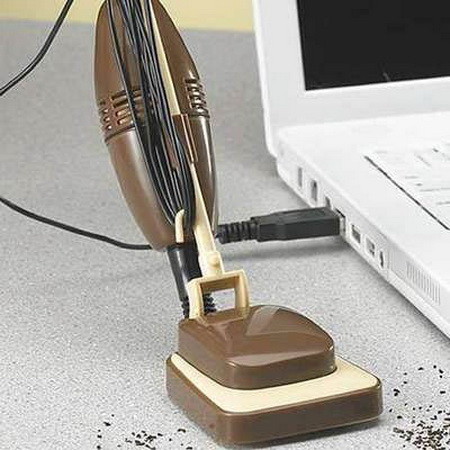 Mini USB Realistic Vacuum Cleaner
Simply plug the 45 inches long cord into the USB port on your
computer and start cleaning your desk with a smile on your face.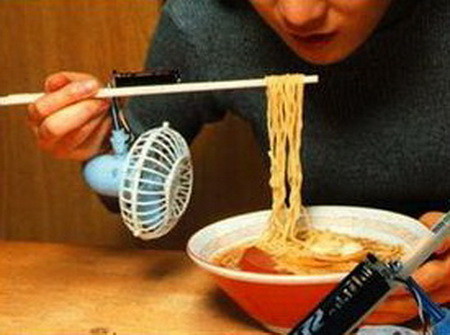 The Noodle Cooling Fan with Chopsticks
Frantic blowing is both undignified and limited in its effectiveness.
The Automated Noddle Cooler is the answer.
A compact fan, it fits tidily towards the holding end of one of a pair of chopsticks.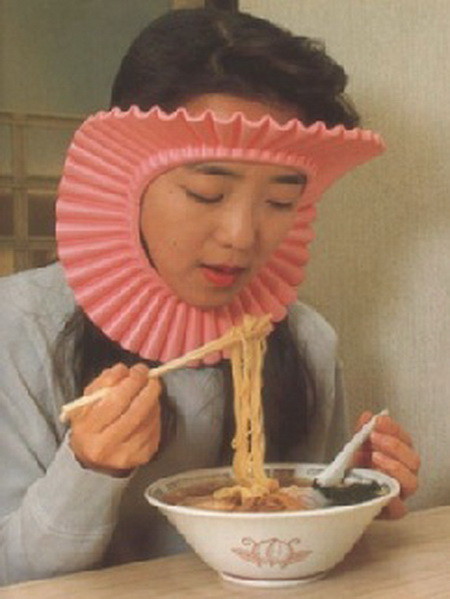 The Noodle Splash Face Guard Mask
The inventor of the Noodle Eater's Hair Guard claims that it serves in preserving the very expensive
coiffure of those who like to have a snack just before leaving for a very formal party or meeting.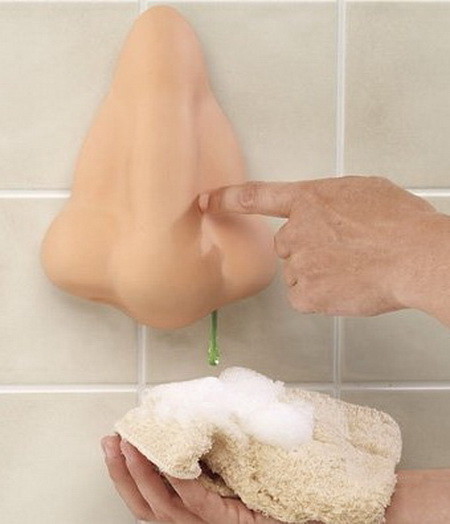 Giant Nose Shower Soap Dispenser
The Nose Shower Gel Dispenser is a wacky, gross addition to any bathroom or shower stall.
BUY HERE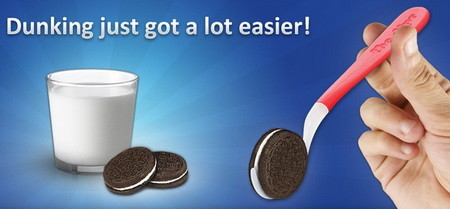 The Oreo Cookie Easy Dunking Spoon Tool
The dipr is a spoon that holds your sandwich cookie while you dip it in milk or other liquid.
The dipr cradles the cookie by the cream and prevents the cookie from crumbling when dunked.
Best of all, you can eat right off of it so no more sticky fingers!
Join the dunking revolution and collect all 5 colors today!
BUY HERE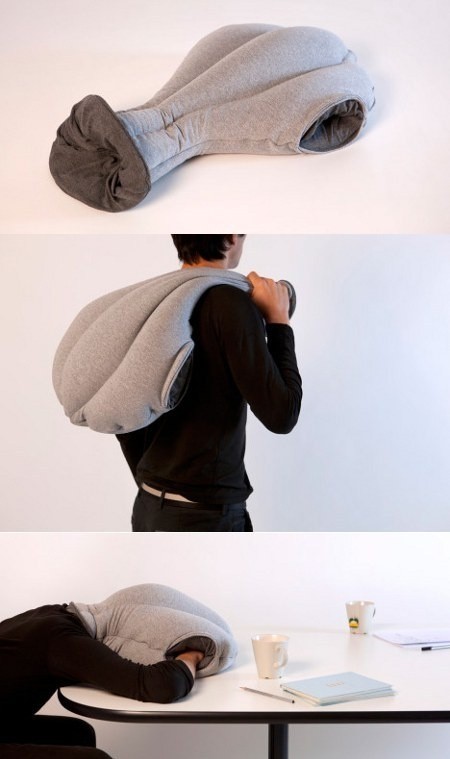 The Ostrich Wearable Pillow for Napping at Work
Based on the popular belief that ostriches bury their heads in sand when
they see danger, a Madrid based architecture studio designed The Ostrich.
For the human world, that danger pertains to over work or stress.
This unique creation is neither a pillow, nor a bed, nor a night cap, nor an eye mask, but all at the same time.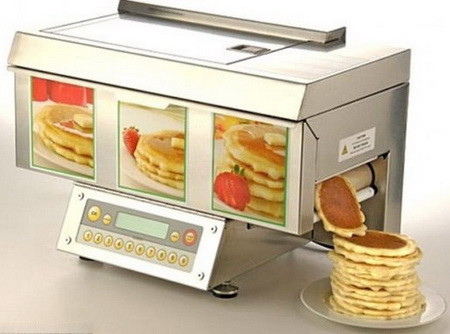 Pancake Maker Conveyor Belt for your Home Kitchen
The best part about this machine is that it's all automated.
Pour in the fat free batter and hit the button and out come the hotcakes.
If you had one of these and were selling pancakes, they'd sell like hotcakes.
The Chefstack Pancake Maker can be yours if you have $3500 lying around.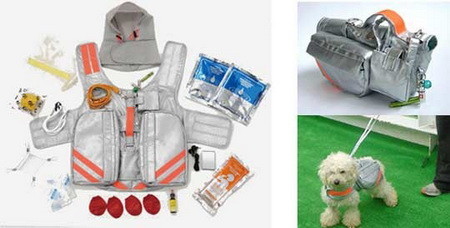 Pet Emergency Evacuation Jacket
Pet supplies: food bowl, muzzle, hermetically sealed odor control bag (for any items distressing the pet), protective
rain hood and rubber booties, freezer gel paks (to control heat), bell, waterproof ID capsule with blank paper
Human/pet supplies: 50mL sealed water packs for drinking or disinfecting, nutrition bars,
bandages, aromatic oil (for calming panic), first-aid gloves, mini-radio and emergency whistle.
BUY HERE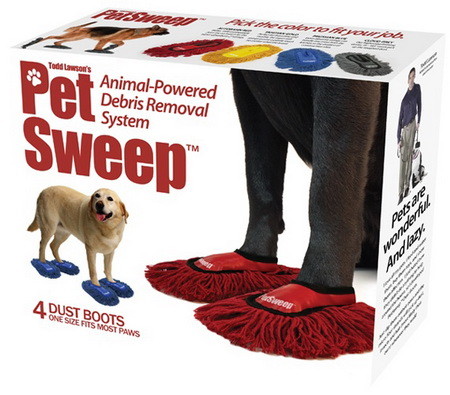 Pet Sweep – Let Your Doggy Do The Cleaning
Animal powered debris removal system will keep your home tidy & your pets busy.
BUY HERE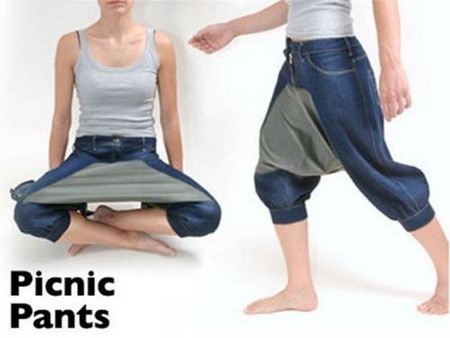 Picnic Pants
Innovative pants designed by Italian company transform into a
useful picnic table when a person sits in a cross-legged position.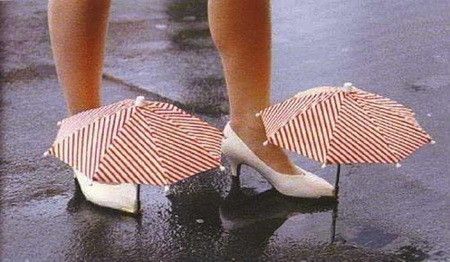 Shoe Umbrella Kit
Don't let the weather ruin your shoes again.
This Umbrella Shoe Saver invention will extend the life of your
expensive footwear by attaching little umbrellas to your feet.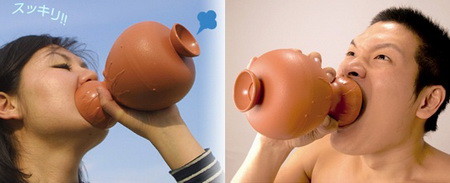 The Japanese Shouting Vase Holds your Anger
Turn your loudest, most urgent frustrations into mere whispers with the Shouting Vase.
The plastic jug is designed to fit over the contours of your mouth and absorb your screams and shouts,
"storing" them in the vase and emitting a softer version of your angry cries through the tiny hole at the base.
BUY HERE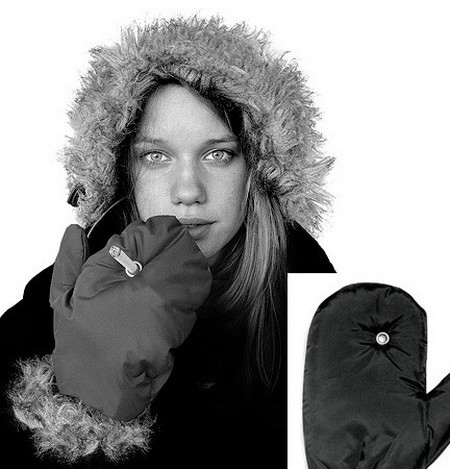 Smoking Mittens
Allow you to still properly hold your cigarette while keeping your hands warm because one of the
mittens in each pair has a grometted hole in it, just the right size for a cigarette to poke through.
Smoking Mittens are one size fits all, unisex, and reversible for right or left handed smoking.
BUY HERE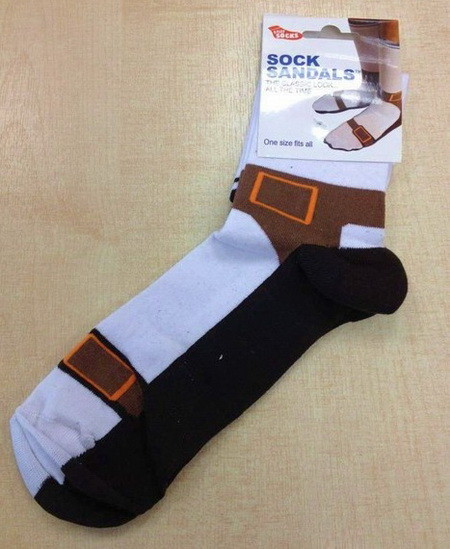 Sock Sandals
Everyone knows that fashion is a fickle business with white being the new black and clashing being
the new matching so it was only a matter of time until shoes met socks in the battle of the footwear.
BUY HERE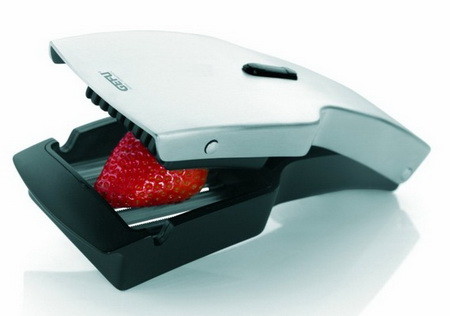 Strawberry Slicer
The precision accuracy of multiple blades and one-handed operation slices strawberries
directly into a bowl, onto a salad or as toppings for crepes, shortcakes and desserts.
BUY HERE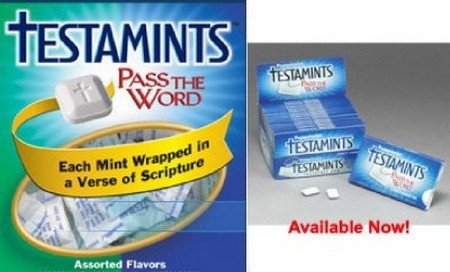 Testamints – Pass The Word
Testamints Spearmint Gum is an easy way to share your faith with a simple piece of gum.
Each package of gum contains 12 pieces of gum, and has a verse from God's Word printed on the back.
BUY HERE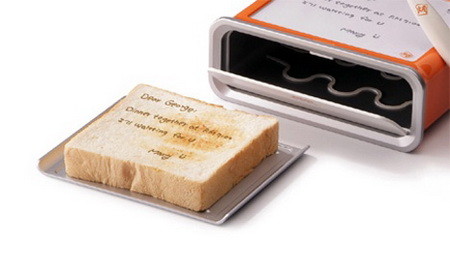 Toaster that Toasts your Handwritten Message
Scribe your note on the tablet over the toaster, and it will burn the message into the bread.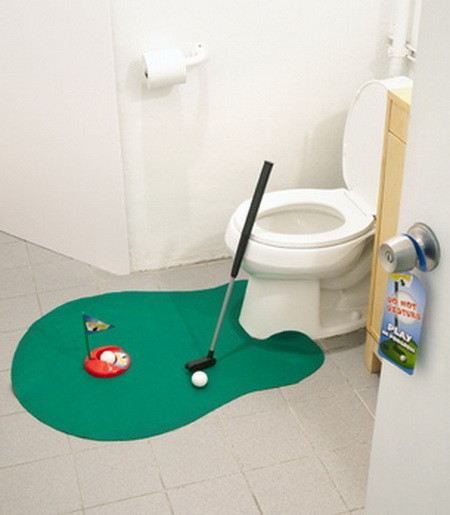 Toilet Tee Time – Golf On The Toilet
The Potty Putter comes complete with a putting green made from the same professional carpet found
at miniature golf courses, a cup with a flag, 2 golf balls, a putter and a "Do Not Disturb" door hanger.
BUY HERE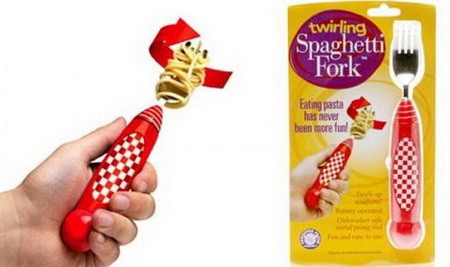 The Battery Operated Twirling Spaghetti Fork
Twirling is a better way to eat spaghetti and the motorized fork
automatically winds up the pasta on the end of the fork.
BUY HERE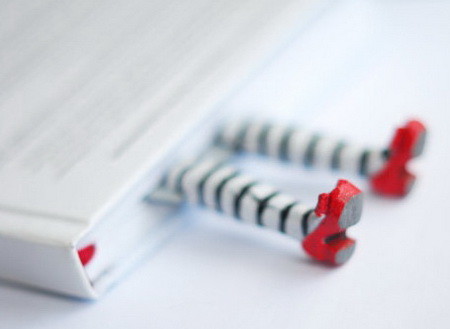 The Wizard of Oz Bookmark
Clever and striking. The Wicked Witch's poor sister's legs stick out from the
book, perfectly marking your page. That's right: your book is Dorothy's house.
BUY HERE