Ice cubes being produced by your ice maker smells funny, how do you fix this? There can be many reasons the ice cubes in your freezer smell bad. Here are the probable reasons why with best solutions to fix this issue yourself…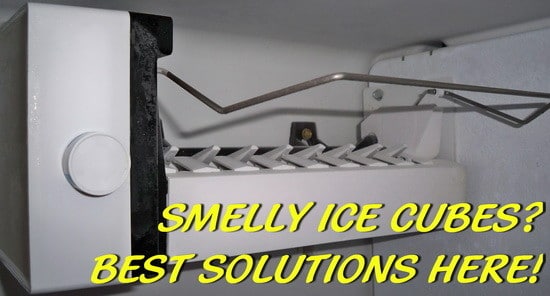 1. PROBABLE CAUSE: Water filter on the back of your refrigerator needs to be replaced.
SOLUTION: Replace your refrigerators water filter with a new one. Refrigerator water filter replacement guide here.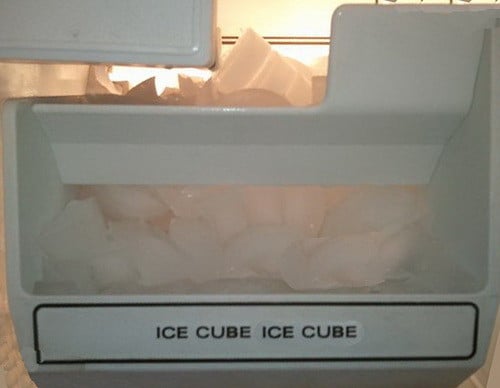 STALE OR OLD ICE CUBES CAN CAUSE A BAD TASTE AND SMELL
2. PROBABLE CAUSE: Stale ice cubes. The ice cubes that were made from your ice maker are old and stale.
SOLUTION: Dispose of the old ice cubes down the sink and let the ice maker make new cubes.
3. PROBABLE CAUSE: Old and unwrapped frozen food stored in the freezer.
SOLUTION: Throw away any frozen food that is not properly wrapped or sealed as this can cause smelly ice.
4. PROBABLE CAUSE: Mildew has entered the freezer area and contaminated the ice cubes.
SOLUTION: Vigorously scrub and clean the inside of your freezer and ice maker tray. Use a pail of warm water with some baking soda sprinkled in. Wipe it down using a sponge and be sure to remove all signs of mildew. Throw away any food if necessary. You can also use a Ice and Freezer Deodorizer to assist you after you are finished cleaning.
5. PROBABLE CAUSE: Bad water supply. Water supply has become temporarily or permanently contaminated.
SOLUTION: Turn off the water behind the refrigerator and remove the water line that goes from the wall to the filter. Slowly turn the water on from the valve on the wall and let the water run into a bucket. Check to see if the water is clean and clear. You may have had a bad water supply temporarily such as the city doing work on the supply pipes or similar. If the water was contaminated, then you will need to replace the water filter and flush out the ice maker water lines.

HOW TO KEEP ICE CUBES FRESH
Have a tip to keep your freezer and ice cubes smelling fresh? Leave a comment below.