Is your refrigerator ice maker not working or dispensing ice cubes? Here are 5 common reasons why the ice maker is not making or dispensing ice cubes. Troubleshoot ice makers for all refrigerator brands including Kenmore, Maytag, GE, Whirlpool, Samsung, LG, KitchenAid, and Frigidaire refrigerator ice maker dispensers.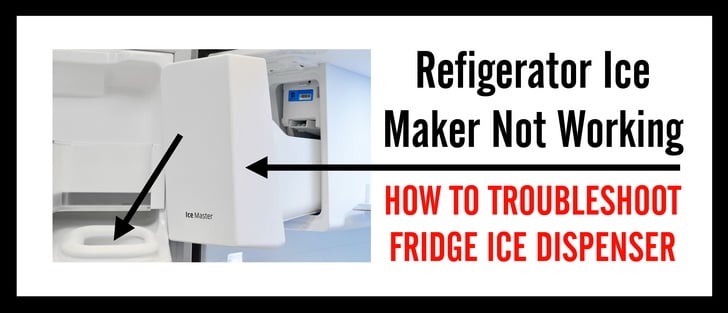 Ice Maker Not Working – How To Troubleshoot?
Most common reason for ice maker not working? Jammed ice cubes.
What causes this? Ice cubes melt then refreeze causing clumped ice.
How do I fix this issue? Clear away all clumped or jammed ice cubes from the ice chute to get your ice maker working again.
Not the problem? Find other reasons below…
Troubleshooting Common Ice Maker Problems:
Clumped ice cubes in the ice chute?
Ice maker is turned OFF?
Clogged water filter needs to be replaced?
Water supply to the refrigerator turned OFF?
Water lines need to be purged of excess air?
1. JAMMED ICE CUBES IN THE CHUTE
UNJAM THE ICE MAKER CHUTE: Check that the ice cubes are not jammed in the chute. Check for clumping near the ice ejector arm or auger. Discard any ice in the area that is jamming up the chute. Test the ice maker dispenser about one hour after removing all the jammed ice cubes.
NOTE: JAMMED ICE is the usual reason an ice maker is NOT DISPENSING OR DUMPING ICE. Large clumps of ice can be created when ice cubes in the bin melt then refreeze. Clumped ice happens when the ice maker is not used often.
2. ICE MAKER IS TURNED OFF
TURN THE ICE MAKER ON: Is the ice maker power switch (or arm) in the OFF position? Check that the ice maker is turned ON. If the ice maker was turned OFF and now it is turned ON, give the ice maker some time to make ice cubes. Turn ice maker ON by lowering the wire shut off arm. Some ice makers vary and have a switch to turn the ice maker on or off.
NOTE: If the water line was not connected to the ice maker and the ice maker is turned ON and is attempting to make ice, this can cause a humming noise and sections inside the refrigerator may freeze.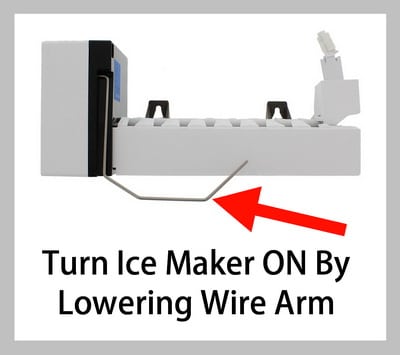 Lower Wire Arm To Turn Ice Maker ON
3. WATER FILTER NEEDS TO BE REPLACED
CORRECTLY REPLACE WATER FILTER: The water filter in your refrigerator can cause problems if installed incorrectly. If the water filter is clogged with hard water the water flow will be reduced. A faulty water filter causes low or no ice production.
NOTE: An incorrectly installed water filter can cause many issues including ICE NOT DISPENSING. When removing and replacing the water filter, be sure it fits securely into the filter housing.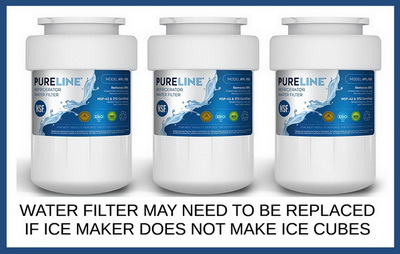 Replace Refrigerator Water Filter
4. WATER SUPPLY VALVE IS OFF (CLOSED)
TURN WATER SUPPLY VALVE ON (FULLY OPEN): The water supply valve (or saddle valve) must be in the FULLY OPEN position. Check that the water supply valve is in good working order and that the valve is open to the refrigerator. Can the water supply valve fail? The water supply valve can become corroded, worn out, or simply stuck. If the water supply valve is open, check the water lines for kinks or bends that may impede the water flow to the ice maker.
NOTE: Make sure the fridge water supply is connected to a cold water supply.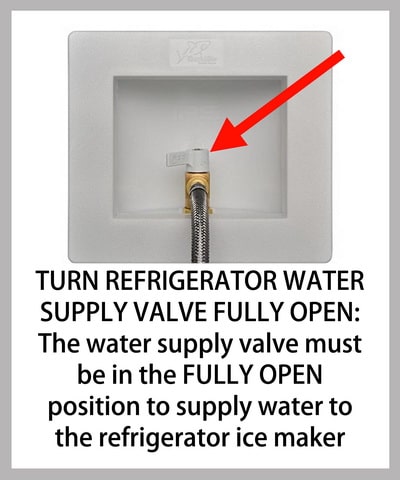 Turn Water Supply ON To Make Ice
5. AIR IN WATER SUPPLY LINES
FLUSH WATER LINES AFTER REPLACING WATER FILTER: Each time the water filter is replaced the water lines within the refrigerator should be flushed of excess air. Air in the water lines can cause water to drip from the dispenser and cause the ice maker to make hollow or small ice cubes.
NOTE: After you change the refrigerator water filter, it is recommended to purge air from the refrigerator water system by holding a cup at the water dispenser for 5 seconds on and 5 seconds off until water begins to flow from the dispenser.

If the ice maker repair methods did not fix your ice maker, you may need a certain part to fix it…
Parts For Refrigerator Ice Makers

Whirlpool Kitchenaid Kenmore Troubleshooting Ice maker repair

Samsung LG Fridge / Refrigerator ice maker not working

GE Fridge Repair – Refrigerator Not Making Ice?
NOTE: All recommended methods to troubleshoot an ice maker will be sufficient on all refrigerators including the brands Electrolux, Kenmore, Hotpoint, Emerson, Maytag, Sharp, GE, Whirlpool, Samsung, LG, Haier, Bosch, KitchenAid, Frigidaire, Toshiba, and Panasonic refrigerator ice makers.
MORE HELP WITH REFRIGERATORS: Ice Maker Making Noise – Refrigerator Leaking Water – Mini Fridge Stopped Cooling – Samsung Refrigerator Ice Maker – LG Refrigerator Ice Maker – Water Filters For Refrigerators – Refrigerator Dispenser Not Working After Filter Change – Fridge Water Dispenser Not Working – 8 Fixes For Fridge Water Dispenser
Have additional reasons why an ice maker would stop working? Please leave your proven suggestions below to assist others in fixing a refrigerator ice maker not working.
HELP: If this page has not assisted you in fixing your refrigerator ice maker, please leave a detailed description of your problem using the form below. Leave us your refrigerator model number to help us to find a solution to your issue. For extra help, find your appliance service manual here.