I have an LG refrigerator with a bottom freezer. We recently replaced the water filter as it was more than 6 months old. Once the water filter was replaced we noticed the ice maker did not make ice. I replaced the ice maker, water valve, and a water line and still no ice from the ice maker. I am beginning to think it is a wiring problem or a control board issue.
Quick Answer: Check your water filter. Make sure the water filter is IN completely. If the water filter in your refrigerator is not installed properly water cannot flow through it. Remove the water filter and inspect it. Slide the water filter back in and be sure you PUSH AND TWIST to lock it in. LG Refrigerator Manuals Here.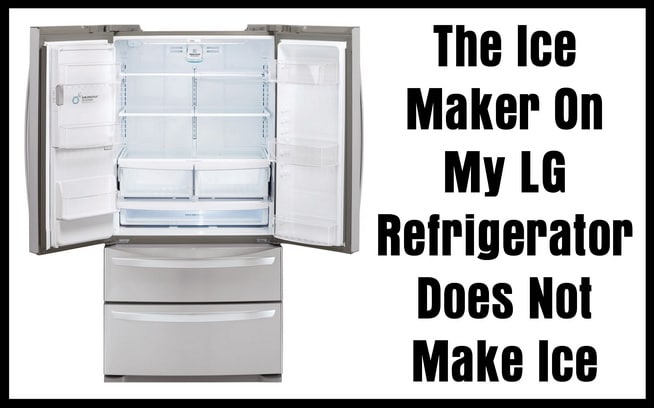 The water filter on newer refrigerators need to be "Twist Locked" into place. If the water filter is not installed correctly the water will not flow and therefore no ice or water will come from the dispenser.
This is a very common issue with newer refrigerators. Many times when the water filter is changed, the ice maker stops working. This is often misdiagnosed and people think the ice maker is bad. We have seen people ordering ice makers, send them back, and reorder a new one, only to find out the ice maker still does not make ice. The ice maker will never work if the water filter is not installed correctly.
LG Refrigerator Water Filters – How Often To Replace Filter?
If you have recently changed your refrigerator water filter and the water dispenser/ice dispenser stops working, the filter was not installed properly. When this happens follow the steps below…
1. Turn off the water to the refrigerator if needed.
(most refrigerators have a water shut off behind the water filter and manually shutting off the water is not needed)
2. Remove the water filter and other pieces of plastic.
3. Check the water filter and filter housing for anything that may prevent it from connecting.
4. Replace the water filter by pushing in and twisting it until it locks into place.
5. Turn the water back on if you turned it off.
6. Check to see if water or ice dispense.
If the ice and water dispense, the water filter was not installed properly.
If you continue to have issues with the ice maker or water dispenser you will need to check the following…
Reasons why your ice maker stopped working
1. Water filter installed incorrectly – MOST LIKELY
2. Water inlet valve is faulty
3. Water line is bent, kinked or frozen
4. Ice maker/dispenser motor faulty
5. Wiring issue
6. Board issue
REFRIGERATOR WATER INLET VALVE
Check water inlet valve at back of fridge to be sure it is opening to let water in.
Use a meter and be sure it is working.
Replace it if you find an issue.
HOW TO TEST WATER INLET VALVE
REFRIGERATOR WATER LINES
Check water lines to be sure they are not bent or kinked.
Bent water lines will let some water though but not enough to work correctly.
Replace any water lines that you find damaged or extremely kinked.
REFRIGERATOR ICE MAKER
Check that the ice maker is working properly.
Be sure the ice maker cycles and the ice tray is turning.
Use the button on bottom of ice maker to test/reset.
Make sure water is getting to the ice maker.
Use a multimeter to be sure the ice maker gets power.
If ice maker tray does not turn it may be jammed.
Unjam the ice maker by removing all ice and resetting it.
HOW TO REMOVE ICE MAKER
REFRIGERATOR WIRING HARNESSES
Check and secure all wiring to ice maker, dispenser, and boards.
If the wiring harnesses is not connected properly a component may not work.
If you find any lose wire harnesses, reconnect.
If you find any damaged wiring, replace or repair the wiring.
This DIY page is meant for newer LG refrigerators but can be used as a general guide for all newer refrigerators. The "I installed a new water filter on my refrigerator and the ice maker stopped working" is very common and this article will help you to fix your refrigerator and get water to flow to the ice maker and water dispenser.
If after reading this complete page you still cannot get the ice maker to work, please leave your question below with your refrigerator model number and we will be happy to assist.