If your refrigerator water dispenser is dispensing either no or slow water, here is what to check to fix it. (No or Slow Water from Dispenser) If your refrigerator is newly installed, make sure you push the water dispenser lever down for 3 minutes to get the water reservoir to fill up completely. Usually the water reservoir is located inside the fresh food section. Top mount refrigerator models do not apply because there is no water reservoir.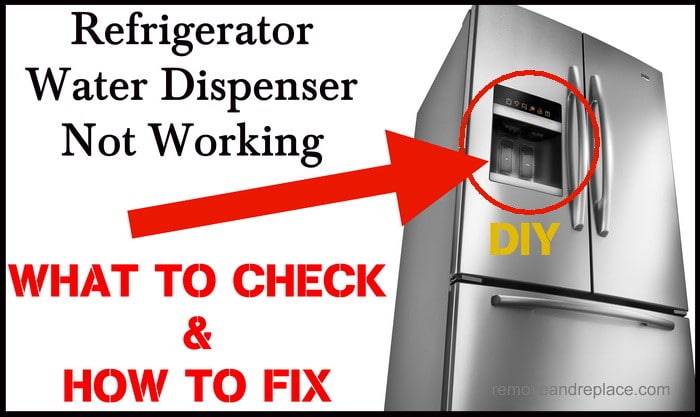 On most refrigerator dispensers whether it be a Whirlpool refrigerator, Frigidaire refrigerator, Samsung refrigerator, KitchenAid refrigerator, Haier refrigerator, Jennair refrigerator, GE refrigerator, LG refrigerator, Kenmore Elite refrigerator, or Maytag refrigerator, it should take on average 8 seconds to fill an 8 ounce glass of water.
If your refrigerator has no lights on the control panel and no water or ice, check power to the refrigerator.
If all of a sudden your fridge is not dispensing water:
Be sure the water line valve in the wall to the refrigerator is turned on or open. Usually a saddle valve or similar will be used to connect the fridge water supply line to your home water supply. This valve needs to be completely open so the refrigerator receives water. You should also check the water inlet valve on the back of your fridge. This is electrically operated and can be tested with a volt meter to see if it is working properly. Also be sure that the water line behind the refrigerator is not kinked or bent. If you recently pulled the fridge out, you may have bent the water supply line when you pushed the fridge back in place. It is also possible that a water line has become frozen inside the fridge and that is why the water flow is restricted. Check all water lines for ice and or restricted sections.
NEED FRIDGE DISPENSER PARTS? Here is a Replacement Dual Water Valve Kit = Quality Replacement Dual Water Valve Kit for Refrigerators with Water Dispenser and Ice Maker. Fits Whirlpool, Kenmore, Maytag, KitchenAid, Amana, Admiral, Magic Chef, Norge, Roper. (Installation Instructions Included in Kit).


Troubleshooting Why the Refrigerator Water Dispenser Is Not Working
You may also have a clogged water filter. This filter is either built into your refrigerator or it is "inline" of the water line behind your refrigerator. A clogged water filter will cause no water at all or very slow water dripping from the dispenser. Change the water filter and this will most likely solve your issue. Refrigerator water filters need to be changed every 6 months. Once you have replaced the water filter, test the dispenser. If the water flows as it should, then you have fixed the problem.
If the water dispenser is not working, but you know it is being supplied with water and has power, then a defective switch in the dispenser is most likely to blame. You may need to take the dispenser apart and troubleshoot the valve and or switches in the dispenser. You may hear a clicking noise or a humming noise if a switch or valve is defective.
If the water dispenser drips water constantly then you have a water valve problem. You can look up your refrigerator model online and find the switch or valve that you need to replace and DIY.
If there is a slight dribble of a few drops of water after using the dispenser, this is normal and due to a delay in the system.
If the water dripping from the dispenser is a big problem, you can purge the complete water tank and water line system. Use a large cup and press down on the dispenser for 3 minutes. This will remove trapped air that can cause the water dispenser dribble. You should also empty the recess grill (water catch) and clean out underneath it to prevent water dripping out and making a puddle on the floor.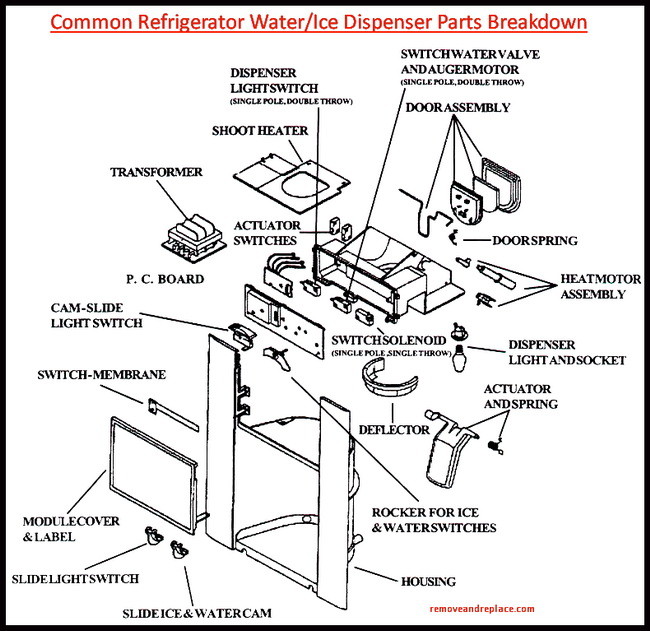 Common refrigerator water & ice dispenser parts breakdown
NOTE: The water and ice dispenser in the door will not work if the refrigerator door is open.
Remember, when troubleshooting a water no flow issue with your refrigerator, disconnect power and turn off the water supply for safety reasons.
If you know of other reasons a refrigerator stops dispensing water or ice, please leave a comment below to assist our other readers.