Here is a guide for the top 10 best holders and mounts designed for Android and Apple iPad. Whether you are looking for a stand for your desk, kitchen, bedroom, or couch, the 10 best are listed below. The tablet holders below will work for most sizes and types of tablets and handheld mobile devices. We have included a variety of different types of holders for different types of applications.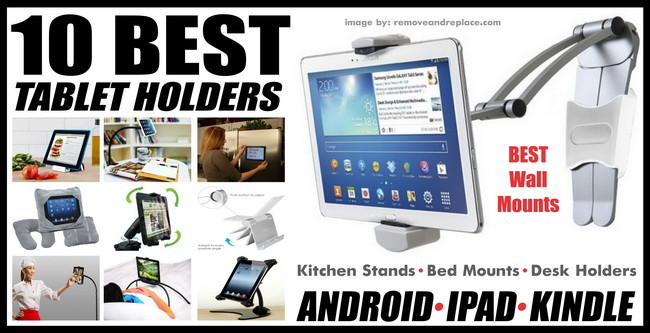 Here is the complete list of Best Tablet Holders based on sales – updated every hour!
Looking for the perfect tablet holder to read and follow recipes? We have included one of the best wall mounts for kitchen chefs and cooks. There are even tablet holders that look like a pillow or types that are designed just for your bedroom. Looking for a tablet holder to mount your iPad on your refrigerator? We have it below! Check them out and find great ideas on different applications for your tablet or iPad!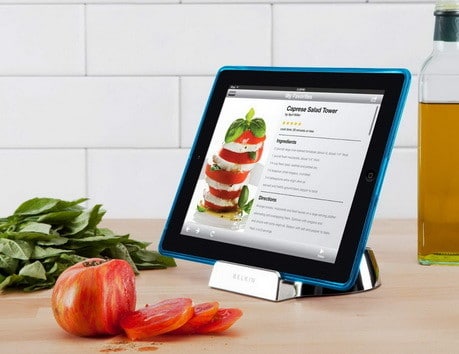 #1 Best Tablet Holder – Belkin Chef Stand for Tablets – More Info Here
Product Dimensions: 7.2 x 7.4 x 2.2 inches ; 9.6 ounces
FEATURES
Bottom is very "grippy" and isn't going anywhere even with aggressive tapping.
One piece, solid, and nothing to break.
Doesn't cover up the buttons on the bottom edge of the tablet.
Works in portrait orientation even for a ludicrously long 12″ tablet.
Looks very sleek sitting on the desk.
———————————————————————————————-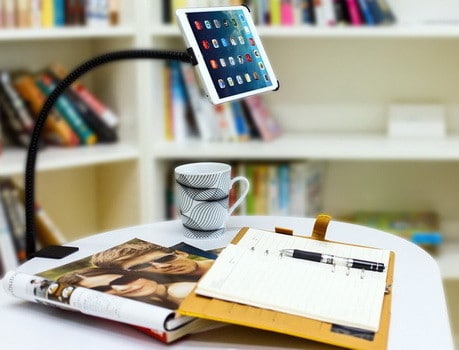 #2 Best Tablet Holder – Desk Stand Holder Desktop Bed Clamp Mount for iPad Air – More Info Here
Product Dimensions: 22 inch arm ; 2.3 lbs
FEATURES
Simple and elegant design and perfect for your iPad at home or in the office.
A strong arm (22 in. of length) that flexes in all directions.
Easy to install – no drilling, no screws, no furniture damage and no commitment.
———————————————————————————————-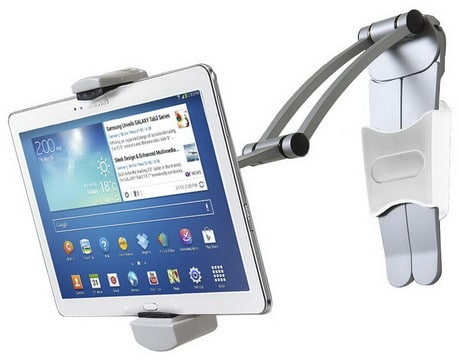 #3 Best Tablet Holder – 2-In-1 Kitchen Mount Stand for iPad Air, mini and tablets – More Info Here
Product Dimensions: 9 x 3.5 x 4 inches ; 1.8 pounds
FEATURES
Adjustable holder can hold iPad or other tablets from 6 to 8.5 inches wide.
Mounts to walls or under the kitchen cabinet with included hardware+U11.
Includes 2 mounting bases for use around kitchen or multiple locations.
Easily attach or remove from mount base and transform into a tabletop stand.
Hassle-free quick-release buttons make it easy to remove and access tablet.
Easily rotate tablet to any orientation with 360 degree rotating holder.
Folds compact for easy storage and portability.
Highly adjustable stand with multiple pivoting and rotating joints.

Here is a video demo of the above tablet mount perfect for your kitchen!

———————————————————————————————-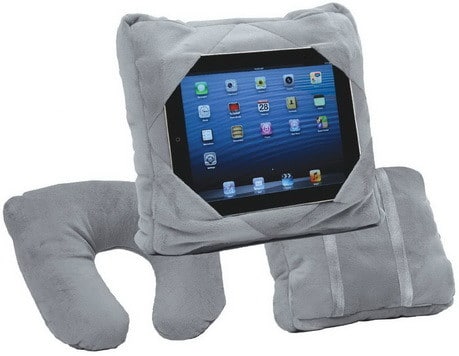 #4 Best Tablet Holder – GOGO Tablet iPad Pillow Holder As seen on TV – More Info Here
Product Dimensions: 15 x 11.2 x 1.8 inches ; 0.8 ounces
FEATURES
Holds your tablet securely in place.
Unzip and flip to turn into a travel pillow or back pack.
Works on any surface & fits most tablets.
Allows easy access to power cord and earbud sockets.
Complete comfort on the move.

Here is a video of the features of the GOGO tablet pillow.
———————————————————————————————-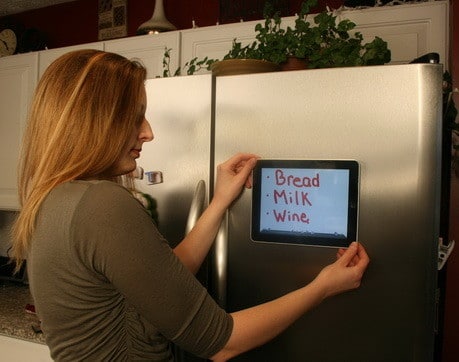 #5 Best Tablet Holder – iPad and Tablet Wall Mounting System Kit – More Info Here
Product Weight: 1.4 ounces (product is basically sticky 3M strips)
FEATURES
There is no better solution to hang your ipad that is this cost effective.
Uses COMMERCIAL grade 3M Adhesive for a no tools or damage install.
This is rated much higher than 3M command Strips.
Mount the "new" iPad, 3, 2, 1 or tablet PC to any wall, cabinet, door, refrigerator, or surface.
Includes 2 TabClips to hang your PadTab in 2 locations portrait AND Landscape with multiple devices.
Perfect for the kitchen, entryway, bathroom-any room where you need quick access to your tablet PC.
———————————————————————————————-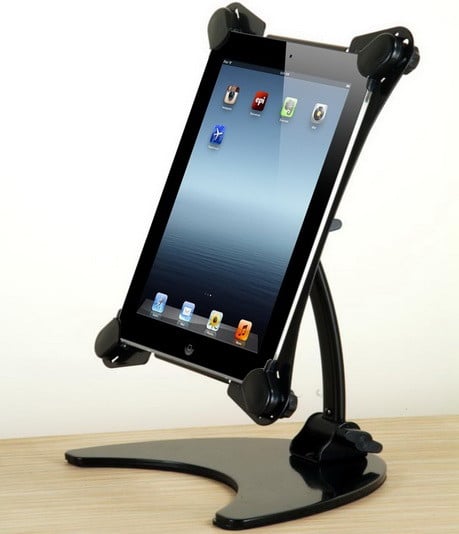 #6 Best Tablet Holder – Portable Folding Rotating Metal Desk Stand for Apple iPad – More Info Here
Product Dimensions: 2 lbs. – smallest bracket dimensions are 7.16″ x 9.3″ and the biggest is 8″ x 10.24″
FEATURES
Very sturdy and strong – can be adjusted to any positions for extreme comfort.
Base hinge And top hinge can articulate 180° – Has specially placed hole for camera.
Swivel feature can rotate 360° – Has side handle for easy grip.
Can be folded up for neat storage or for travel – Base is padded to protect from scratching furniture surface.
Can be used for any tablet that fits between the adjustable brackets.
———————————————————————————————-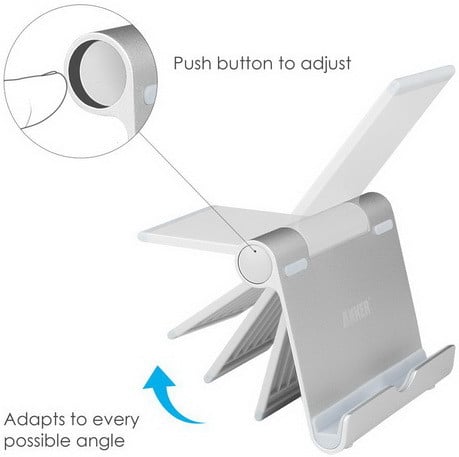 #7 Best Tablet Holder – Multi-Angle Stand for Tablets 7-10 in and Smartphones – More Info Here
Product Dimensions: 3.9 x 3.5 x 0.8 inches ; 6.1 ounces
FEATURES
Rubber pads and feet protect your device from scratches and sliding.
Stand angle easily adjusts, supporting both vertical and horizontal viewing.
Lightweight and pocket-sized, the durable aluminum body ensures reliability.
Holds up to a 11lb load and devices as thick as 0.4in / 11mm with rubber foot insert and 0.55in / 14mm without it.
Perfect for watching videos, viewing photos, reading, video recording, and much more.
——————————————————————————————-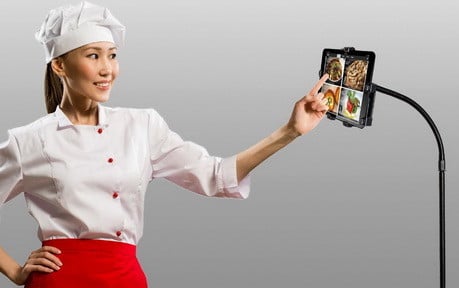 #8 Best Tablet Holder – Spectrum Universal Tablet Stand – More Info Here
Product Dimensions: 5 x 7 x 25.2 inches ; 5.6 pounds
FEATURES
Compatible with ANY tablet or e-reader from 7″ to 10″ – including iPad, Kindle, Nook, Galaxy, Xoom, Nexus & more.
Locking hub and flexible goose neck provide full hands-free viewing at any angle.
Weighted tripod base helps prevent tipping or shaking.
Height adjusts easily from 36″ to 64″.
Some easy assembly required; 1 year limited warranty.
Patent pending goose neck design offers 360 degree flexibility.
Sturdy tubular design. Easy to use and affordable.
———————————————————————————————-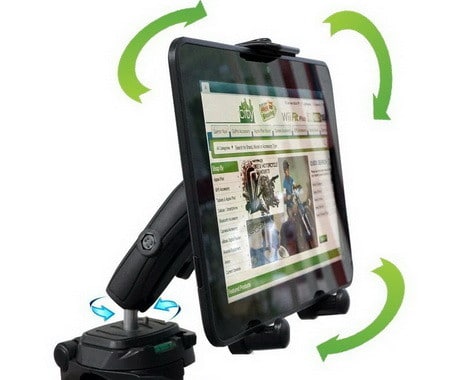 #9 Best Tablet Holder – Tablet Selfie Video Camera Tripod Adapter Mount – More Info Here
Product Weight: 6.4 ounces
FEATURES
Universal 1/4-20 Tripod Adapter Mount will allow you to sit your tablet on your Tripod (Tripod not included).
Adjustable tablet holder fits any 7″ to 12″ tablet with or without a case or skin.
5″ inch Dual Ball Joint tripod base will allow angle adjustment to maximize your selfie recording experience.
No Tools required and super easy to install on your tripod.
Great for Sports event, Soccer, Golf Swing Practice, Wedding, Party & Meetings.
———————————————————————————————-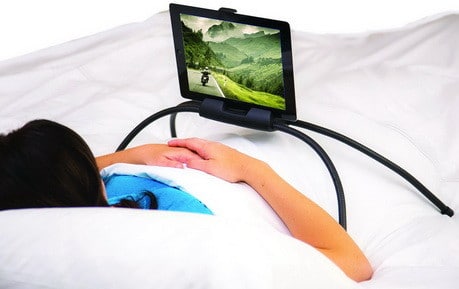 #10 Best Tablet Holder – Tablift Universal Tablet Holder for the Bed and Sofa – More Info Here
Product Weight: 2.8 pounds
FEATURES
Works with virtually any tablet (without a case).
Will fit any tablet that with an edge that will fit into the 10mm wide slots.
Flexible legs will hold tablet stable on any uneven surface.
Flexible legs will fold down to compact size.
THE TABLIFT BED and SOFA TABLET HOLDER FITS:
Apple iPad (all generations, full sized and mini)
Samsung Galaxy (all models and sizes)
Amazon Kindle (all sizes of Fire HD, Fire HDX, Paperwhite)
PLUS the Asus Google Nexus 7, Vivotab, and Microsoft Surface 2

Here is a video demonstrating how the Tablift tablet holder can make using your tablet easier.
NOTE: This list is based on the top selling tablet and iPad holders, mounts, and stands on Amazon. The best seller list on Amazon will change hourly and may not perfectly reflect the list we have compiled on this page.
Do you know of another unique and innovative stand, mount, or holder for tablets/iPads? Please tell us about it and leave a comment below!