If you want to save money on your electric bills this summer, install window tint on your home windows. In the summer time, the sun is the hottest. When the rays of the sun enter your home it heats the air and your air conditioner has to run longer. This translates into higher electrical bills. Adding window tint (aka window film) or professionally installed solar screens, you can save a huge amount of money and stay cooler at the same time. Solar screens are installed on the outside of your windows while window tint is installed on the inside of your windows. If done right, it is a perfect addition to your home that will save you money and block heat.

How Does Window Film/Tint Work?
Rays from the sun are divided into 3 components; visible light, infrared light, and ultraviolet rays. When solar heat/radiation hits glass, the window tint or film will block the UV rays from coming through the glass. This minimizes the levels of heat and light passing through the glass and into your home. Depending on the type and strength of the window tint you select the amount of heat and light entering your home will vary. Super energy efficient window tint/film increases the thermal "bounce" of your homes windows. It reduces solar heat gain which in turn will reduce the amount of time your air conditioner has to run. Certain window tints also insulate your windows to increase cooling season energy savings and heating season energy savings.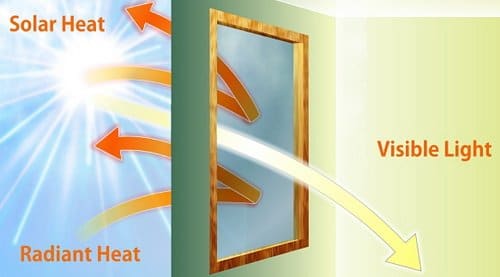 Home window tinting heat diagram – How window tint works
Window tint for your home can be a DIY do it yourself job. All you need is a good quality window film, razor knife, window squeegee, tape measure, and a spray bottle full of water. You can also purchase self stick home window tinting kits online and everything you need to complete the job yourself will be included in the box. Any type of home window tinting film that you decide to purchase will have the installation directions in the box. If you simply follow these instructions, you can have a professional looking window tint install.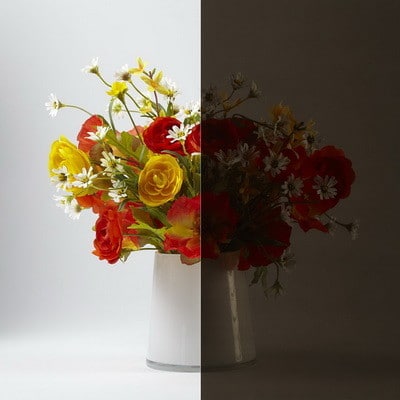 Highest rated DIY home window film blocks UV rays

What Are Solar Screens?
They are specially made heat resisting screens that go on the outside of the windows of your home. They are designed to block partial sunlight and keep your home cooler. They will also give you privacy as you will be able to see out the window but others cannot see in. They are inexpensive and can be used in conjuncture with drapes, window tint, and blinds. Solar screens are professionally installed. Your local solar screen company will measure all your windows and then custom build and install them for you. You can do an average sized house with around 8 to 10 windows for $150 to $350 depending on quality and material of the screens themselves.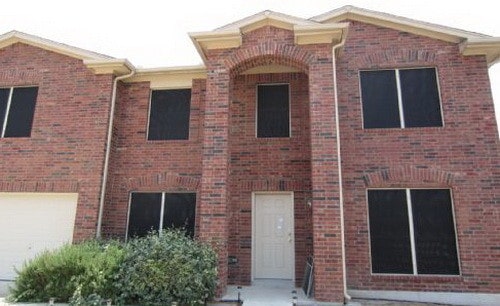 Professionally installed solar screens will look similar to this

Home window tinting benefits
When the summer sun penetrates your windows your home's inside temperature rises, along with your cooling bill.
Applying solar film to the interior windows may help those rooms that are too hot in the summer.

If you know of any other inexpensive or easy ways to tint or shield the sun from your home windows, please leave a comment below to help other save money and stay cool in the summer heat.