Eating Avocados are one of the best things you can do when it comes to healthy food and your health. They are packed with multiple vitamins. So how many different ways can people eat and use Avocados? Below we list 21 ways to eat an Avocado!

What Are The Many Things You Can Do With An Avocado
1 – The simplest way? Add them into your salad right before you eat it (to keep it fresh).
Need an Avocado Slicer? Find them here.
2 – You can simply slice them into long lengths and salt them for a delicious healthy snack.
3 – Make a guacamole with some garlic, jalapenos, fresh tomatoes, etc.
4 – You can also make some cannolis with avocado and ricotta filling that is one of the best tasting pastas ever!
5 – Stuffed Avocados is great too. Bake some avocados. Scoop out all the inside and put a cooked egg inside of it. Then mix the avocado you scooped out with cheese. Add it all back in the avocado and eat it with salsa. (You will need fairly large avocados for this)
6 – If you want a quick snack, get some pita bread then spread the avocado onto it as thick as you want.
7 – Bake or fry an egg and add it on top of the (top removed) avocado. The egg and the avocado go perfect together!
8 – Try avocados with bananas. Blend both into a smoothie. Also add honey and milk for a healthy and delicious smoothie.
9 – Cut up some avocados, tomatoes, and onions, put in bowl, toss, and put balsamic vinegar dressing on it.
10 – Cube up the avocados and keep the skin in tact. Take the cubes and toss it in a pan with butter and some spinach. Add sausage or bacon if desired, with lime and parsley. Than put it back in the skin and use it as a bowl!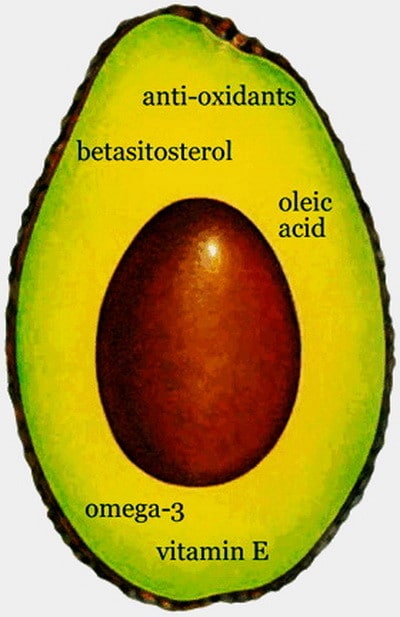 Healthy Avocado – Anti-Oxidants, Omega-3, Vitamin E, Oleic Acid, Betasitosterol, etc.
11 – If you know how to make egg rolls, avocado egg rolls are the bomb. Try them at The Cheesecake Factory!
12 – Avocado sushi is amazing if you get it at the right sushi shop. Next time you are eating sushi, try one out, you won't regret it.
13 – If you love deviled eggs, try GUACAMOLE deviled eggs. The Avocado adds a great taste that will have you wanting more!
14 – Baked Avocado Fries is tasty too. Slice the avocado add a few drops of oil and bake for a healthy treat.
15 – You can also put your avocado in your chili. Doesn't matter what kind of chili it is. Chicken or beef chili is best with avocado.
16 – Make avocado with macaroni and cheese. This will give it a sort of green color but the avocado added in with the cheese is to die for!
17 – Avocado Sorbet is available at some high end gelato and ice cream shops. It may sound gross but once you try it you will crave it.
18 – Avocado Brownies may not seem very tasty but if done right, they are absolutely delicious.

Chocolate Avocado Brownies
19 – California Avocado Buttermilk Pancakes. Add the avocado on the pancake as it is cooking.
20 – Avocado blueberry muffins are a real treat too!
21 – Avocado spinach salad is a delightful treat too.

Spinach Avocado Salad Recipe
RECIPE FOR AVOCADO SMOOTHIE:
Add milk, avocados, ice, sugar, blend it all together, and you have a delicious smoothie.
RECIPE LIST:
2 cups of milk
2 avocados sliced
2 tablespoons of sugar
1 teaspoon of milk
1 cup of ice cubes
Avocados for cosmetic purposes?
Avocados are perfect for making an avocado face mask. You mash it up and then
combine it with some honey and lemon juice to clean and hydrate your skin.

How to make an Avocado Face Mask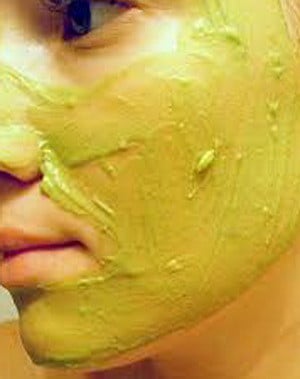 Avocados are perfect for making a face mask
Avocado Nutrition Facts
Avocados
Amount Per 1 cup, sliced (146 g)
Calories 234
% Daily Value*
Total Fat 21g = 32%
Saturated fat 3.1g = 15%
Polyunsaturated fat = 2.7g
Monounsaturated fat = 14g
Cholesterol 0mg = 0%
Sodium 10mg = 0%
Potassium 708mg = 20%
Total Carbohydrate 12g = 4%
Dietary fiber 10g = 40%
Sugar 1g
Protein 2.9g = 5%
Vitamin A = 4%
Vitamin C = 24%
Calcium = 1%
Iron = 4%
Vitamin D = 0%
Vitamin B-6 = 20%
Vitamin B-12 = 0%
Magnesium = 10%