Amazon has come out with new innovative DASH buttons. These are small electronic buttons that stick near the product you use that may need refilled or restocked. These buttons are available for a limited time and only for prime members. It's a great idea from Amazon. Buy the Tide Pods Dash Button and stick it near your washer. When you are low on Tide detergent, simply press the button and have it delivered the same day or next day. It is a great way to remember that you need to restock an item you use everyday. The Dash buttons work with your iPad, iPhone or Android device. These buttons serve as a reminder and by simply pressing it means you will never run out of Maxwell House coffee, Tide laundry detergent, Ziploc bags, Bounty paper towels, Gatorade sports drink, Gillette disposable razors, Hefty trash bags, or Dixie paper cups again.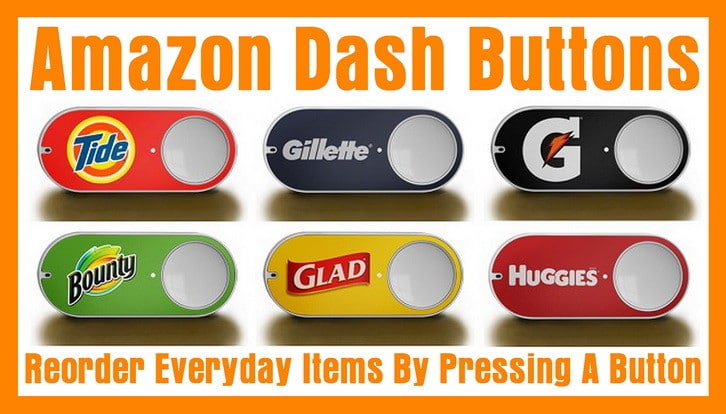 Amazon Dash buttons – Order items by pressing a button

Amazon Dash Buttons – Available HERE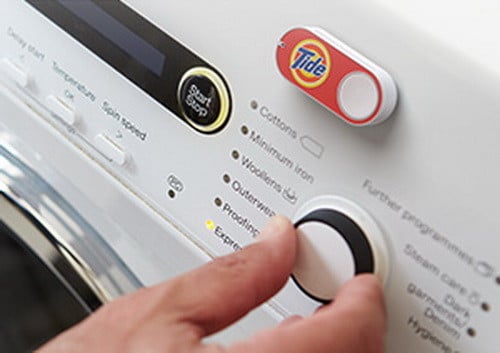 Tide Dash Button on washing machine – Reminds you to reorder detergent
The Dash Buttons come with a reusable adhesive.
Comes with a hook so you can hang, stick, or place it right where you need it.
Keep Dash Button handy in the kitchen, bath, laundry, or anywhere you store your favorite products.
When you're running low, simply press Dash Button, and Amazon quickly
delivers household favorites so you can skip the last-minute trip to the store.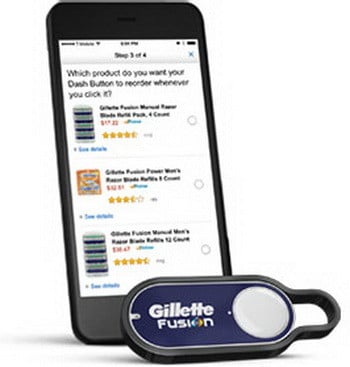 How the Amazon Dash Buttons work:
Dash Button is simple to set up.
Use the Amazon App on your smartphone to easily connect to your home Wi-Fi network.
Then select the product you want to reorder with Dash Button.
Once connected, a single press automatically places your order.
Amazon sends a notification to your phone confirming your order.
Unless you elect otherwise, Dash Button responds only to your first press until your order is delivered.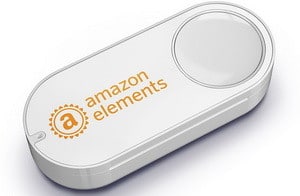 Amazon Elements Baby Wipes Dash Button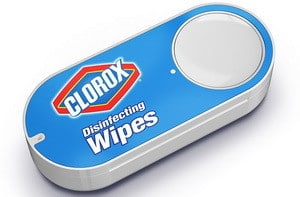 Clorox Disinfecting Wipes Dash Button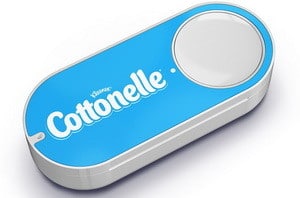 Cottonelle Dash Button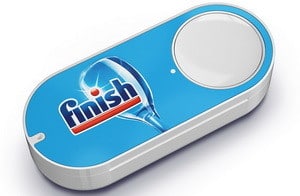 Finish Dishwasher Detergent Dash Button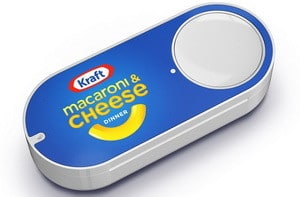 Kraft Macaroni and Cheese Dash Button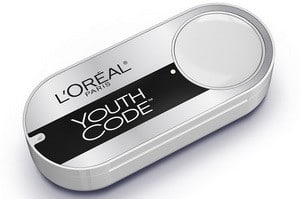 L'Oreal Youth Code Dash Button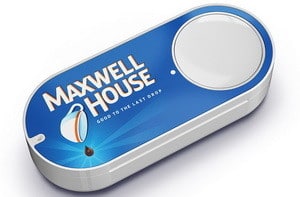 Maxwell House Coffee Dash Button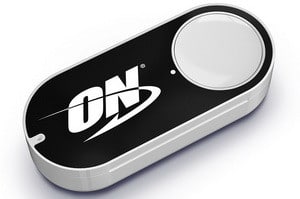 Optimum Nutrition Whey Protein Dash Button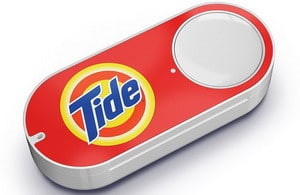 Tide Pods and Powder Dash Button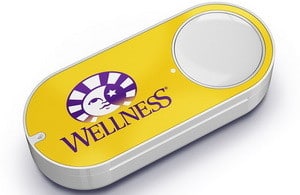 Wellness Natural Pet Food Dash Button

Amazon Dash Button Review – One Touch Ordering
Questions, comments? What do you think of this DASH BUTTON idea? Are we getting lazy or just too busy? Would you buy these? Do you frequently forget to buy everyday items and run out? Would this product help you? Give us your opinion below!