Washing machine leaving your clothes soaking wet? If your clothes do not spin dry in your washer but the washer DOES SPIN, there are multiple issues that may be causing this. This guide will show you what to check to find out why your WASHER IS NOT SPIN DRYING YOUR CLOTHES. This guide applies to both front load and top load washers. We will list each part and or area to check on your washer regardless of brand or type. The first solution will be the most likely and the least likely at the bottom of the list. These repair and troubleshooting methods are for all washing machines including Admiral, Amana, Beko, Bosch, Electrolux, GE, Haier, Hotpoint, Kenmore, LG, Maytag, Samsung, Sharp, Siemens, Toshiba, Westinghouse, and Whirlpool.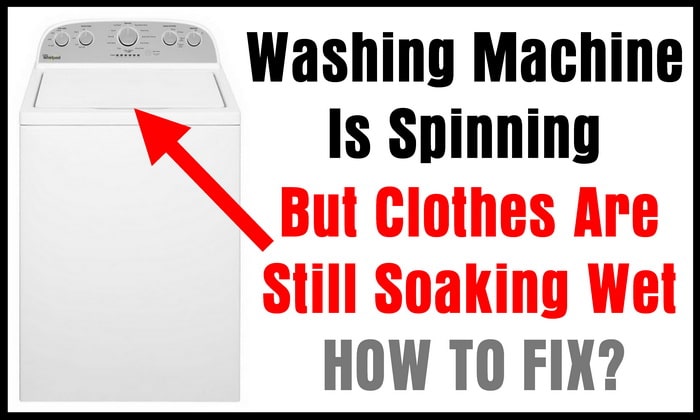 Washing Machine Is Spinning But Clothes Are Still Soaking Wet – How To FIx?
QUICK SUMMARY – EASY TROUBLESHOOTING – FIRST MOST LIKELY TO CAUSE WET CLOTHING
If the clothing in your washer is still soaking wet once your washing machine is finished washing, check the following:
Assuming the TUB IS SPINNING but does not get the water out of your clothing…
– Make sure the washer is programmed to the correct wash cycle, different cycles have different speeds!
– Make sure the drain hose on the back of the washer is not clogged or bent.
– Check that the drain hose on back of washer is positioned correctly in standpipe and is able to drain properly.
– Check the drain pump debris filter or coin trap, objects may be blocking the water flow.
– Check inside drain pump and all hoses connected to drain pump for foreign debris or small pieces of clothing.
– Be sure the wash load of clothing is balanced, balance out the wash load if you see all clothing to one side.
– Check washer belt to be sure it is not stretched out or damaged. (for most top loaders)
– Check direct drive motor coupling system to be sure there is no visible damage. (for most front loaders)
– Lid switch or door lock assembly may be damaged or bent and not making the electrical safety "connection".

Washing Machine Leaving Clothes Too Wet: Washer Tips
FULL SUMMARY – DETAILED TROUBLESHOOTING – FIRST MOST LIKELY TO CAUSE WET CLOTHES
If the clothing in your washer is still soaking wet once your washing machine is finished washing, check the following:
Assuming the TUB IS SPINNING but does not get the water out of your clothes..
Washing Machine Drain Hose – Clogged or Bent
If the washer is not spin drying your clothing, check the drain hose on the very back of your washing machine. Make sure the drain hose is not bent therefore restricting water to drain out and leaving your clothing wet even after spin dry mode is complete. It is also a good idea to remove the hose from the drain pump and check the pump and drain hose for any blockages that may restrict water flow.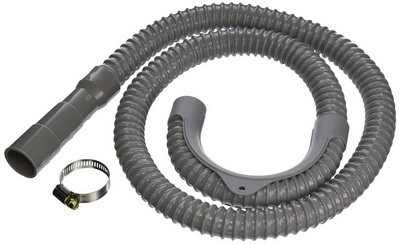 Washing Machine Drain Discharge Hose
Check The Washing Machine Drain Hose For Kinks Or Clogs That May Restrict The Washer To Drain properly
Washer Drain Hose is Positioned Incorrectly
If the drain hose on the back of your washer is too far down or not down far enough in the standpipe, this can cause an issue with proper draining and can cause the washer to not fully drain out the water and therefore your clothing will still be soaking wet after a wash cycle.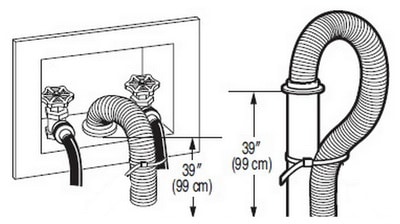 Washing Machine Drain Hose Position
Be Sure Drain Hose Is In The Correct Position To Let Washer Drain Properly
Washing Machine Drain Filter or Coin Trap Clogged
When your washer will not spin dry your clothes, the debris filter or coin trap may be blocked. Your washer has a filtering device down and near the pump called a drain filter or a coin trap. This filter grabs all foreign objects that go down and into the drain. These are mostly small objects that are left in the pockets of your clothes such as coins, keys, small socks, pins, paperclips, etc. The drain filter is accessed on the front bottom of the washer and the coin trap is located behind an access panel. These filtering devices are easy to clean and will help the water to flow when draining the water out therefore getting your clothing spun dry and not soaking wet when washing is complete.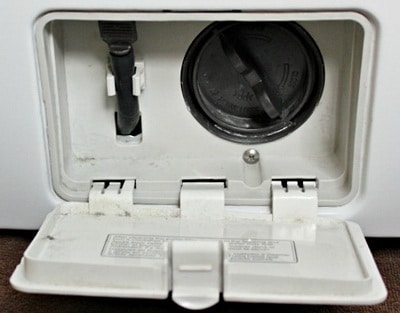 Washing Machine Drain Filter
Be Sure Drain Filter Is Not Clogged (Clean Out The Drain Debris Filter) So The Washer Can Drain Out Water
Washing Machine Drain Pump Clogged or Faulty
If your washer will not spin out all water and clothes are still wet, the drain pump might be clogged with debris or possibly faulty. There could be a foreign object that is stuck in the pump and inside the drain hose. Check these areas and remove anything that may be clogging the draining system on your washer. If all areas are clear of debris and no clogs are found. Test to be sure the drain pump is working properly.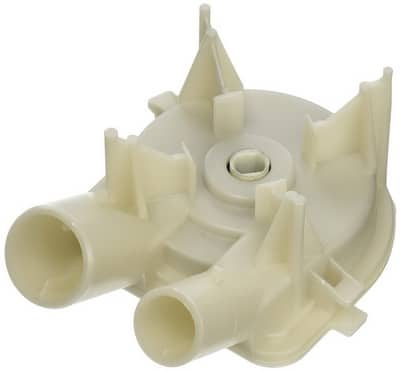 Washer Water Drain Pump
Check Drain Pump For Foreign Objects That May Be Clogging It
Washing Machine Wash Load In Tub or Drum is Out Of Balance
If your washer contains only one large blanket, this will usually cause an imbalance and will not drain out the water from the tub or drum properly so that it can ramp up to a high speed and spin in some circumstances. Always try to "balance" out the tub by adding more or less items so one large item of clothes or blankets is not to one side. For example, if you are washing one large towel or blanket, it will be on one side of the washer drum or tub and can cause an imbalance therefore making it so the washer cannot drain out the water correctly, by adding in another blanket or towel, the washer has an "even" amount of wash objects in it and can drain out the water therefore getting all the water out of your clothes or other wash articles in the tub.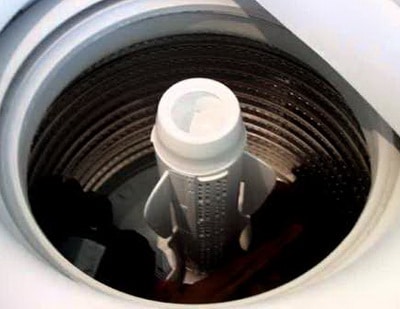 Washer Is Out Of Balance – Too Many Clothes On One Side
Rearrange Clothes Or Blankets To Keep Washer Drum or Tub Balanced
Washing Machine Belt – Loose Or Damaged
When your washing machine does not get the water out of your clothing, the belt on the pump or motor may be worn or stretched. If the belt is stretched out, the washer tub will spin but will have a difficult time spinning a large amount of clothing when trying to drain the water out as the belt will slip when the drum is attempting to spin and therefore the drum or tub will not spin fast enough. This causes wet clothes after a wash cycle is completed. Make sure you check the belt or the direct drive system for wear and tear. Replace the washer drive belt or direct drive motor coupler if worn, cracked, damaged, broken, or stretched.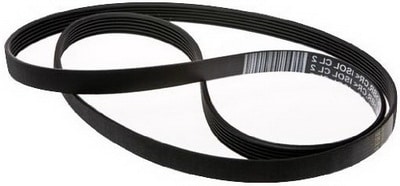 Washing Machine Drive Belt
Check The Washer Belt For Stretched Or Worn Areas
Washing Machine Lid Switch Assembly or Door Lock Switch Assembly
Your washer will not drain at all if the the lid switch is faulty. This is a common issue for a washer that WILL NOT DRAIN AT ALL. The lid switch or door lock assembly may be inoperable from a mechanical fault or an electrical fault. TO find out if the lid switch or door lock assembly is faulty, simply use a meter and test for continuity. Also check to be sure the lid switch or the door lock assembly is in the correct position and mounted securely. If the lid switch or the door switch assembly are not connected electrically possibly from vibration or rough usage, they need to be reconnected using the wiring harness. Check to see if one of the wire harnesses have fallen off or has become loose. If the lid switch or door switch assembly is found to be cracked, broken, or has no continuity, the part will need to be replaced.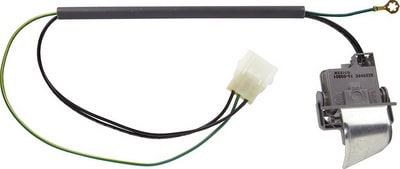 Washer Lid Switch
Check The Washer Lid Switch or Door Lock Assembly For Electrical or Mechanical Issues
NOTE: If you have tested, cleaned, replaced parts, and followed all instructions above to resolve why your washing machine still has wet clothes after washing is completed, please leave your question below and a professional appliance technician will assist you to fix your washing machine.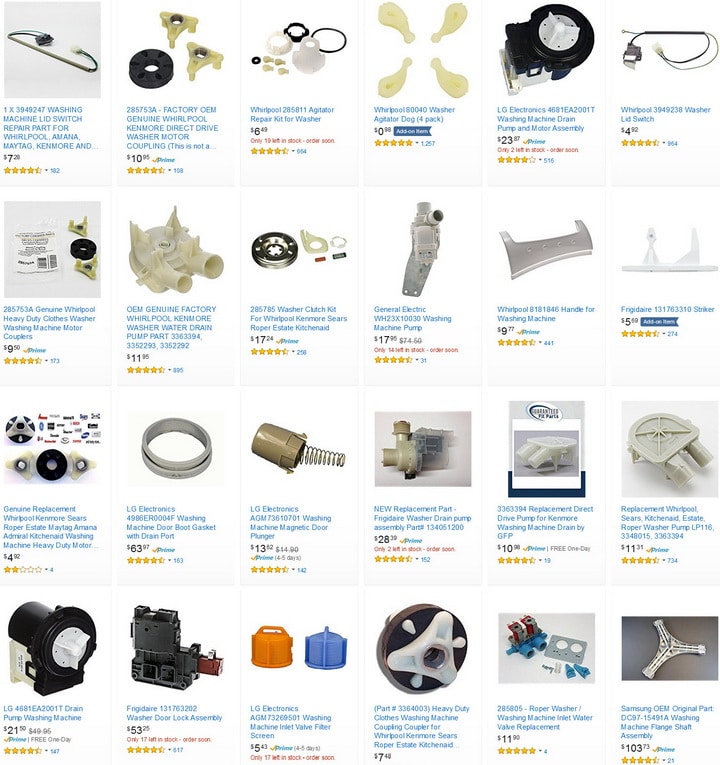 Washing machine parts
Washer parts and accessories for all washing machine types and models
More "Do It Yourself" Tips, Tricks, Ideas, Repair: