I have Error Code TE or te showing on my Samsung Dryer. What does TE mean? Once I know the condition and meaning of TE on my Samsung Dryer, can you tell me what part to replace and where it is located? This will be very helpful in letting me fix the dryer myself. Can you also link to the part or parts that need to be replaced to clear the TE error code? Also link to or display a Samsung Dryer service manual or troubleshooting guide? This will allow me to save money and understand how my dryer works and where all the parts are located for future reference.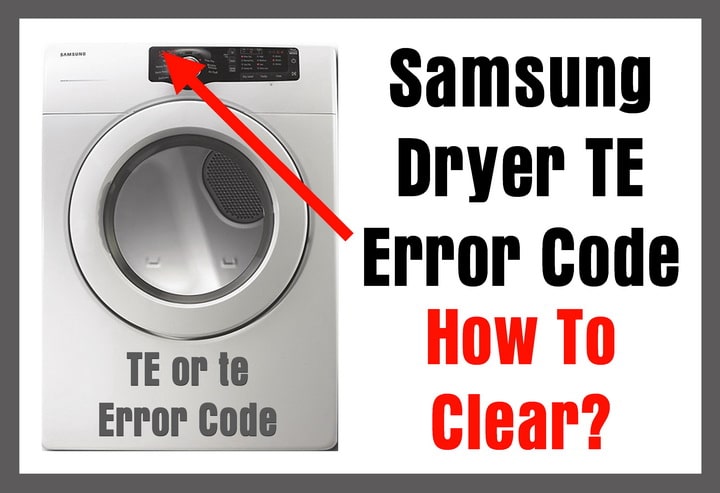 Samsung Dryer TE Error Code Displayed – How To Clear?
TRY THIS FIRST BEFORE REPLACING ANY PARTS WHEN GETTING THE TE ERROR CODE ON YOUR SAMSUNG DRYER:
1 – Be sure to clean out the lint filter in the dryer as a blocked lint filter can cause the TE error.
2 – Look at the back of the dryer and check that the exhaust vent is not clogged or blocked.
3 – When you know for sure that both the lint filter and the exhaust vent is not blocked, remove power to the dryer, check the wire harness and all wiring connections from the thermistor to the control board.
4 – If you find loose wires or disconnected wires, resecure them or replace the wiring harnesses if found bad.
5 – If the wire connections check good you will need to then use a multimeter and check the Thermistor resistance.
6 – The meter should measure resistance on the Thermistor around 10,000 ohms.
7 – You will need to replace the thermistor if resistance is off. See below for further more detailed instructions…
WHAT DOES TE ERROR CODE MEAN?
Samsung Dryer te Error Code Condition = Faulty Thermistor AKA = temperature sensor.
The Error code TE is telling you that the dryer sees the Thermistor is shorted out. If shorted, it cannot read the heat temp and needs to be replaced.
WHERE IS THE THERMISTOR LOCATED?
On most Samsung dryers the Thermistor is attached to the vent or motor area under or behind the drum. The Thermistor is a small plastic part that is about one inch wide. You will see there are 2 wires attached to it. Once you locate it you need to replace it to fix the TE error code problem. See service manuals below to assist you, also a video at bottom.

SAMSUNG Dryer Manual and Schematics Model DV210AEWXAA
PDF – SAMSUNG Gas And Electric Dryer Manual and Schematics – CLICK LINK TO VIEW THE PDF SAMSUNG Gas And Electric Dryer Manual and Schematics.
Get the part you need to fix your Samsung Dryer Below:
Samsung Dryer Thermistor Part Number DC32-00007A

Samsung Dryer Thermistor DC32-00007A and Thermostat DC47-00016A
Sears Parts Direct Samsung Dryer Thermistors
Repair Clinic Samsung Dryer Thermistors

Samsung Dryer Thermistor Replacement Video
This video provides repair instructions for replacing the thermistor on a Samsung dryer.
NOTE: Applies to Samsung Dryer Models DV210AEW/XAA, DV220AE, DV220AG, and others, check your service manual to be sure where the Thermistor is located on your Samsung Dryer if you have a different model number dryer.