What does 1h mean on a GE dishwasher? 1h shows up and the dishwasher will not start up. Is this an error code? The "Ih" is really a "1h". This means that you have a one hour delay start set on your GE dishwasher. You can start your GE dishwasher, wait 1 hour, and it will start the cycle after 1 hour. To cancel it out, press the START button until it cancels out the DELAY START. You can then use the dishwasher normally.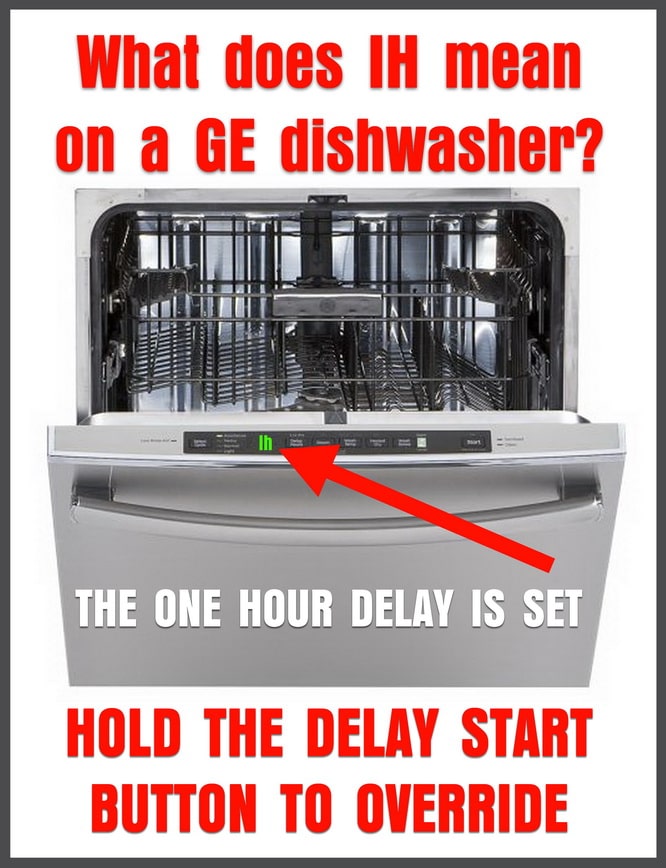 GE DISHWASHER CODE DEFINITION 1h or ih = DISHWASHER IS PROGRAMMED FOR DELAY START FOR 1 HOUR = PRESS START BUTTON TO CANCEL
GE DISHWASHER HELP HERE – MANUALS AND MORE (Write down the model number of your GE dishwasher as you will need it on the GE website) HINT = See bottom of page for how to find the model number on your dishwasher.
The code on the GE Dishwasher may look like a 1H, ih, IH, 1h, or an error code. However this is actually the number "1" with an "H" next to it. This code is officially 1h. 1h means a delayed start of the wash cycle for 1 hour.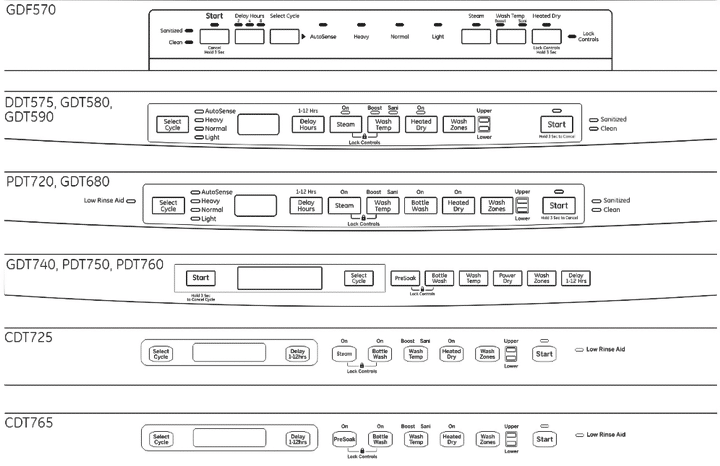 GE dishwasher control panels – All work the same to reset 1h code

Press the START button to cancel DELAY START – GE Dishwasher
This usually happens when you have inadvertently bumped or pressed the DELAY HOURS button. To reset this back to normal, HOLD AND PRESS THE START BUTTON.
MORE INFORMATION = Water In Bottom Of Dishwasher – How To Fix
In detail, this means that your dishwasher is programmed to delay the start function for 1 hour. To clear this and reset the control board, press the START button and clear the delay start program. If pressing the start button does not work, just wait 1 hour to see if it starts and resets the delay start function. Your dishwasher may be stuck on delay. If so, troubleshoot the control board for faults.
If the GE Dishwasher will not start or does not reset, you may have a faulty dishwasher control board. The control board is in the dishwasher door. If you find it to be faulty, here is a link to find a new control board for GE dishwasher.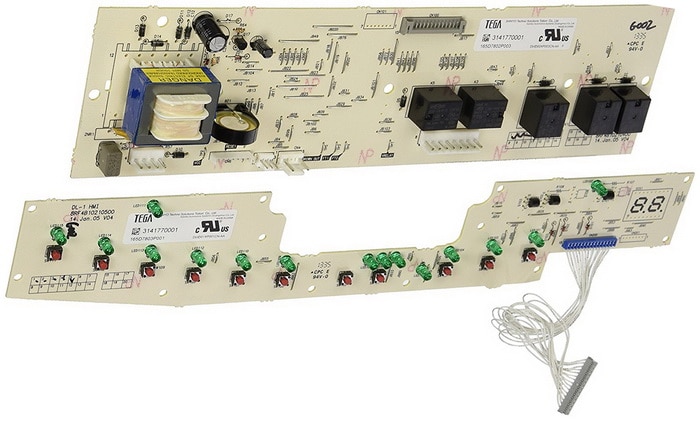 GE Dishwasher Electronic Control Board
(the one you need for your dishwasher will look similar to this)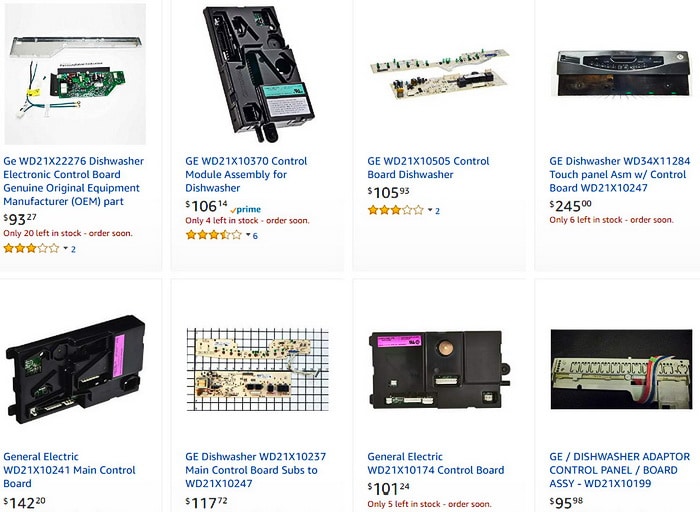 GE dishwasher control boards
(these control boards will fix your GE dishwasher if the board is at fault)
Definition Of GE Dishwasher "Delay Hours"
Delays the start of a wash cycle up to 8 to 12 hours depending on model. Press DELAY HOURS, to select the number of hours, then press START one time and close the dishwasher door to begin the countdown. The cycle will start once the allotted time has expired.
GE Dishwasher Owners Manuals Here = (GE Profile Series and GE Café) GDT580, GDT680, PDT720, GDT740, PDT750 & CDT725. All CDT 725-765 Series, DDT 575 Series, GDF 570 Series, GDT 580-740 Series, PDT 720-760 Series Dishwashers.
Here is the GE Technical Support page, use this GE page to find out more about your GE Dishwasher if more information is needed.
Here is how to find the model number of your Dishwasher.
This page will tell you how to easily find your dishwasher model number if you need to order parts if maintenance is required.

Find Your GE Dishwasher Model and Serial Number
Need Help? Call GE Appliances Answer Center
1-800-626-2005
Monday–Friday: 8 a.m.–10 p.m. ET
Saturday: 8 a.m.–7 p.m. ET
Sunday: Closed
If you need assistance with your GE Dishwasher for any reason, please leave your detailed question below with the model number of your GE Dishwasher and we can help you troubleshoot.
More "Do It Yourself" DIY Tips, Tricks, Ideas, Repair: